Did you know that in 2017, there were over 24 Billion views of sponsored video content? That's a staggering $1.2 Billion in media value that's set to grow to over $8 Billion in the next few years.
Video as a broadcast medium has never been so popular with viewers than it is in 2018. In Q1 2018 alone, 2.5 Trillion videos were consumed across not only the main social platforms, but also via owned and operated media properties. However, the popularity of ad-blocking software installed by Internet users poses a real threat to brands, video publishers, and the advertising industry. The software threatens traditional interruption advertising, such as pre-roll video, especially as mobile ad blocking reaches mass mainstream penetration. However, sponsored video content (where payment is given to a publisher to create and distribute video content that takes the same form and qualities of the publishers's original content) is cutting through the noise to reach engaged target audiences.
To date, Tubular has measured over 107K sponsors, 661K sponsored videos and nearly 72B sponsored video views via its Dealmaker product, so let's take a look at 10 insights into sponsored content that you may not have been aware of.
Video Trends: 10 Sponsored Video Insights
Sponsored video content can have a greater persuasive impact on viewers than a straight sales pitch. Brands have the opportunity to cut through the noise, find the right content opportunities, and grow their target audience by successfully partnering with publishers and influencers who already have that reach online.
#1 In the past 12 months, the top 5 Facebook brand partners have generated 2.4B views, and 36M engagements.
Between them Tasty, VT, Blossom, NowThis, and UNILAD have uploaded 585 videos to Facebook in collaboration with 305 different brand sponsors.
#2 Food content is the most viewed sponsored video category
Between 01/01/2018 and 04/30/2018 food content claimed the number one spot for sponsored video views on Facebook in the US. Using Tubular's industry standard V3 metric, we can confirm that 460M views were generated in the first 4 months of 2018, with an average 292M views in the first 3 days of the campaigns.
Halo Top Creamery partnered with BuzzFeed's Tasty to create one of 2018's most successful sponsored campaigns to date. 9.4M views, and 133K engagements were created on the Tasty Facebook page for the ice cream giant.
#3 Across Europe, the UK is the biggest market for sponsored content on Facebook
Germany, Spain, and Italy are emerging markets in the race for sponsored content views on Facebook, but the UK currently leads with a staggering 2.9B views in 2017.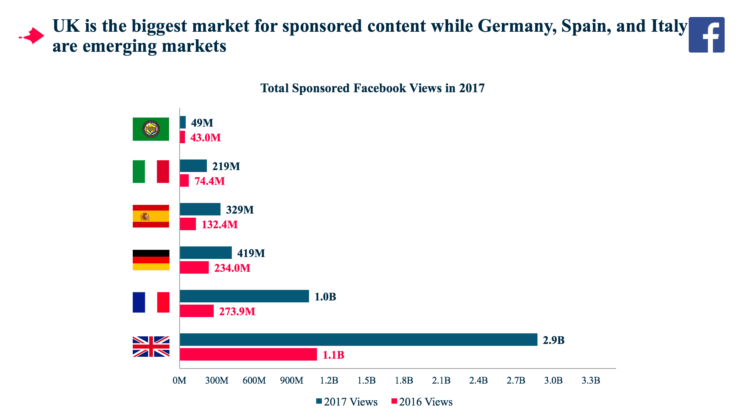 #4 In 2017, sponsored video content grew over 100% on all metrics across key markets in Europe
Uploads, views and engagement with sponsored content grew an impressive 100% across key markets in Europe such as the UK, France, Germany, and Italy. In France, views of sponsored videos grew by 279% compared to 2016.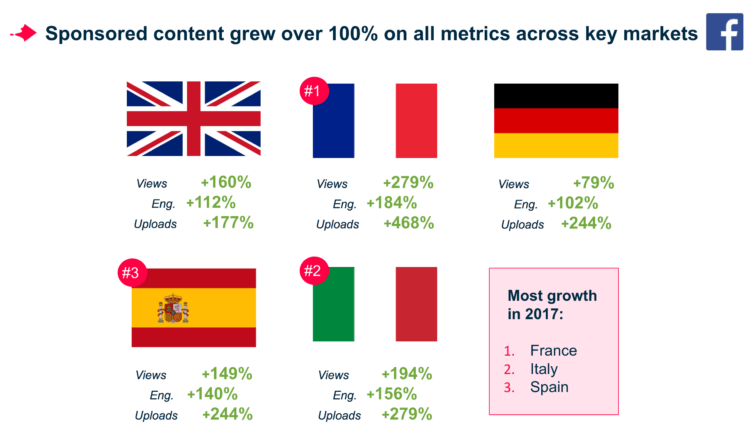 #5 In the UK, sponsored video content in the Science & Tech, and Entertainment verticals are growing fast on both YouTube and Facebook.
Food and drink, news and politics, and toys and automotive are also growing categories for sponsored video content across both platforms.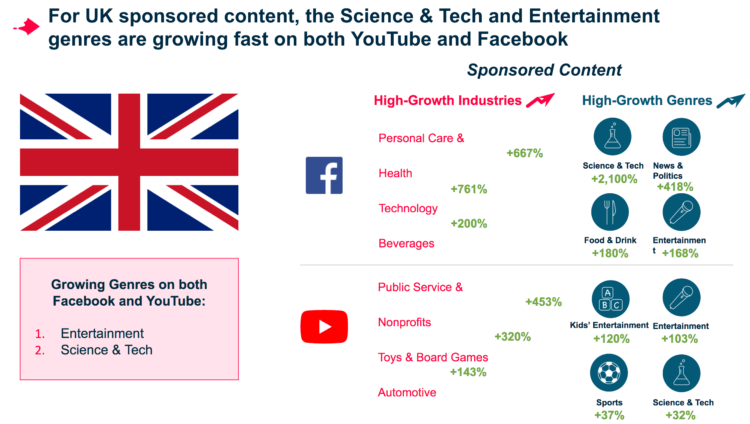 Find out more about the 2018 social video trends & insights across Europe
#6 Influencers are creating new and engaged audiences for brands on YouTube
While brands tend to skew towards digital first publishers such as VT, Tasty, and Tastemade as their sponsored partners on Facebook, on YouTube it is the established influencers like Dude Perfect, Experiment The Crusher, and Ryan ToysReview that are collaborating with the big name brands. Influencers have strong audiences, and they already know the ins and outs of creating catchy video content, still the favored format across social platforms.
In the last 365 days, Dude Perfect has been the top partner for brands on YouTube and has generated 385M views and 8.9M engagements for companies such as Kay Jewelers, Whistle Sports, PlayHearthstone, Ruffles, and YouTube itself. The channel's most viewed partnership was with Kingsford Charcoal on a 'Real Life Trick Shots' walk-through which attracted over 78M views (15M in the first 3 days according to Tubular's V3 metric):
#7 Media Brands are the most active sponsors of video content
In Q1 2018, 16K videos were created by influencers and publishers in collaboration with 3K different media brands (such as Sky, MTV, Netflix and Marvel).
#8 Between 1st January and 30th April 2018 5,733 brands sponsored 24K videos that were directly uploaded to publisher and influencer properties on YouTube.
Epic Games was just one sponsor who benefitted from working with influencers across the site, particularly on content around one of the most talked-about games of all time, Fortnite: Battle Royale. During the first four months of 2018, Epic partnered with 133 different gaming superstars or top creators like MrBeast, Battle Universe, and jacksfilms to upload walk-throughs, reviews, and other Fortnite-centric footage to reach over 250M YouTube viewers.
Tubular confirms that total all-time views of Fortnite video content across the main social platforms just surpassed a mind-blowing 36B so while the demand for the co-op sandbox survival game is through the roof, it makes perfect sense for Epic to take advantage of this thirst to reach as many viewers as possible through sponsored, authentic, video partnerships. This 'NERF Fortnite Battle Royale Challenge!', sponsored by Epic and published on Battle Universe's YouTube channel has to date generated over 8.3M views for the gaming company.
#9 43% of US advertisers are planning to increase their spending on influencer marketing in the next 12 months
In a recent survey by the Association of National Advertisers, 75% of brands and advertisers polled confirmed they were actively engaged in working with influencers, with 43% planning to increase their spending on it in the next 12 months. The social platforms of choice for advertisers are Facebook (86%) and Instagram (84%).
The survey also found that 66% of brands using influencer marketing are working with 'mid-level' or 'Micro Influencers', which keeps cost levels affordable and enables brands to increase reach within niche markets. These highly influential creators can be found across all the social video platforms, and sponsors need to look at employing a multi-platform strategy when investing in video content. Keep reading Tubular Insights to find out which brands are using influencers and winning.
#10 Average view count for top sponsored videos is 10M in first 3 days
In the last 90 days, the top 15 most viewed videos sponsored by US brands averaged 10M views per video in the first 3 days after upload.
Sponsored Video Insights: Further Resources
Create Winning Brand Content Partnerships with Tubular & PitchPro
Tubular provides independent analytics for the entire video ecosystem, allowing publishers, agencies, and brands to succeed together – growing organic audience and branded content partnerships. Tubular, has the most comprehensive database of sponsored content on the market today, tracking over 107K sponsors, 661K sponsored videos and nearly 72B sponsored video views . Built for all media companies & publishers, Tubular arms you with the intelligence you need to sell more deals and grow revenue.