As the video game industry continues to grow, so do the sponsorship opportunities for brands and media companies around the world.
Don't believe me? In August 2019, the ten most-watched sponsored content campaigns across YouTube gaming channels and creators earned 23.8M views in their first seven days (V7) alone!
That's about 300K more views than July's top ten campaigns earned. While views may not continue to rise every month, this 23.8M count is substantial and shows the undeniable appeal of gaming videos.
So without further ado, let's check out the top ten sponsored campaigns within the video game industry from August 2019, and what they can teach brands and media companies ready to set up sponsorships of their own.
Top Video Game Industry Sponsored Content from August 2019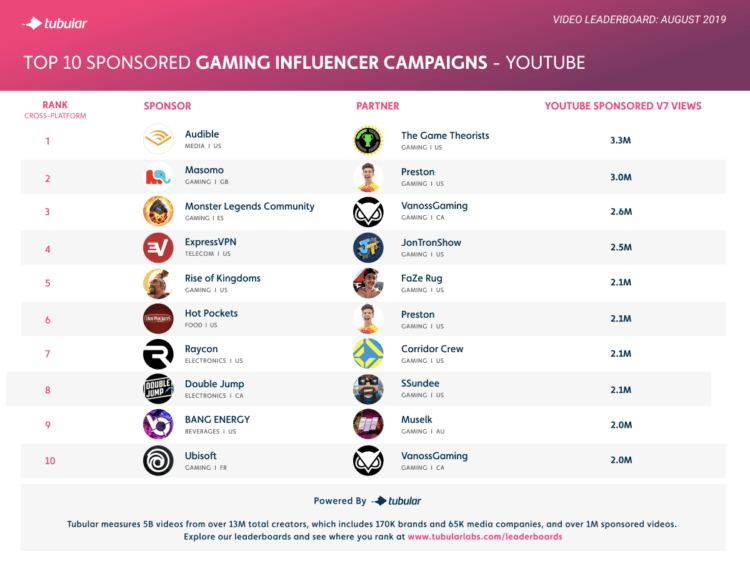 How Game Developers Continue to Rake in the Views
The majority of August's sponsors hailed from — surprise, surprise — the video game industry. Their YouTube gaming partners were clearly chosen to help spread the word about their own titles and new launches.
Near the top of the chart at #2 last month was UK-based game studio Masomo, which specializes in making social games for phones and tablets. The developer worked with a familiar face on the sponsored content leaderboard for gaming: US-based Preston.
Masomo and Preston's partnership resulted in a popular clip about a real-life "prop hunt"-style game of hide-and-seek, where the participants are only allowed to hide in areas marked off by the same color of tape they were assigned at the start of the game. The shenanigans generated a sponsored V7 of 3M views:
Next up was Monster Legends Community, creator of the role-playing battle game Monster Legends. Based in Spain, the developer of this title teamed up with Canada's VanossGaming (another familiar face on the sponsored gaming leaderboards) to place third with a 2.6M V7 on a video about Minecraft fails and funny moments.
For August's fifth most-watched sponsored campaign in the video game industry, we turn our eyes back to the U.S. for both the sponsor Rise of Kingdoms and YouTube gaming creator FaZe Rug. In case you didn't know, the FaZe Clan is one of the most popular gaming groups in the world, and Rug is a part of it as well as one of its most-subscribed members.
Boasting the highest sponsored seven-day engagement rate (ER7) of August's top ten campaigns at 3.6x (2.6x higher than average engagement rates on YouTube), Rise of Kingdoms and FaZe Rug's team-up produced a clip where random strangers on the street were tested on 5th-grade level knowledge for a chance to win $1000. It earned a 2.1M V7.
August's leaderboard wouldn't be complete with DoubleJump. The Canadian game developer has been a top ten sponsor on the video game industry leaderboard since March 2019, probably thanks to its monthly partnerships with its co-founder SSundee. The studio and YouTuber had yet another successful video in August about guessing Fortnite skins (2.1M V7).
Last but not least was the France branch of triple-A developer Ubisoft. Working with VanossGaming on a funny moments video from the game Rainbow Six Siege, the two earned a 2M V7 to land at #10 in August.
There are a couple things other game studios can learn from these sponsorship successes. For starters, don't feel you have to stick with YouTube gaming creators in your own country. If the variety in origin of last month's sponsors and creators prove anything, gaming is loved the world 'round and will pull in millions of views with the right partnership.
Also, sponsored content doesn't have to be just about video games. For example, two of the top campaigns from August both in terms of views and engagements were about real-life games and trivia questions. There's overlap here to explore related topics that gaming audiences are also excited about.
Did you read this yet? How Omnia Media Is Crushing the YouTube Gaming World
Tech and Food Brands Resonate with Gamers
Each time we've covered the sponsored content leaderboard for the gaming industry, we've noticed four non-gaming industries do particularly well partnering with creators on branded content: media, tech, electronics, and food. This continued to be true in August, but with a few different sponsors leading the way.
Sitting pretty at #1 was audiobook media company Audible, which sponsored a video by The Game Theorists about popular gamer Ninja's move from Twitch to Microsoft's new streaming platform Mixer. The clip pulled in a whopping 3.3M sponsored views in just seven days and was tied with Ubisoft and VanossGaming for the second-highest ER7 of the month at 2.4x.
It's interesting to note here that Audible is owned by Amazon, which also owns Twitch. Why then would Audible sponsor content that talks about a competitor to one of its sister properties?
The answer could be in the way MatPat of The Game Theorists handled the clip. At the end of the video, he said he believes Ninja's move to Mixer is doomed, and if this is tied to Mixer in any way failing to launch as a platform, Twitch will still be considered a go-to destination for live game streaming.
But let's move on to ExpressVPN's partnership with JonTronShow. The creator has worked with tech brands in the past, so it makes sense he'd be up for working with a VPN provider like ExpressVPN. They earned a 2.5M V7 to land at #4 thanks to a clip of Jon ranking famous architecture and buildings.
There's also Hot Pockets, which earned a place on July's leaderboard for the video game industry, as well. The microwavable food company stuck with Preston, its partner from July, to create a comedy video about spying on his wife for 24 hours that landed at #6 for August with a 2.1M V7.
Raycon also appeared on the leaderboard again, this time at #7 thanks to its team-up with Corridor Crew. The wireless earbuds company and the production studio worked together in the past on videos that analyze visual effects, which was the same they did for August except this time they covered poor stunt work to earn a 2.1M V7.
The last brand to land in the top ten was drink company Bang Energy. It partnered with Australian YouTuber Muselk on two videos for a weighted V7 of 2.0M. Both videos feature negative-leaning titles like "I LOST EVERYTHING (Minecraft)," implying that Muselk's audience is ready to watch potentially controversial or frustrating content regardless of it being branded content or not.
If you've followed the last few sponsored gaming leaderboards, you've probably noticed that most creators in the video game industry are sponsored by fellow game developers, tech companies, food brands, and a couple of other industries.
While these types of companies will probably continue to dominate gaming sponsorships, we're excited to see new industries that don't seem related to gaming eventually get involved in the space. There's plenty of room to share, especially the more popular gaming and esports become.
Curious to learn more about the gaming industry in online video?