You're a fledgling football team with little to no game footage. Still, you want to engage your fans and get them excited about upcoming games. So what do you do? Cue the stock footage.
It may seem like a bizarre strategy, but it worked for the Los Angeles Chargers. Rather than recycle limited B-roll footage of former match-ups, the team took an unconventional route: weaving random stock footage together to create a video the likes of which fans had never seen.
By repurposing stock video footage — of anything from a woman feeding a dolphin to a dove taking flight in slow motion — the team cleverly announced its season schedule without missing a beat or filming a second of material.
The resulting video was kitschy, goofy, and hilariously self-aware of its irreverence. Fans loved the personality-filled approach, sending the post into viral orbit (1.5M views to date).
Whether you're an advertising agency professional, brand marketer, or media producer, you don't have to film everything from scratch to get your brand noticed. And you don't have to rely on real-time footage to attract attention and woo buyers.
Instead, you can purchase premade visuals and stock footage, then edit them to craft your desired message. Here's how.
A Valuable Resource: Making the Case for Stock Video Footage
For brands, producing content from scratch is often optimal and encouraged. You can elevate this strategy further by using stock footage to supplement your video content.
In some instances, the integration of stock video can provide more opportunity to publish dozens of brand videos efficiently.
Consider this: marketers don't typically object to using stock photography. In fact, 40% of marketing teams surveyed by Venngage said they use stock images in their visual content strategies.
But the Chargers' success shows that stock video footage can also be a flexible, evergreen resource, giving brands the power to engage consumers in new ways despite budget and time constraints.
Some marketers seem to get the message. Searches reveal the growing popularity of terms like "cinematic" and "background," indicating that communicators are actively seeking pre-made shots.
So why aren't more brands biting on the stock video trend? Perhaps it's the reputation for being cheesy or somehow second-rate, but like stock photography, stock video can be imaginative and moving.
Professional videographers turn their lenses to everything from nature's bounty to nurturing parents. The fruits of their labors can evolve into visual masterpieces that help tell a story, elicit emotions, and build buzz.
Additionally, when strong editors merge stock video b-roll with exclusive corporate videos, audiences rarely notice the difference.
Stock footage isn't relegated to compilation-style announcements, either. It can be applied in countless ways to strengthen the most successful strategies and even discover what audiences want.
By paying attention to current stock media trends and relevant search terms, brands can extrapolate what consumers respond to and the themes they connect with. They use these insights to engage them more deeply in the future.
How to Use Stock Footage in Your Video Marketing
Here's how to utilize stock video to inform your most important marketing and media initiatives:
1. Boost the Authenticity of Your Advertising.
Consumers can usually tell if a brand is inauthentic, and video content strategies can certainly affect this.
Viewers expect open, honest content. Thus, impact-style videos overflowing with realism instead of canned, filtered footage can help you earnestly connect with your target personas.
Hit the breaks on heavily manipulated video; instead, go for what makes live video so appealing: its off-the-cuff nature.
Loads of evergreen video content exists in the form of short films, GIFs, and motion graphics, all perfectly suited to breathe life into your brand's personality. Use it to boost your image and remind your biggest fans why they love you.
You shouldn't feel confined in your journey toward authenticity. Have fun and play around, especially if that's your corporate nature.
Mom's Touch, a South Korean fast-food chain, enhanced simple stock footage of a sheep chewing grass to win bumper ad recognition from YouTube. The video was short and offbeat, and no one could argue with its brand alignment.
2. Spruce Up Cause-Related Advertising.
Cause-related content has become exceedingly popular for brands looking to engage socially conscious consumers. Is it any wonder stock media searches have skyrocketed for cause-related themes?
Shutterstock, for example, reported a 660% and a 540% rise in searches for stock media related to "International Women's Day" and "activism," respectively. Similarly, cause-related YouTube ads rose fourfold between 2012 and 2017.
To make the most of a cause-based strategy, agencies and media creators must be able to show they genuinely care about — and contribute to — the causes they've chosen.
Stock footage can help accomplish that goal by bringing a sense of empathy to their campaigns.
SoFi, a company dedicated to student loan refinancing, used stock footage in a 2017 video highlighting how this generation can begin regaining control of its student loans post-college.
Student loan debt has become a universal issue, and the video showcases the company's commitment to changing that.
3. Time Consumer Micro-Moments Perfectly.
As video has become more ubiquitous online, impeccable timing is necessary to captivate viewers. Essentially, they must be available during consumer "micro-moments" — those small windows when people pick up their devices.
Micro-moments can be broken down into four different consumer motivations: go somewhere, know something, do something, or buy something. Your job is to align your video creation and distribution with the underlying moods of these crucial moments.
For instance, popular meditation app Calm aligned the "know something" and "do something" micro-moments with its ad series comprised solely of stock footage.
The premise of its campaign was for viewers to connect with the present. Of course, the underlying message was that Calm could help users turn off the noise and rediscover their inner peace.
With the ability to create content like Calm's videos (and the ability to A/B test more easily), brands can use stock video footage to grow their engagement rates by appearing right when a consumer is ready to be inspired.
Case in point: this Instagram post from Allstate uses a fast, digestible video to quickly grab viewers' attention.
As a boomerang meme, it worked instantly to capture the moment when a user needed a little push to "do something" or "buy something," namely Allstate's services.
4. Facilitate Storytelling and Learning.
Since the advent of the moving picture more than a century ago, audiences have been trained to see video as entertaining and educational. One visit to YouTube proves that viewers' needs haven't changed much.
From how-to lectures to music videos, YouTube's collection grows exponentially day after day. And how-to videos are often peppered with stock media.
Tutorials spliced with "what not to do" videos can be far more colorful than words alone. You can combine myriad strategies in a single video to elevate your storytelling efforts.
Consider the opening sequence for Netflix's Unbreakable Kimmy Schmidt. In it, stock footage and filmed scenes are expertly woven together to pack a hilarious punch.
When it comes to your video content strategy, learn to embrace stock footage. Let it support your creative efforts and see where it takes you.
Whether you're looking for a kid playing quarterback or a poker-faced puppy, stock video has you covered. It's a legitimate, effective, and authentic tool for brands to tell their stories and engage their audiences.
If you want to learn more about how to discover what kind of content and stock footage your audience wants to see, don't miss our Audience Insights report!
---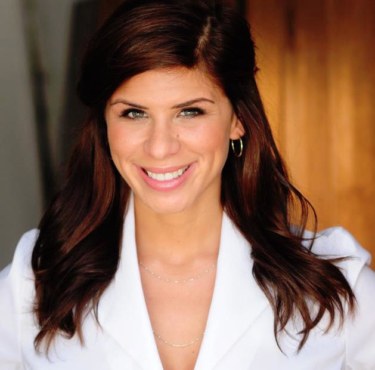 Hope Horner is CEO and founder of Lemonlight Video Production, a company that produces branded video content at scale. Hope is a three-time entrepreneur who has been featured in Inc., Entrepreneur, Forbes, and other publications highlighting her successes in the Silicon Beach community over the past decade.