Did you know the number of digital video viewers in Asia Pacific will reportedly reach 1.34B people in 2020? That number is up from 1B viewers in 2016, more than tripling the number of viewers over the four-year period!
It's safe to say that countries in Asia are some of the fastest-growing areas in the world for video consumption.
In fact, Tubular's new 2019 State of Online Video Report (SOOV) discovered YouTube views in Asia Pacific grew 45% from the first half of 2018 (H1 2018) vs. the first half of 2019 (H1 2019). APAC also grew its Facebook views 44% in this time.
Overall, this region claimed the highest growth on both platforms out of all areas of the world!
Clearly, it's time to get on board the APAC video train! If you're a brand, publisher, or creator, you have a fantastic opportunity to reach this burgeoning market if you know the right data to fuel your content.
Without further ado, let's take a look at the top three trends from Asia Pacific outlined in the recent SOOV, along with takeaways and content strategies you can implement now to start reaching eager audiences across APAC countries.
Want to check out the entire SOOV now?
Bangladesh and Indonesia Are Raking in the Views
Across both YouTube and Facebook, some APAC countries are watching decidedly more video content than others. In particular, Bangladesh, Indonesia, and the Philippines are leading the region's viewership growth from H1 2018 vs. H1 2019.
On YouTube, Bangladesh's view growth increased 61%, just behind Indonesia which grew views by 80%. On Facebook, Bangladesh and Indonesia dominated the APAC region, with a whopping 166% and 162% view growth from H1 2018 compared to H1 2019, respectively.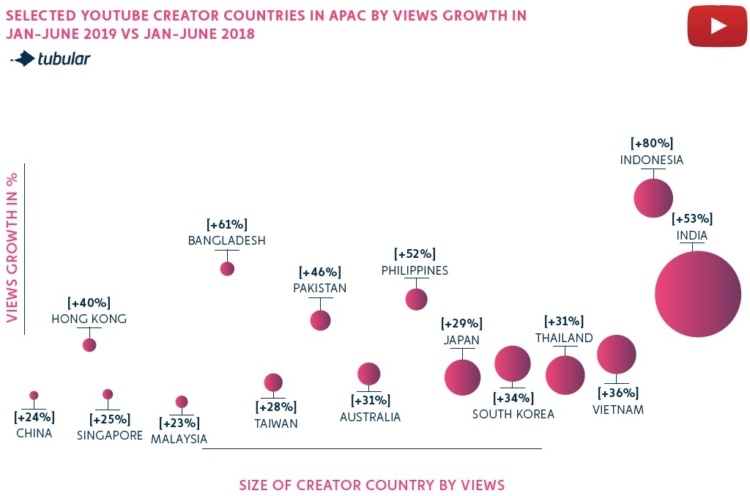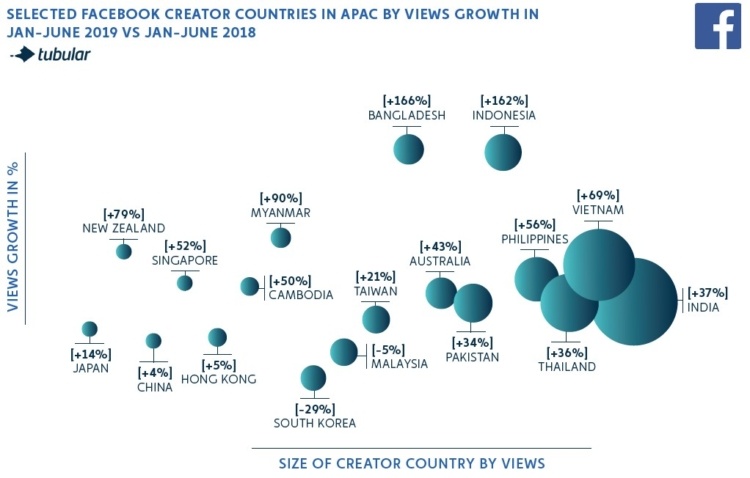 Other APAC countries also earned notable achievements. Take, for example:
The Philippines, which saw a 52% jump in views on YouTube. This stat is particularly impressive — and important to note — considering India increased its views by just 53%, despite boasting a much larger population and therefore viewership base.
Myanmar, a surprising outlier that grew its views a solid 90% on Facebook.
New Zealand, which wasn't too far behind Myanmar's view growth on Facebook at 79%.
All this data goes to show that Asia Pacific audiences are hungry for more video content. But just what kind, exactly?
Read on to find out!
YouTube APAC Audiences Are Falling in Love with People & Blogs
Everyone has a preference as to what video content they like to watch. For example, YouTube viewers in the APAC region have been particularly fascinated with people & blogs.
Comparing H1 2018 vs. H1 2019, the people & blogs genre drove much of the viewership growth on YouTube across the Asia Pacific market. Views on this content grew 80% in Indonesia and 31% in Australia.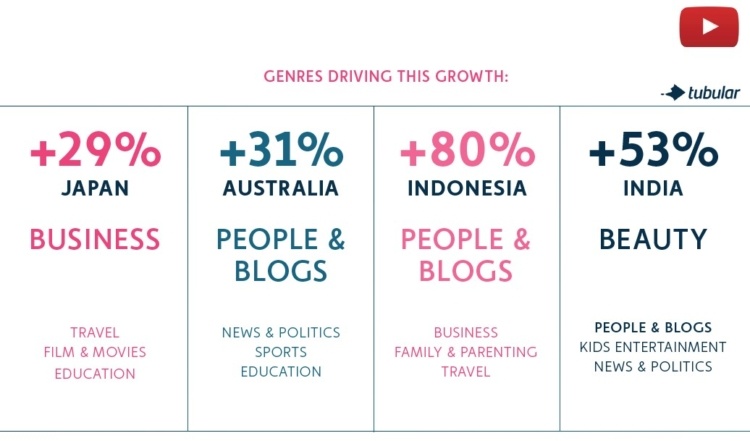 The growth of people & blogs content implies a desire to connect with creators and publishers on a more personal, intimate level. APAC viewers like their T-Series and K-pop content, but they also want to see how others live their lives.
What else were viewers in Asia Pacific countries interested in during this time? Check it out:
Views on beauty content grew 53% in India, with people & blogs coming in just second to this popular category.
The Japanese grew their views by 29% on business content.
News & politics was in the top four categories in India and second in Australia, while the travel category came in the top four in Indonesia and second in Japan.
Education was the fourth genre with the most growth in Japan and Australia.
Audiences don't use Facebook for the same purposes, however. In fact, the fastest-growing genres on that platform are very different from those on YouTube.
Asia Pacific Viewers Desire Diverse Content on Facebook
When it comes to the top-performing video content on Facebook in APAC, there's no one genre to point to. The overall views growth in this region on this platform were, instead, fed by a variety of content types.
For example, music & dance was the hottest category in Japan driving views growth from H1 2018 vs. H1 2019, followed closely by kids' entertainment. Australia, however, preferred some informative business content.
Neither of these genres was the top preference in Indonesia or India, though. Indonesians preferred plenty of home & DIY content, with animals & pets coming in second. Indians, however, were obsessed with gaming (which also placed third in Australia for fastest-growing genres).
In India, the Facebook gaming video with the highest 30-day view count (V30) from H1 2019 was a viral clip of gaming personality Xzit Thamer that earned 19.4M views. The video with the highest 30-day engagement rate (ER30) was an esports livestream of Dota 2 at 10x+, roughly ten times higher than the platform's average engagement rate!
Audiences from countries in Asia also watched these topics:
News & politics: second in Australia and India, fourth in Indonesia
Film & movies: fourth in Australia, third in Indonesia
Cars, trucks, & racing: third in Japan (not so much an anomaly when you consider Toyota and Nissan uploaded the majority of these videos during H1 2019)
All of these genres — and of course many, many more — contributed to the growth of the overall views on Facebook in the APAC region in H1 2019.
Takeaways: How to Grow Your Asia Pacific Audiences Now
So what should you learn from all this data? How can you put it to work for you?
By now, the key takeaway should be obvious: brands, media publishers, creators, and companies who don't yet have a presence in the APAC region should set one up immediately. There are lots of eyeballs ready to watch!
Those brands and publishers based in Asia Pacific already have an advantage since they have an established reputation with their audiences. However, there's always room for improvement.
Consider some of the following strategies:
Start "Small"
While you may be tempted to throw all your efforts at large-population countries like India or China, the massive growth of views in Bangladesh and Indonesia prove smaller countries are just as willing — if not more so — to dedicate time to your content, too. Do some research and find out which particular APAC countries would fit with your particular video strategy.
Find White Space
As different genres become more popular on Facebook and YouTube in APAC, now is the perfect time to get in on the ground floor. Video data and even measurement can help you determine the unique white space opportunities your competitors may be missing.
Take a Platform Approach
As you already read, audiences across Asia Pacific have specific genre preferences for both YouTube and Facebook. Which ones best align with your current strategy? Which ones can you easily expand into? What platform is best suited to this genre, based on the audience insights above?
Begin with these strategies and refine your content, process, and goals as APAC viewers respond to your work. We think you'll be pleasantly surprised to see what 2020 brings you from this region of the world!
Ready to learn more about video in APAC and other parts of the world?