For the second week in a row, YouTube superstar Shane Dawson has the most viewed sponsored video in the world, an extraordinary achievement for an independent YouTube series. If you caught last week's sponsored video news, you'll know that Dawson's special on Jeffree Star went super-viral on YouTube. Episode 3 of the series was picked up by SeatGeek and to date has generated 15.9M sponsored views for the creator and brand. Episode 5 – "The Truth About Jeffree Star" – was sponsored by BetterHelp and has attracted an amazing 11M YouTube views in the first 3 days after upload.
Elsewhere on the chart, entertainment content around sports, travel and food generated huge views for brands that worked with some of the top publishers in the business. Bass Pro Shops partnered with Dude Perfect on an 'All Sports Golf' upload that generated a V3 of 9.8M. The video is part of DP's third annual 'All Sports Golf Battle', an insanely funny attempt at getting around a golf course using anything but a conventional club. In the past 90 days, Dude Perfect – who have a subscriber base of 33M YouTube followers – have worked with 3 big brands (Bass Pro Shops, Nerf & 23andMe) and have generated a combined total of 67.2M sponsored views to date. That makes them one of the most bankable publishers to work with from a brand perspective.
Between the 5th and 11th of August 2018, 4,017 brands sponsored 7,757 videos that were directly uploaded to brand partners channels and pages on YouTube and Facebook.. These are the top 10 ranked by views generated in the first 3 days (V3). Sponsored video volume is growing rapidly as brands try to find alternatives to ad blockers and "on my phone while the TV ad is playing" culture. As the industry leader, Tubular publishes a weekly leaderboard on who's winning in the world of sponsored video. Our DealMaker product tracks thousands of sponsored video campaigns from global brands and media companies. Congrats to all of the brands and publishers featured this week!
Top 10 Global Sponsored Videos Leaderboard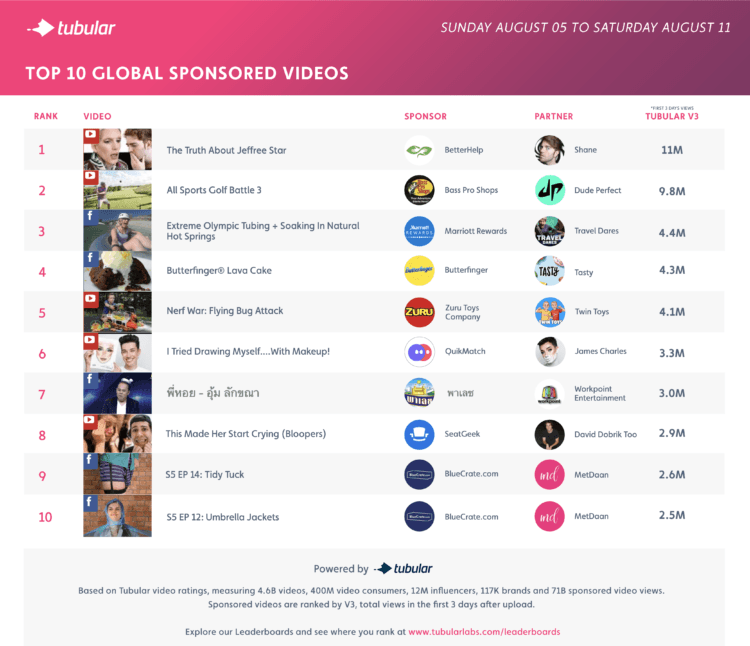 Want to Know More About Sponsored Video?
As a publisher of sponsored video in this highly competitive world, consider using Tubular to arm your sales teams to find the right sponsors for your audience, pitch them effectively, and report back on performance with industry-leading benchmarks. The Top Ten Global Videos Leaderboard chart is powered by the data provided by Tubular. Learn More.