Super Bowl LIII takes place this Sunday, February 3, and households across the U.S. (and further afield) are planning a stressful or entertaining few hours in front of the game, based on which team they support, of course. A huge part of the Super Bowl final ritual is to lay on a spread of tasty treats for friends and family, and as usual, online video offers up suggestions for the best type of foods to serve. But did you know just how big Super Bowl recipe and snack suggestions are? Well, this year:
36.6% of YouTube Super Bowl videos uploaded in January 2019 were food-related.
43.2M views on food content around Super Bowl 2019 were seen on YouTube in the last 31 days.
42.8M (99%) of those food-related videos were uploaded by brands.
On Facebook, Super Bowl food-focused videos generated 10.1M views in January 2019.
Of those 10.1M Facebook views, 6.2M were generated by media companies.
Two of the top five most-viewed Facebook videos were not in the English language.
Using exclusive data, we looked at food content around Super Bowl uploaded to both YouTube and Facebook in January to see which brands and creators generated the most views in the run-up to Sunday's final between the Los Angeles Rams and the New England Patriots (who happen to have a fantastic social video presence).
Brands Easily Take the Biscuit Across YouTube Super Bowl Videos
In January 2019, 43.2M views around Super Bowl-related food content were uploaded to YouTube, meaning 36.6% of total Super Bowl videos focused in on game day snacks and recipes. Of those 43.3M views, a staggering 99% (42.8M) were accounted for by brands such as Budweiser, Michelob, Tostitos, & Doritos.
YouTube is still the go-to platform for brands to upload their Super Bowl ads before the game, so it's no surprise that the top five most-viewed uploads in our Super Bowl/food spotlight are all ads. Budweiser takes the top spot with their charming commercial, continuing their legacy of being one of the most-viewed Super Bowl ad creators of all time:
In terms of video views, Budweiser scored a total of 14.1M for food-related Super Bowl content last month, with Michelob ULTRA at second place with 11.8M views.30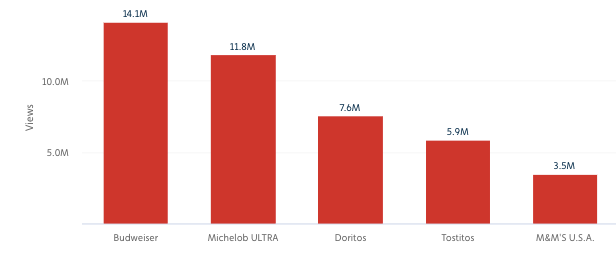 On Facebook, Publishers Earn Millions of Views for Recipe Walkthroughs
While the top YouTube views of Super Bowl food-related content came from brands, on Facebook it's a very different story. Of the 10.1M views generated, 6.2M were generated by media and entertainment companies, 2.8M by brands, and 1M by influencers.
With a staggering 69% of views accounted for by media publishers, it's clear that those creators have tapped into a demand for "how-to" content and food ideas around the Big Game. In terms of the top winners, Hearst Corporation's Delish was the most-viewed media company with 4.3M views, followed by Kiwilimon with 1.1M, and Twisted with 552K views. In fact, Delish videos accounted for five out of the top 10 most-viewed clips:
Interestingly, two of the top five most-viewed Facebook videos were not in the English language. In terms of video duration, the majority of Facebook video views generated around Super Bowl food content were between 30 seconds and 1 minute, which is — pardon the pun — obviously the perfect snackable length for the viewer.

Good luck to both teams on the 3rd! And don't forget to check out our roundup of brands' official 2019 Super Bowl ads.