Today, YouTube announced their upcoming YouTube Measurement Program to help participants provide accurate, consistent and relevant YouTube measurement data to their clients and users. We at Tubular are very excited to work with YouTube on the development of this program and to continue to evolve standardized and platform-specific metrics for our emerging online video industry.
We're all living through a once-in-a-generation shift in video from linear TV to internet-enabled video. Tubular estimates that there are over 10,000 independent creators who make a living in online video; 66,000 media companies and brands generate 111 billion views/month; and over 3 million new videos are uploaded to the public every day. However, third party measurement systems weren't designed for the scale and pace of online video, and so third party standards are now emerging from new providers, such as Tubular. As the online video industry matures and speeds towards 1 trillion video views per month and billions of dollars shift towards online video ads and sponsored integrations, it's time for us as an industry to get serious about third party measurement.
Creators, media companies, brands, and agencies all use data today to make more informed decisions on how to spend their time and money in pursuit of larger, more engaged audiences. But, with the proliferations of platforms and their reporting capabilities, they have trouble keeping up and making sense of it all.
With Tubular Video Ratings, Tubular has a shared goal with YouTube of making the complex online video ecosystem easier to navigate with accurate and consistent metrics to help creators, brands, agencies, and publishers make sense of performance metrics and make informed marketing, production, and sales decisions on video platforms like YouTube.
Since we created Tubular Video Ratings, Tubular users have been able to leverage simple, consistent metrics for each platform, and compare performance of content uploaded at different times. Tubular Video Ratings were built because we heard an industry need for a standard way to evaluate content performance on and across platforms, across time. However, the definition of a view differs by platform (autoplay or click-to-play), making it challenging to aggregate and compare Tubular Video Ratings for a creator, brand or property across platforms. For example, BuzzFeed Video's video below has been posted on multiple platforms, and it's challenging to aggregate the total views that the video has received across different platforms because of differences in platform view definitions: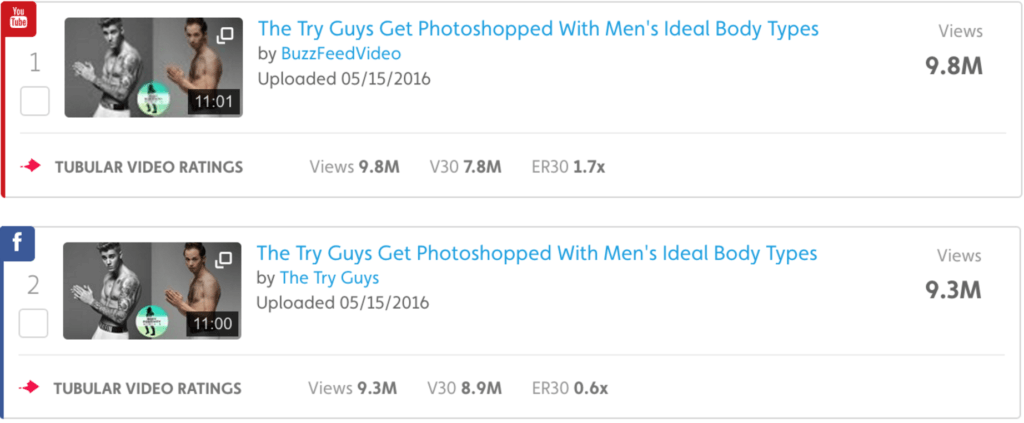 With the Measurement Program, YouTube will work with measurement companies to ensure high quality methodology, accuracy in calculations, clarity in metric definitions and best practice around user data protection. We think that YouTube's announcement of their Measurement Program today is just the start, and we look forward to working with YouTube as we continue to evolve Tubular Video Ratings to help equip the industry with the right data and metrics to successfully measure on digital video content.
We're excited to support the YouTube Measurement Program and for YouTube to launch this program later this year!