"We rely heavily on [Tubular's] V30, because of our conversations with brands. They tell us it's not enough to have views; they want quality experiences correlated with quality content… We believe [V30] should be the #1 indicator if a publisher is good or not."

Guy Oranim, CEO, First Media
In 2004, First Media was founded initially as a TV network — but in 2016, everything changed. When the network realized that the video ecosystem was rapidly evolving and that their highly female audience was seeking lifestyle content on social platforms, the company launched its digital-first model into the stratosphere.
The results? First Media grew to more than 87M Facebook page likes, and 28M YouTube subscribers across its properties, including Babyfirst, So Yummy, and Blossom. This growth positions First Media among the top 10 US Digital First Media Companies with the broadest global reach.
Blossom, specifically, continuously finds itself among the top 10 Home & DIY publishers with the broadest global reach (62.4M unique viewers across Facebook and YouTube in February 2022).
Don't take our word for it. Their average monthly performance numbers speak volumes:
Blossom garnered a whopping 15.7M views per video in the first 30 days after upload on Facebook in February, 2022 – the average for Home and DIY videos is 1.1M. This positions them as the #1 Home & DIY media creator on Facebook based on average V30 views.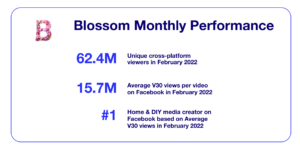 Source: Tubular Labs 
At First Media — less is more
Today's content landscape
The highly fragmented social world is incredibly competitive. Every month, 13M creators upload almost 100M videos online, and in February 2022, videos about Home & DIY, alone, received more than 16B views and more than 190M engagements.
First Media has cut through the clutter and reached its audiences by aligning all actions with its brand promise: inspiring action to make the everyday extraordinary through its diverse content offerings in verticals like DIY, lifestyle, food and beauty.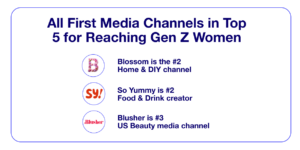 Source: Tubular Labs 
First Media's creative process
So what's First Media's secret sauce? They regularly create unique content that people want to watch by striving for quality rather than quantity. While hundreds of thousands of publishers believe that churning out content is the way to remain relevant, First Media proves that investing in fewer, high-quality videos inspired by trustworthy data is the way to grow an audience in both size and loyalty.
It all starts with a process of collaboration between several people from traditionally disparate teams. By pairing data analysts with creative masterminds, actionable insights inspire content production from one video to the next. As a result, First Media publishes high-quality and high-performing videos consistently.
Virality is hard to replicate, but applying data-informed strategies to creativity allows first media to create videos that their audiences love consistently.
Pitching to brand partners using Tubular's V30
A big part of First Media's strategy was leveraging Tubular Labs to identify what was most relevant to its audiences by tracking shifting values, interests, culture trends and consumer behaviors.
First Media uses Tubular's V30 (the number of views on videos 30-day after publishing) as a proxy for content quality. "If you're able to make people watch your content consistently over 30 days, that's the best evidence of your quality."
Consistently maximizing views per video is critical to media companies like First Media because that is how they prove success to brand partners. In other words, long-term views on content prove ROI during pitches.
Because Tubular's V30 is cross-comparable, First Media uses it to prove its effectiveness relative to the competition. "With this data, we don't have to compliment ourselves. We can prove that our videos are performing the best relative to our direct competition," said Oranim. When pitching to new brands or benchmarking success with current partnerships, First Media presents their V30 against competitive sets in each vertical.