Working with Tubular Labs' media buying team, Wargaming optimized its ad format and audience targeting strategy with a focus on display advertising combined with placement targeting. The result was a 55% reduction in cost per conversion.
Business Challenge
Wargaming wanted to increase conversions but lower its cost per acquisition.
Digital Video Strategy
The brand used Tubular to find the right target audience for Wargaming America and the content that best resonated with it.
Key Benefits
Using Tubular, Wargaming America reduced its CPA by over 55%.
About Wargaming
Wargaming is an award-winning online game developer and publisher and one of the leaders in the free-to-play MMO market across PC, console, and mobile. Founded as a privately held company in 1998, Wargaming has shipped more than 15 titles and employs over 4,000 professionals across key regions such as North America, Europe, Russia, Asia and Australia. Wargaming America is the exclusive North and South America publisher for Wargaming.net, the creator of award-winning games World of Tanks, World of Warplanes and World of
Warships.
Critical Business Objective
Wargaming America was challenged with bolstering its YouTube marketing efforts to increase audience engagement, and drive more conversions in a cost-efficient manner. It also needed to accelerate its acquisition rate and lower its cost per acquisition.
Integration & Implementation of Tubular Data:
The strategy consisted of using Tubular's AudienceGraph* to find the right target audience for Wargaming America and the content that best resonated with it. Tubular's Media Services team also helped to optimize Wargaming America's ad format and efficiency.
Results with Tubular:
Wargaming America provided Tubular with a list of competitive games to find channels/creators with relevant content. Using its AudienceGraph* technology, Tubular generated an extensive list of creators who had audiences with overlapping interests. This helped identify high quality placements to target in AdWords, narrowing the campaign distribution and accelerating the optimization ultimately leading to reduced cost.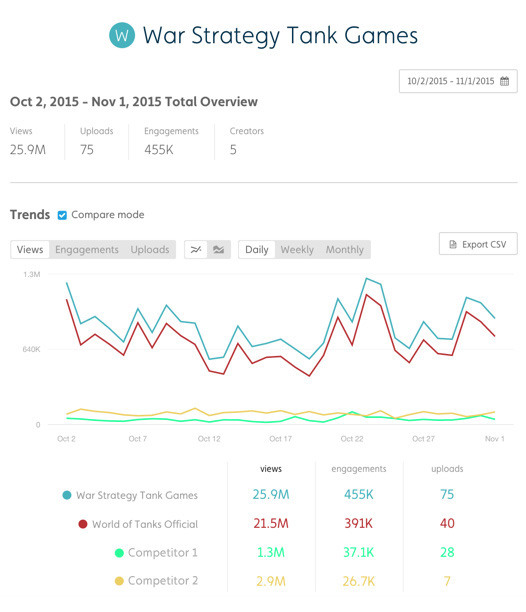 *AudienceGraph is a proprietary technology from Tubular Labs that analyzes the viewing habits and content preferences of more than 350 million video watchers to provide actionable insights to enterprises.