In today's short-form video landscape, measurement is not optional. Without solutions that provide you with the decision-making information needed for advertising investment, marketing direction, and content strategy, positioning yourself as a leader in your industry is nearly impossible.
Additionally, choosing the wrong measurement solution can be detrimental and send you down a path of diminishing ROI.
Yes — you need to identify the best social measurement solution to keep your competitive edge.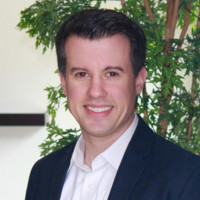 Tubular's Head of Platform Partnerships, Victor Silva has provided his expert opinion on the best questions marketers & media companies can ask measurement solutions to ensure they're seeing the full picture.
Before you pay for insights, make sure you ask these 5 questions to determine if you're making the best choice for your business:
---
1. Are you measuring video performance across all of the top social platforms?
A partial view of video performance doesn't help you truly understand the overall social ecosystem and sets you up for an unbalanced media strategy.
All platforms maintain their own individualized measurement systems of what constitutes a view, engagement, or impression. For instance, the way Instagram counts a view is not the same as TikTok. That's why using a measurement solution with cross-platform capabilities is so necessary. Standardized cross-platform metrics help brands weigh important partnership decisions and publishers build a balanced content strategy.
You should be able to see:
Which creators could bring variety to your current content plan
How different content types perform on different social platforms
What competitors are doing to engage and partner cross-platforms
Insight: The right measurement solution will provide a balanced standard of quantitative insights across all social platforms.
---
2. Am I able to see the performance of my competitors and their videos?
Viewing your performance in a vacuum without the context of your competitive market can lead to missed opportunities and repeated mistakes.
Competitive intel requires much more than scrolling through each social page of your top competitors to see what content they are producing. At the speed that business is moving, the time and dollars spent on big research projects can leave you behind. True competitive intel is meaningful if you can get actionable insights at the click of a button.
You should be able to answer:
Who are your largest competitors partnering with to boost content?
What content, subjects, and formats are they leaning into and which are they abandoning?
Which brand sponsors are drawn to the content types you want to create?
For example, imagine uncovering a unique trend emerging within your top content category. Social insights show you a subcategory that has high demand and low saturation. Before you dive in head first, it's important to understand where your competitors stand in this subcategory. If they've already begun to create this type of content and partnered with a specific influencer to lead that creation, finding a unique but equal creator to help lead your own subcategory creation is key.
Insight: Keeping tabs on your market and its biggest players is how you maintain and grow your market share. Arm yourself with data that gives you the upper hand.
---
3. Can you show me what else my viewers and my competitor's viewers are watching?
Your audience is a collection of multidimensional people with different interests, viewing preferences, shopping behaviors, and browsing activities. Understanding their interests is pivotal to creating a more integrated and growth-centric media strategy.
If you understand that your target audience is likely to watch a specific influencer or channel, you can partner with those creators and acquire some of their core audience. As a publisher, if you understand what else your audience is likely to watch, you can begin to lean into adjacent categories. This will help you maintain loyalty and also increase reach.
In the following infographic, you can see that fashion viewers are likely to watch specific content about maternity clothes and saris as well as content from other categories like French cuisine and self-driving cars. These viewing trends can then be linked to ecommerce behaviors within specific product categories & brands.
Insight: Unlocking insights that show you the whole picture of who your audience is will help optimize your strategy and grow a massive, high-converting audience.
---
4. Can you tell me the quality of different audiences?
A massive audience doesn't always equate to high conversions, channel loyalty, or brand recognition which is what you're actually after. Today, you need insights that tell you the quality and power of audiences.
Not all audiences are created equal. Whatever your marketing and content goals are, whether it be upper-funnel brand awareness or lower-funnel sales conversion, you'll want to ensure that you're targeting the right audiences at the right time. Accessing in-depth insights, like average watch time and likelihood to shop, help you understand the quality of viewership rather than the number of viewers.
In the following graphics, you'll find 2 beauty influencer score cards that reveal unique views, frequency, purchase affinity, and engagement. Then, in a side-by-side comparison, you can understand the product categories their audience is likely to shop for. Different audiences will be more aligned with your unique growth goals.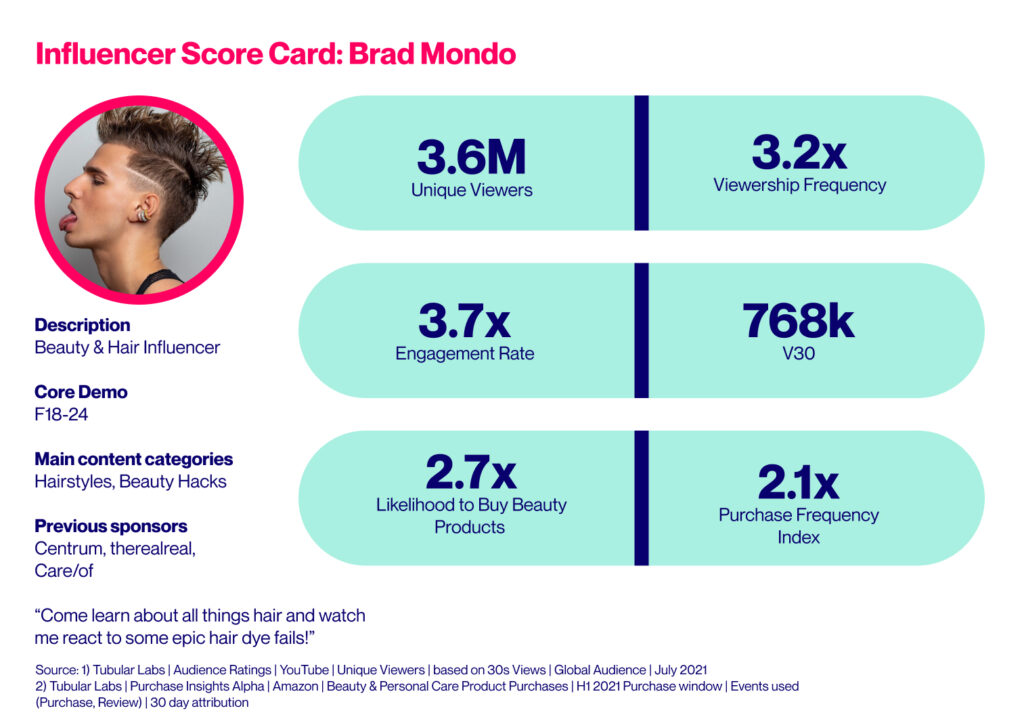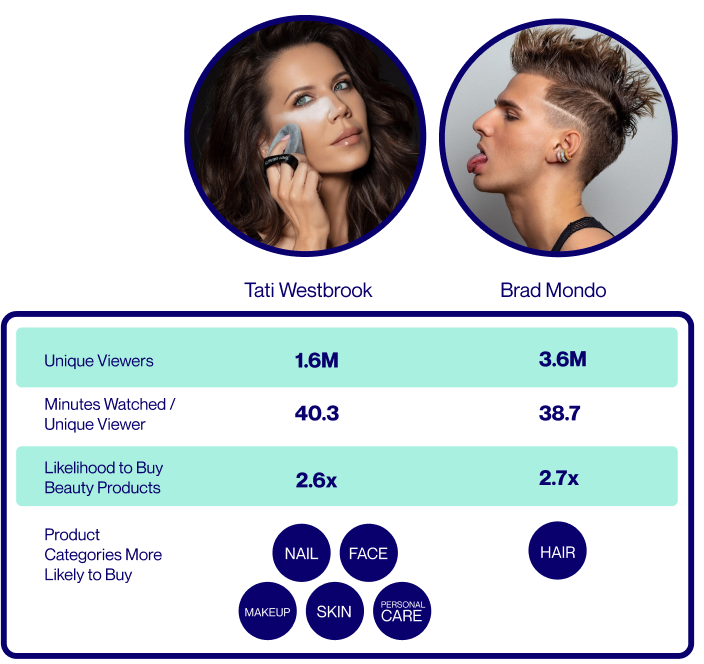 Insight: Micro-influencers are more powerful than ever. Millions of viewers don't indicate real impact. Measuring the quality of audiences is the key to a winning content strategy.
---
5. Can you show me what my audience is shopping for?
Social video's strength as an ecommerce driver is growing exponentially versus more traditional channels. Aligning your content & partnership strategies with shopping behaviors is absolutely essential to maintaining positive ROI.
Using Consumer Insights metrics like Shopping Affinity for products & brands, market share for your category, and audience shopping percentages you can see tangible data that proves the smaller but more powerful Influencer B has a larger addressable audience more likely to take action and press purchase.
In this example, you can see that creator Larry Wheels has a huge following but not such a huge influence on his audience's shopping behaviors. The Kneesovertoesguy has a smaller audience but a strong shopping affinity. Layne Norton, PhD offers a happy medium of both metrics. Based on your company's unique goals, you can use charts like these to make more aligned partnership decisions.
Insight: Social video is a powerful ecommerce tool that allows deeper, more authentic relationships between brands and consumers. Ecommerce based insights ensure you're showing up when and where you need to.
---
Only pay for measurement solutions that will empower your success
When it comes to selecting the right measurement solution that will skyrocket your marketing & content strategy, you want to ask all the right questions and know exactly what you're going to get. Our very own Head of Platform Partnerships, Victor Silva, provided his top questions that will guide your journey to find the best-suited measurement solution for you and your business.
Here are Silva's final thoughts:
"More and more companies are claiming to measure social video, but many do it as an add-on to some other service like creative management, social listening, or legacy media measurement. To truly understand social video at scale you need a dedicated solution that specializes in social video, spans the top platforms, and provides the comprehensive insights that you and your clients value. In order to find that best-in-class measurement partner that can go the distance and become a long-term driver of your success you need to ask the right questions and cut through the noise."

-Victor Silva, Head of Platform Partnerships
From ecommerce tools, to detailed content categorization, influencer insights, and competitive market analysis — you want the world of social video at your fingertips.
To get all that and more in one easy-to-use platform, click here for a free demo.