Marketers spend billions of dollars every year creating custom programs to identify and engage social video audiences, but how are they measuring the conversion of exposure to a shopper?
Tubular shared insights at the ARF Shopper 2022 event about the three social video tactics every marketer should understand when engaging shoppers.
Social video + lockdowns drive ecommerce
Over the past year, creator monetization tools evolved, social commerce integrations put in place, and more video shopping technologies emerged. Ecommerce was propelled by social video and fully accepted by younger audiences throughout the pandemic, and has fueled the growth of the creator economy.
Videos with the hashtag #shopping steadily increased over lockdown, but what's really interesting is the rate of engagement ranked increased far more than the number of uploads. Meaning, there's a lot of room for growth in this category.
No, it's not oversaturated. Not even close.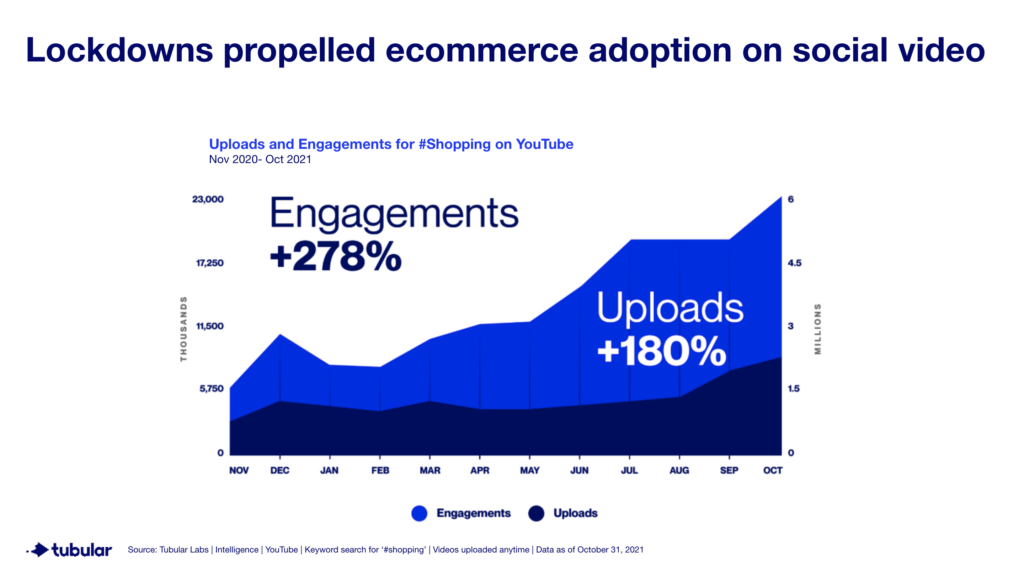 Sometimes what social video audiences purchase online is very obvious, and other times it's completely unexpected. We find that many creators driving conversions in a specific product category aren't the typical choice companies make for partnerships.
Understanding what social video audiences are purchasing online helps companies meet consumers where they already are. This information also allows partnership directors to discover up-and-coming creators who might have smaller audiences but higher conversions and engagement rates.
1. Creators have major impact on conversions
Looking at the percentage of the market share social video audiences make up in these major consumer categories helps us understand the magnitude of sales and commerce social video is driving today. Of course, this number will continue to skyrocket. Individual brands, media companies, and marketers can look even closer at these insights to be applicable to their own accounts, competitors, and niches. Tubular links over 10,000 Amazon product categories to our countless video content categories and creator profiles.
Impact and improvements for marketers
Both publishers and brands use the shopping insights to prove the value of an audience, whether it's their own, their partners, or their competition. In this instance, it's evident that Dr. Dray drives a huge portion of her audience to purchase skincare products online — roughly 40%. That's a direct video to shopping cart conversion. Of her 1.2M monthly viewers, that's an estimated 500k individuals actively shopping online for skincare products.
2. Viral trends matter
To get a holistic view of viewers, we look at viral trends to see what kind of sales they're driving.
Shopping insights tell us about product categories as well as specific brands.
Slugging is a viral skincare trend that originated from niche Korean beauty content. Insights show the significant impact leading influencers have on sales on the key ingredient to this trend: Vaseline. A key driver in this trend, James Walch, has an audience is far more likely to purchase Vaseline online than the average viewer. These insights help brands like Vaseline validate the impact of a viral trend the creators igniting them. Without these insights, it is difficult for marketers to quantifiably measure the impact influencers or content have on sales. While the industry has historically used different "media math" equations to project impact, there's nothing that can get you quite as close to accuracy.
3. Branded content influences purchases
Here, we see a partnership between Pillsbury and a Food & Recipe channel. In this case, Tubular's Consumer Insights data can be used to prove the success of a campaign. Pillsbury shoppers in this audience increased by 7x. Campaign impact is clear, accessible, and proven.
Insights to actions:
Social Video is the premier way to reach Gen-Z who spends more time consuming on social than any other type of media. The best part? They're also extremely receptive to ecommerce compared to older audiences who have been stickier to convert. Align your content plan and marketing with this knowledge and watch your conversions soar.
Trends impact shopper demand. Going viral requires a mixture of creative-genius, cultural relevance, and inspired data. You've got a knack for going viral — but how is it paying off? Can you measure your KPIs? Can you understand if partnerships are paying off? The ability to see how trends impact shopping helps you benchmark success and inspires future ideas.
Viewership impacts shopping behavior
Today, we've reviewed how sponsored partnerships, as well as viral trends, can impact audiences to shop for specific products. Understanding viewership allows you to meet your shoppers where they already are — minimizing that gap between a view and a purchase.
---
So, how does Tubular produce shopper behavior intelligence you can trust with Consumer Insights?
We provide a true mirror of culture so our clients can understand where they can thrive.
Data: Tubular's intelligence analyzes billions of videos and compares content, viewership, engagement, and more against exclusive panels, platforms, and partners. This high level of cross-platform ratings ensures that the insights you're getting are not only trustworthy but constantly improving.
Categorization: Then, we systematically categorize these videos into an unparalleled number of niche categories. Our thousands of sub-genre video categories are able to be linked to over 10,000 Amazon product categories.
AI machine learning models: this technology has the ability to learn and predict connections, content trends, and consumer behavior.
Discovery: Lastly, Tubular users are able to access their own relevant Consumer Insights and that of their competitors and potential partners.
For the short 10-minute recording of Tubular's ARF Shopper presentation, click here.
If you want to provide inspiration to your team, access the full panel recording here.