Intelligence unlocks audience viewing insights and uncovers opportunities for social video monetization
SAN FRANCISCO — July 21, 2022 — Tubular Labs, the leader in global social video intelligence and measurement, today announces a partnership with Banijay Rights, the global distribution arm of TV production powerhouse Banijay.
With a multi-genre portfolio of over 130,000 hours of standout programming, Banijay Rights is using Tubular Labs to gain a better understanding of the company's social media content strategies and commercial return on investment. The team is already using Tubular's Intelligence products for forward planning, trend identification, data wrangling and competitor benchmarks across all major markets.
With hundreds of hours of content being uploaded every minute, media distribution companies like Banijay Rights are best prepared to utilize Tubular's massive data set at scale to better understand and plan against viewing behaviors and larger cultural trends. Tubular provides unique insight into the value of Banijay Rights' audience through CPM measurement, unlocking the knowledge needed to scale social video investment globally.
"Tubular's video intelligence platform is a key piece of Banijay Rights' overall strategy to expand its global footprint in the digital space and consolidate our position as a market leader, better preparing us for identifying key trends across other means of digital distribution including FAST channels," said Shaun Keeble, VP Digital, of Banijay Rights.
With Tubular, Banijay Rights gains greater visibility into the cultural impact of its international content encompassing titles from Banijay's 120+ in-house labels and a number of third-party producers across drama, comedy, entertainment, documentary, reality and family genres, along with theatrical programming. Measuring how its content stacks up versus its own videos and competitive media properties fuels smart decision-making for Banijay that increases content importance for advertisers and audiences alike. Below are some examples of insights gathered from Tubular Labs:
Banijay's Mr Bean channel ranks among the top 10 British Entertainment creators on YouTube (May 2022). Across all Mr Bean channels, Banijay garnered 2.7B views on YouTube and 3.3B views on Facebook in the last 365 days.
The top Mr Bean video alone has received more than 300M views, which makes it one of the top 15 most watched Facebook videos uploaded that year.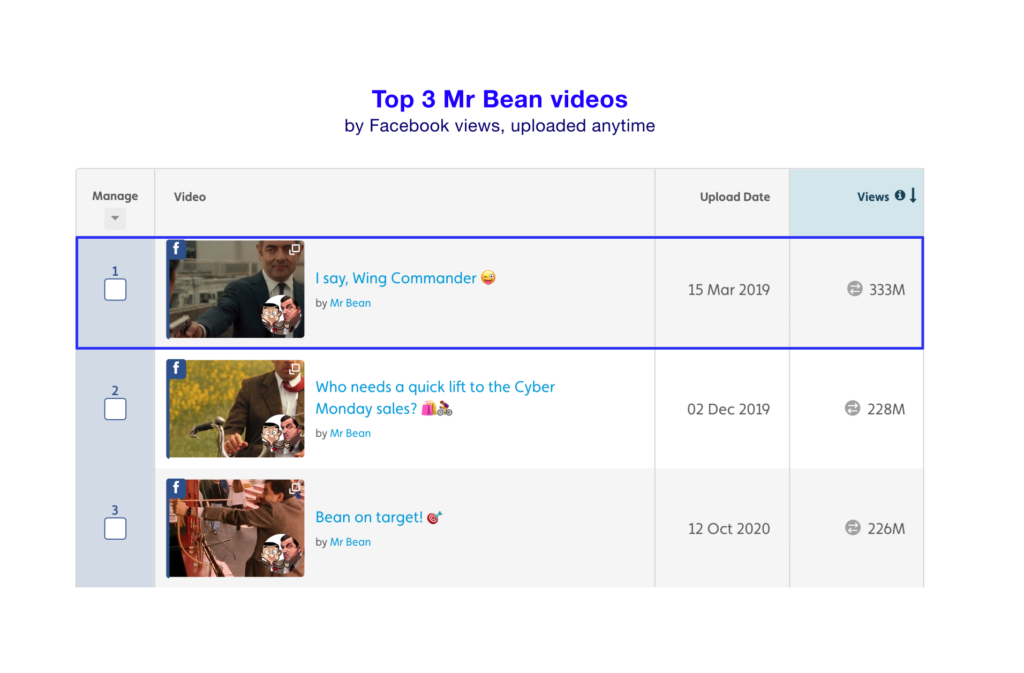 Another popular Banijay channel, MasterChef World, is currently the #2 global Food & Drink media creator based on YouTube views (May 2022). Across all MasterChef channels, the videos reached more than 1.3B views on YouTube in the last 365 days.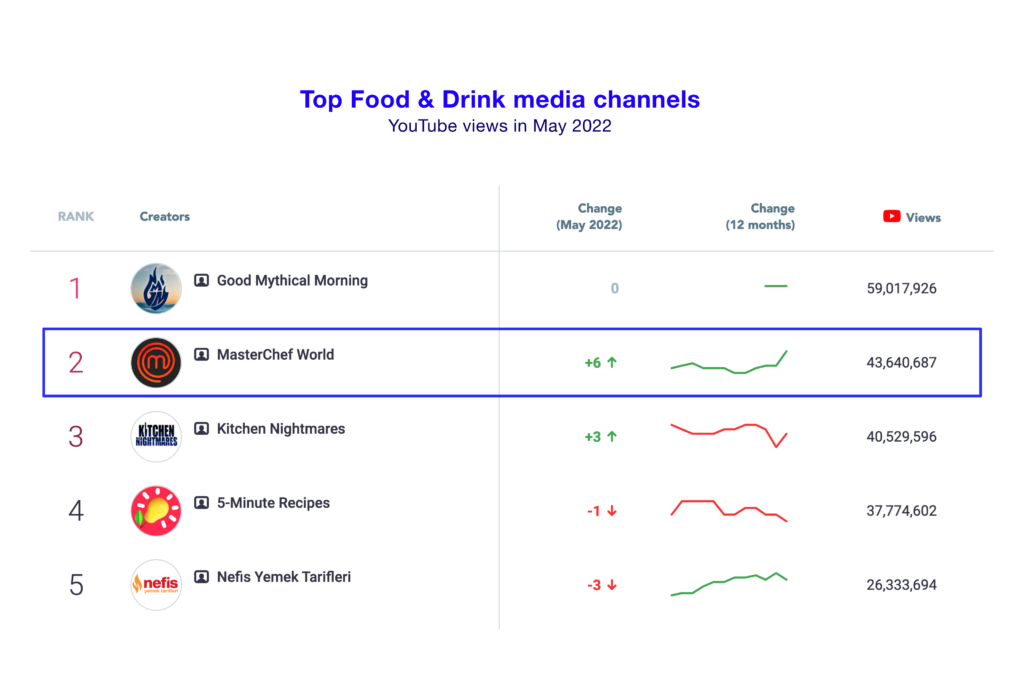 MasterChef's videos about regional cuisine are performing particularly well, compared to the category benchmark: MasterChef's regional cuisine videos gathered 262k views per video in the first 30 days after upload, vs. the category benchmark of Food & Drink media creators with 154k V30 views.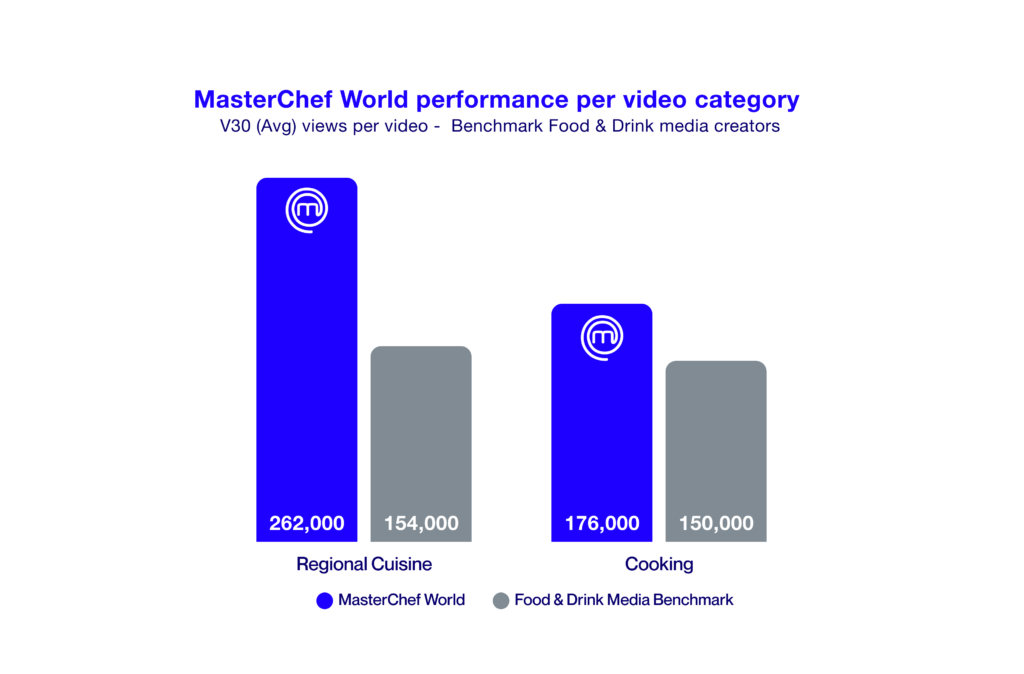 Survivor is the #1 most viewed entertainment channel in Turkey (May 2022) with over 100M views. In the last 365 days, the channel reached 1.1B views on YouTube.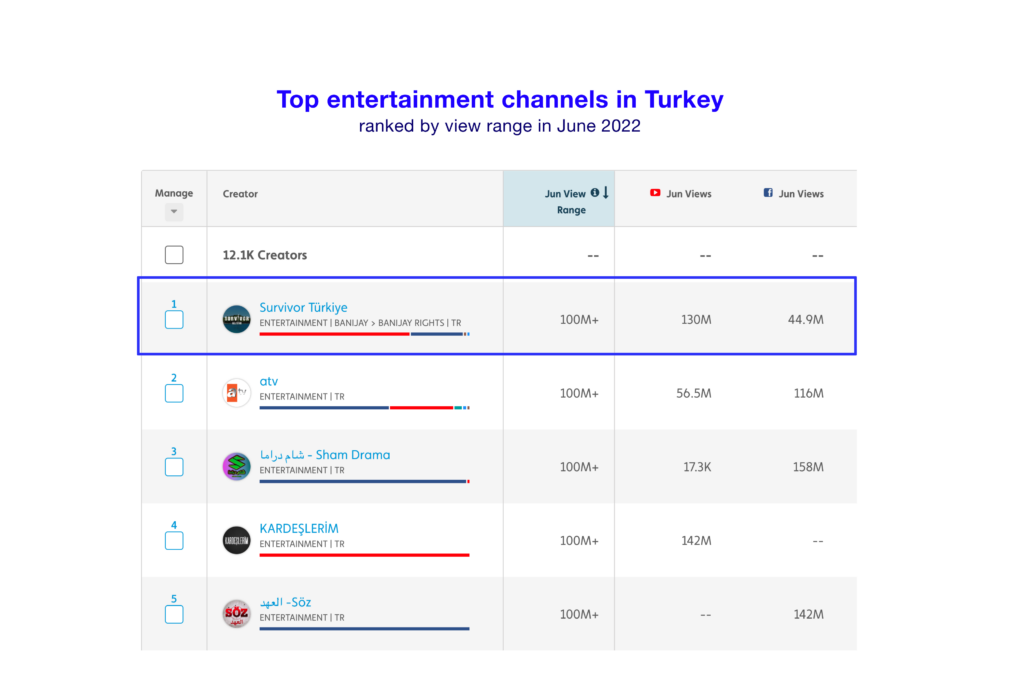 "On a global scale viewing behavior, programming and trends are shifting as more and more audiences move to social and connected TV formats to get their entertainment. This shift creates a need for publishers, distributors and brands to change the way they measure and deliver programming to audiences," said Greg Coleman, CEO of Tubular Labs. "Banijay Rights is responding to the evolution of culture and its impact on media and entertainment with video intelligence as a key ingredient in its next chapter of growth."
###
About Tubular Labs
Tubular Labs, the leader in global social video intelligence and measurement, is a trusted partner in inspiring what is remarkably relevant. The company provides a unified view of the shifting values and interests of audiences across YouTube, Instagram, Facebook, Twitch, Twitter and more. Tubular sees what no one else sees: new content categories, new creators and the passions that are driving what's next in culture, and how it influences sales. Tubular powers agencies, brands and media companies to make efficient decisions that grow their business through AI, machine learning and human analysis. Trusted by some of the biggest brands in the world, Tubular is the only company that is a member of the YouTube Measurement Program and a Facebook Measurement Partner. For more information, visit www.tubularlabs.com.
About Banijay Rights
Leading independent global distributor, Banijay Rights, represents a world-class, multi-genre portfolio of over 130,000 hours of standout programming. Leading distribution for the largest international creator and producer, Banijay, the division handles the exploitation of some of the planet's best scripted and non-scripted brands.
Representing quality, excellence and experience in the business of linear and non-linear television and ancillary activity across all platforms, Banijay Rights' catalog encompasses a host of top titles from Banijay's 120+ in-house labels, and a number of third-party producers, spanning drama, comedy, entertainment, factual, reality, family, formats and theatrical.
Delivering high-quality IP, which was born locally and travels globally, the distributor offers the best stories told the best way. Its landmark brands include Survivor, Big Brother, MasterChef, Temptation Island, Grantchester, Extreme Makeover: Home Edition, Deal or No Deal, Versailles, Biggest Loser, Home and Away, Money Drop, Mr Bean and Black Mirror.
Built on independence, creative freedom, entrepreneurialism and commercial acumen, Banijay Rights operates under the direction of Chief Executive Officer, Cathy Payne.