Do you know which influencers, media, and companies are actually talking about your brand across social video?
Knowing your owned reach is no longer enough to make informed decisions about your budget and promotional efforts. You need to truly understand your full share of voice (SOV) on social video, and then you can expand that share by working with better influencers to meet your goals.
Below are three steps for helping you start to measure and increase your SOV by working with influencers who are not only right for your brand, but who are also going to help you differentiate your brand from competitors!
Measure and Compare Your Total Owned + Earned Views
While you may already know how many views your own channels get, it's important to get insights about views and engagements from media companies, influencers, and other brands talking about your brand.
This information means you'll know more about your true reach, which you can then use to justify your social video efforts internally, and also to compare to your competitors' owned + earned content.
Example: Using the solutions available to you, gather information on your content as well as competitors' to get an idea of your total SOV in your industry.
Also, vet the top 60-100 videos you discover to make sure they're all relevant to your brand/company. Keep building out your list of videos or searches if you need to.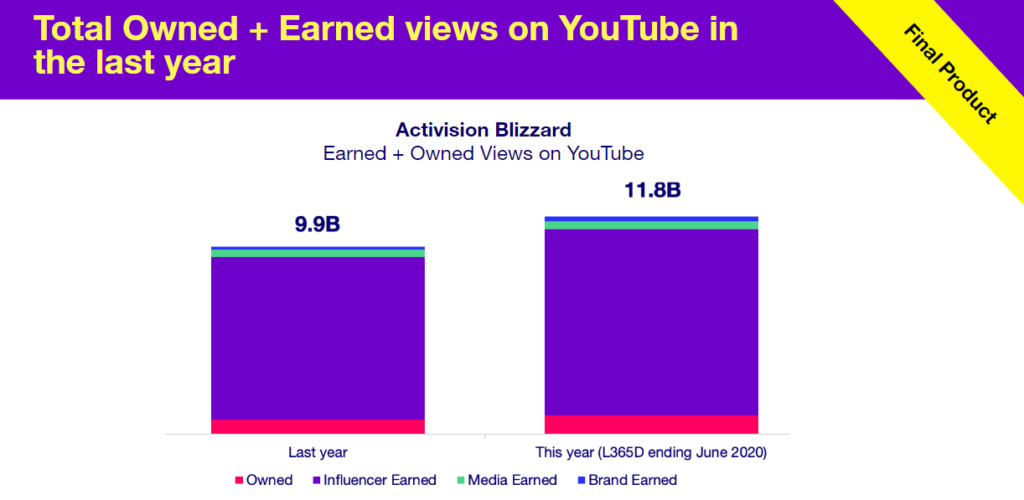 Find Better Influencers to Work With
Anyone can find influencers to partner with as a way to expand SOV. But in reality, your brand needs to find better influencers to work with that are relevant, credible, and cost-effective.
Influencer partnerships need to be the best fit for your brand that they can be. You can accomplish this by looking for influencers who are already talking about you, who drive large views within your category/genre, who audiences already have a high affinity for, and who are lesser-known but are on a growth trajectory.
Example: Create a list of potential influencers to work with based on the parameters above. For example, find the top five influencers who talked about your brand in the last year, or the most active influencers in your category in the last 30 days.
You can also search for growth influencers who have good reach (minimum of ~500K subscribers) and who show continual growth trajectory in terms of views or subscribers (maybe around 1 million views per month and counting).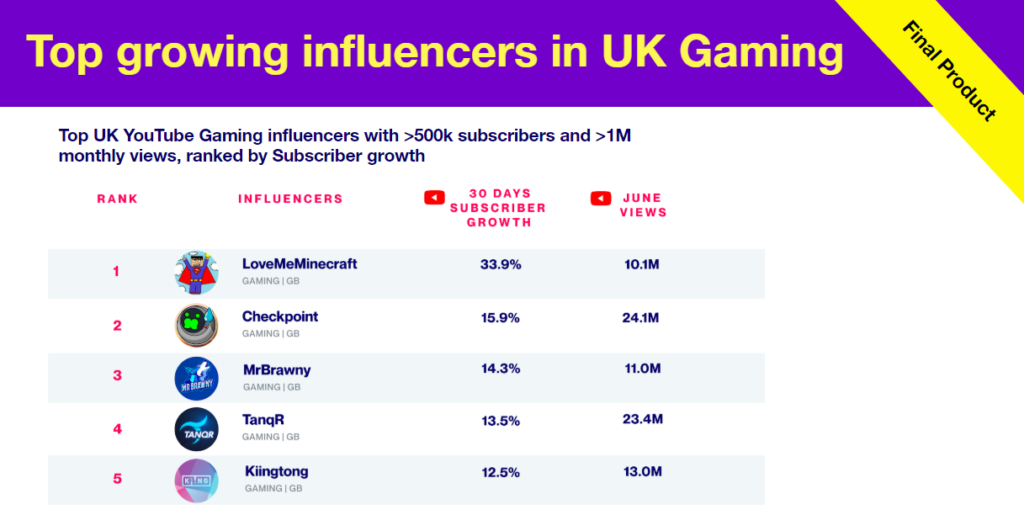 Implement and Iterate Your Influencer Marketing Process
Finally, make sure you're set up for success for future influencer partnerships to ensure your total SOV increases. Set up a process or framework that will help you make more informed decisions on who to partner with and how they can help your brand grow across social video.
As you run activations with influencers, use your findings to experiment with different formats, negotiate rates, etc. Build your own scorecard for how you evaluate influencer marketing success based on your previous activations, and iterate when needed.
Example: Make sure every influencer campaign you run includes tracking and attribution mechanisms so you can measure performance.
Also, because the influencer landscape changes quickly, with new creators showing up and others under-performing, conduct a monthly analysis on your campaigns and see what's working and what's not.
Curious about your total SOV on social video and how you can improve it?