Tubular insights specialists dove into the data from H1 2022 to find out what emerging trends marketers & media publishers should be leveraging to optimize social video performance and revenue in H2.
Here are some highlights from the recent report, H2 2022 Social Video Trends:
How micro-communities on social platforms offer higher converting audiences
How to use social video insights to foolproof your NFT & VR investments
How you can supercharge growth with short-formats
---
Micro-communities matter
Marketers must be agile and innovative when it comes to capturing the hearts of Gen Z & Millennial audiences. In particular, they are wary of advertisers, skeptical of inauthenticity, and unwilling to be delineated from their viewing preferences. One way for brands to overcome these hurdles is to engage in micro-communities.
These niche worlds of loyal and engaged audiences are led by micro-creators where there's a deeper sense of connection, increased loyalty to leading creators, and heightened trust. Ad-skeptical audiences have their guards down which presents the opportunity for marketers to nurture authentic relationships.
Micro-communities help brands and advertisers cut through the clutter and speak to audiences their competitors aren't already targeting.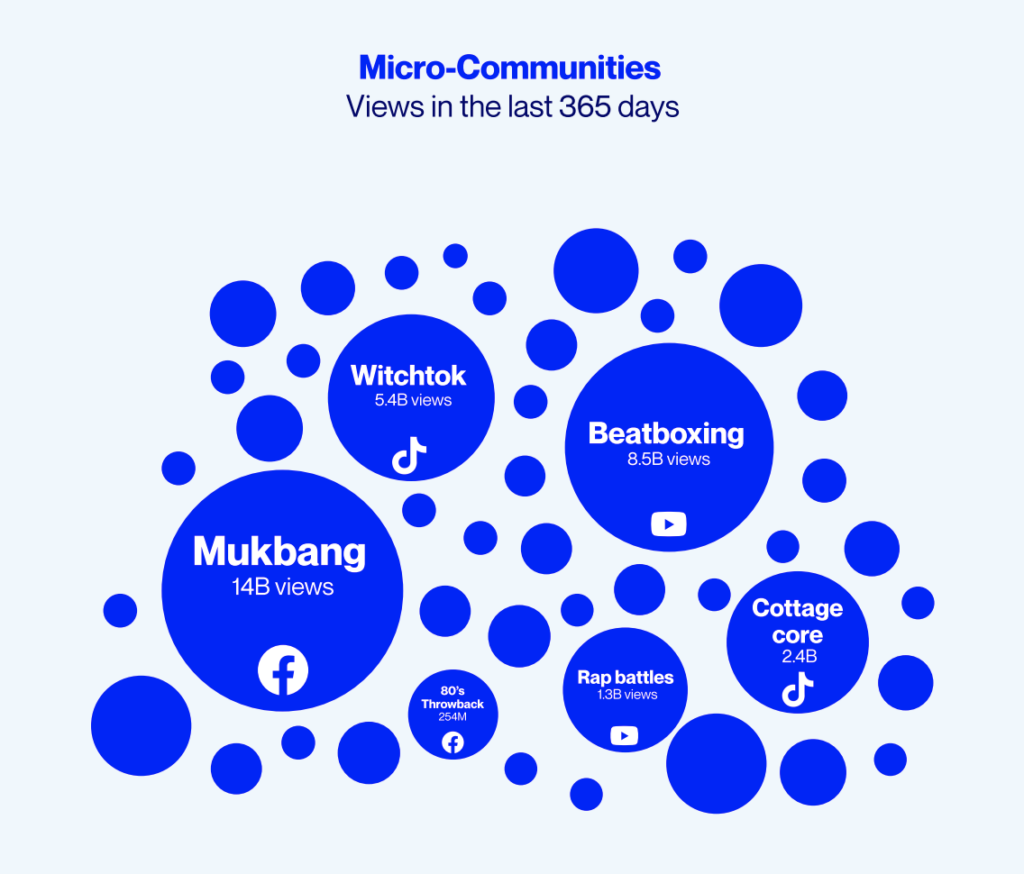 In our H2 2022 Social Video Trends Report, we look at this niche Roblox community:
Leah Ashe is a broad-reach Roblox creator with 1M unique monthly viewers in June 2022. Tubular Intelligence reported her massive audience is 993X more likely to also watch niche creator, ItsLimey, who focuses on a fashion game within the Roblox world. ItsLimey's audience is filled with fashion-loving gamers who are 27X more likely to purchase punk boots than other audiences.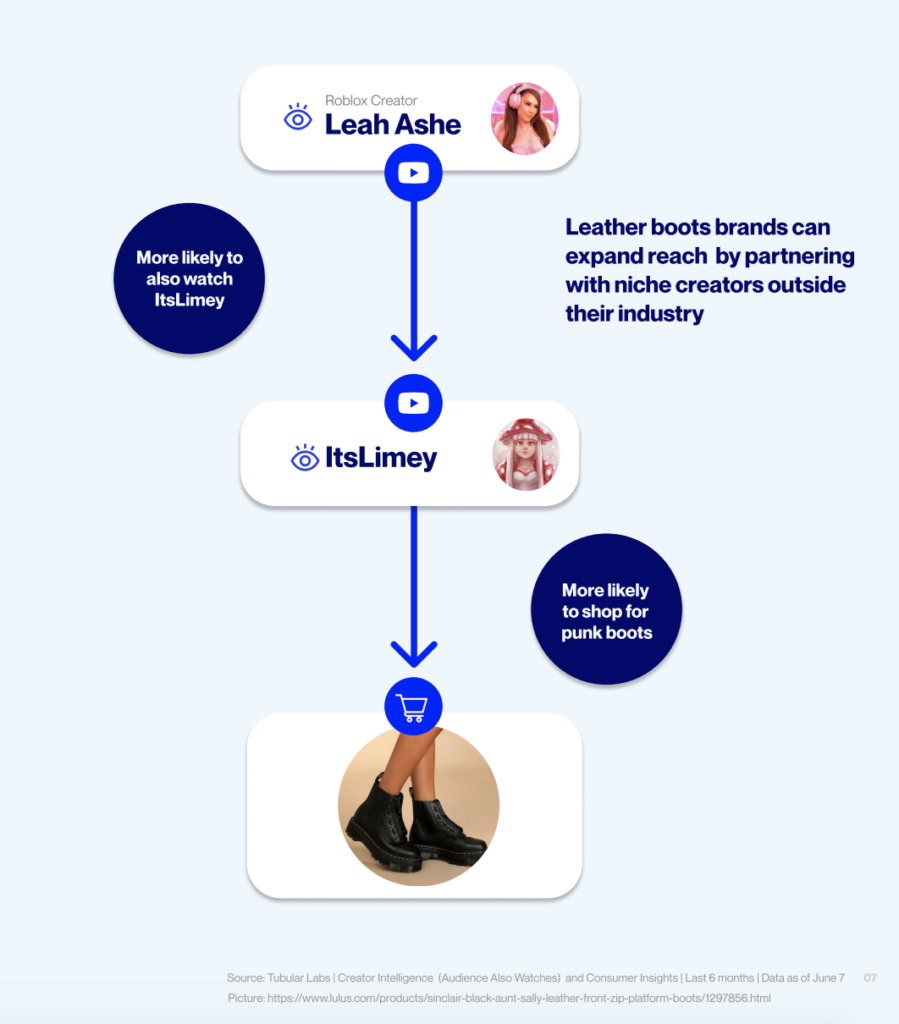 Understanding how to access niche communities and understand their specified consumer behavior is key to identifying partnerships that will drive conversions. Leather boots creators like Dr. Martens can gain market share by targeting this high-converting audience!
---
NFTs & virtual realities are relevant— today
NFTs and the metaverse are piquing audiences' interests which means they should be a new focus for marketers & media publishers as well.
While this new frontier might seem like a risk, social video offers insights & guidance to mitigate some of those risks and increase your chances of success.
How do marketers gain an understanding of this space and get started?
Marketers & publishers should employ the same engagement and feedback tactics used by the inventive artists already growing in popularity with NFTs. That said, it can be difficult for large-scale publishers and enterprise brands to maintain the same level of engagement that creators do— that's where comprehensive audience & content insights come in.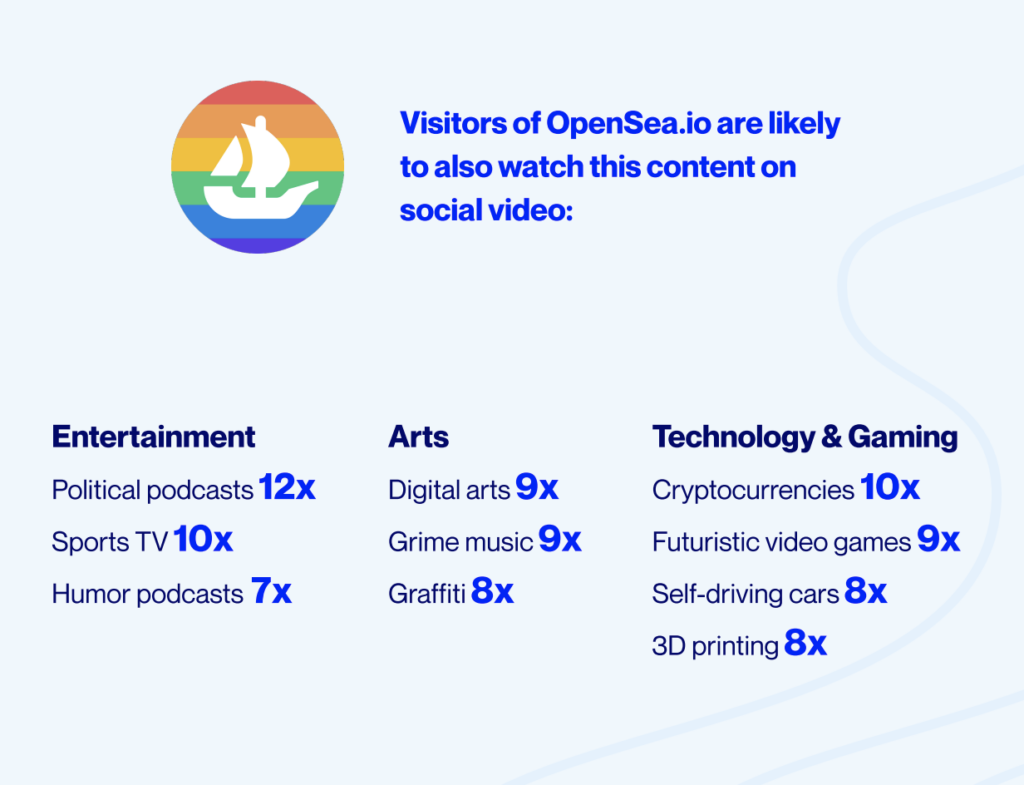 Social video insights tell us what NFT communities are interested in. Visitors of the popular NFT site, OpenSea.io, are likely to watch content on podcasts, arts, and new wave technologies like self-driving cars and futuristic video games. With this information, brands & creators decide what their next NFT project could look like.
When Budweiser launched its very first NFT collection, the brand aligned its concept with its consumers' entertainment preferences. Their NFT collection features 22 emerging musicians. No surprise, their consumers' viewing behaviors indicate the Budweiser crowd has a high affinity for country music, singing & talent shows, as well as remixes & mashups.
Leaning into music was a great way for this legendary beer producer to introduce their audience to NFTs in a way that feels familiar to them.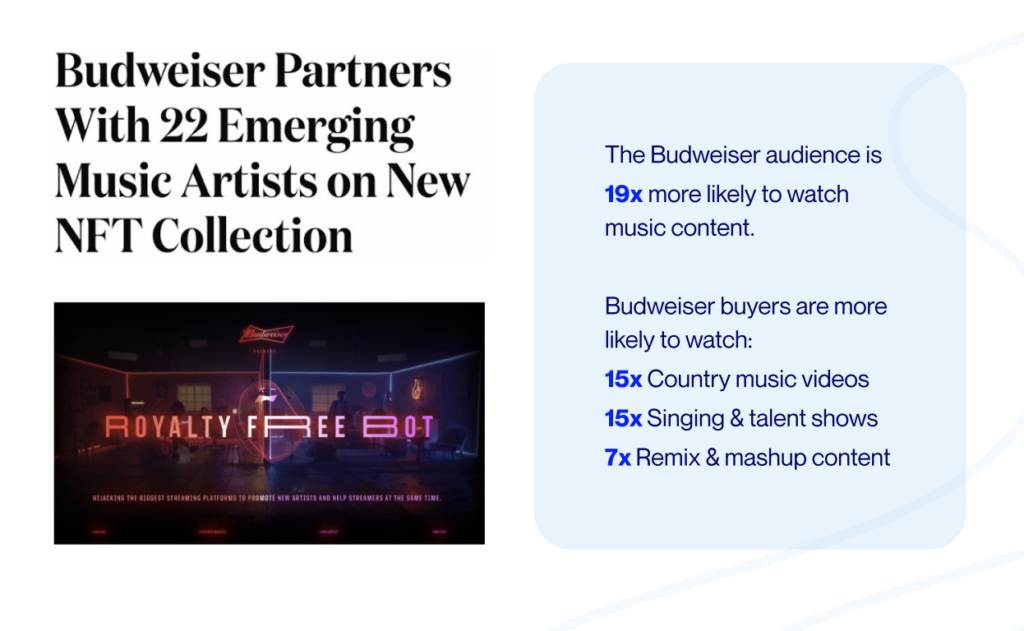 ---
Short-form content is the key to growth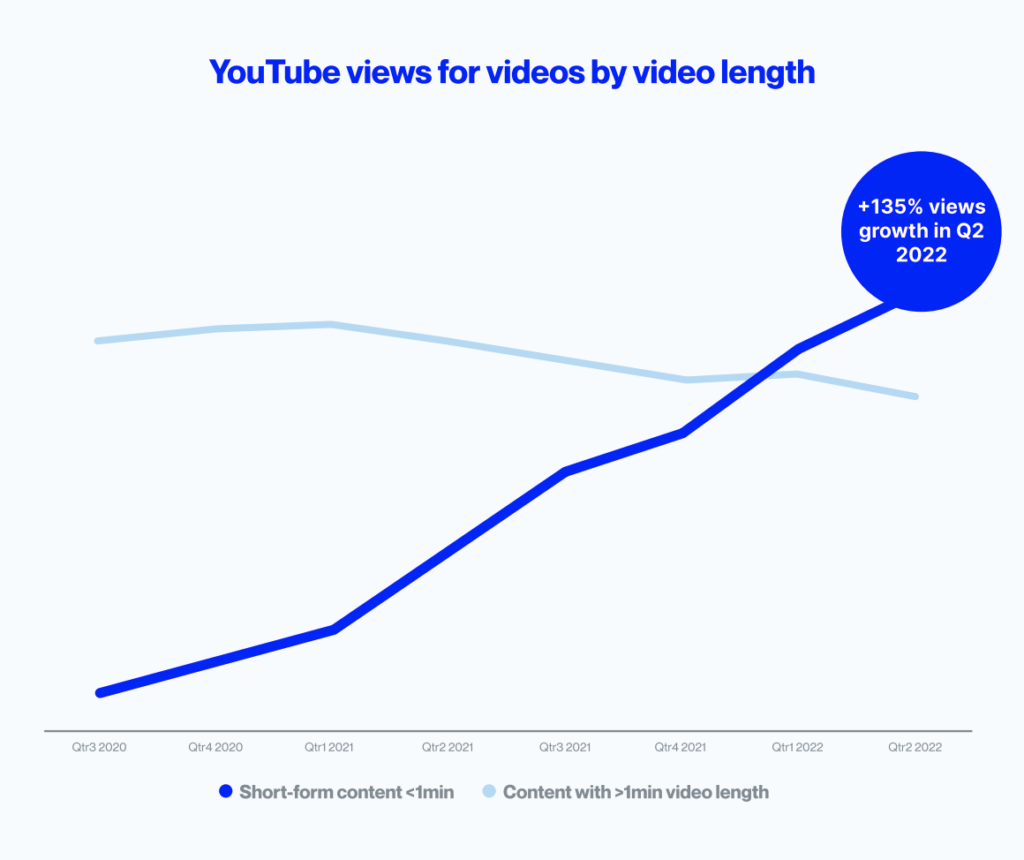 Short-form video is all about growth. Platforms have prioritized this content in algorithms to reach new followers and show up on discovery pages. Shared music tracks and trends also allow users to find new creators in alignment with their preferences.
That said, long-form content still plays an important role on social video as it racks up more minutes watched and nourishes deeper connections with audiences through in-depth content.
Finding that balance between growth and strengthening audience loyalty is key for those who want to lead on social.
---
Ecommerce continues to climb with social video
How can marketers set up a content & partnership strategy that will maximize the latest capabilities and ecommerce integrations?
For Millennial & Gen Z audiences, social video is the driving motivator of their consumer journey.
Platforms are enhancing ecommerce capabilities, making it easier than ever to connect brands, shoppers, and creators. #TikTokMadeMeBuyIt has gathered 6.4B views YTD and won't be stopping anytime soon.
Top content ranges from unboxing videos to best Amazon finds, and ASMR-style product videos. Creators who cater to specific communities like #CarThingsForYou inspire automotive fans with gadgets for their vehicles. This hashtag is accompanied by others like #AmazonFinds and #TikTokShop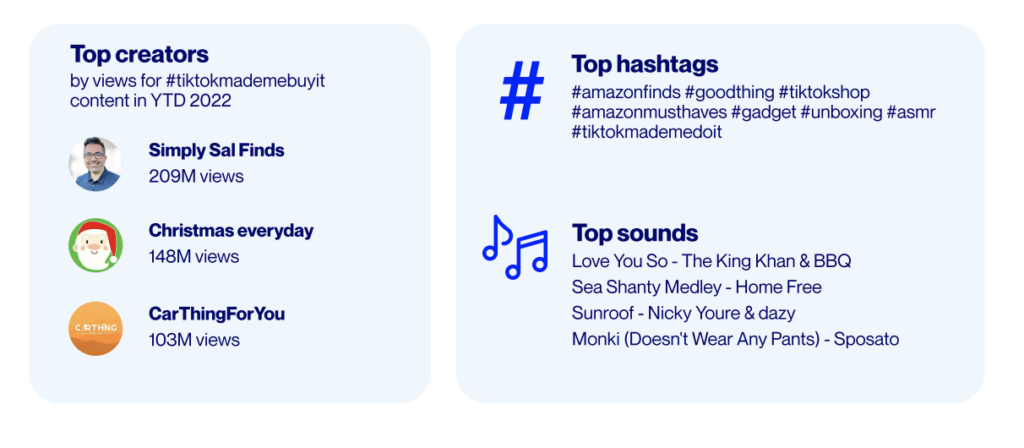 There's a strong connection between what people buy and what they watch on social video. Tubular's Consumer Insights found that Travel enthusiasts who watch content about cruises, spas, luggage, and castles are likely to shop for cameras, travel books, bear protection, and road bikes. These experience seekers exhibit a high affinity for brands like Logitech, GoPro, or Osprey.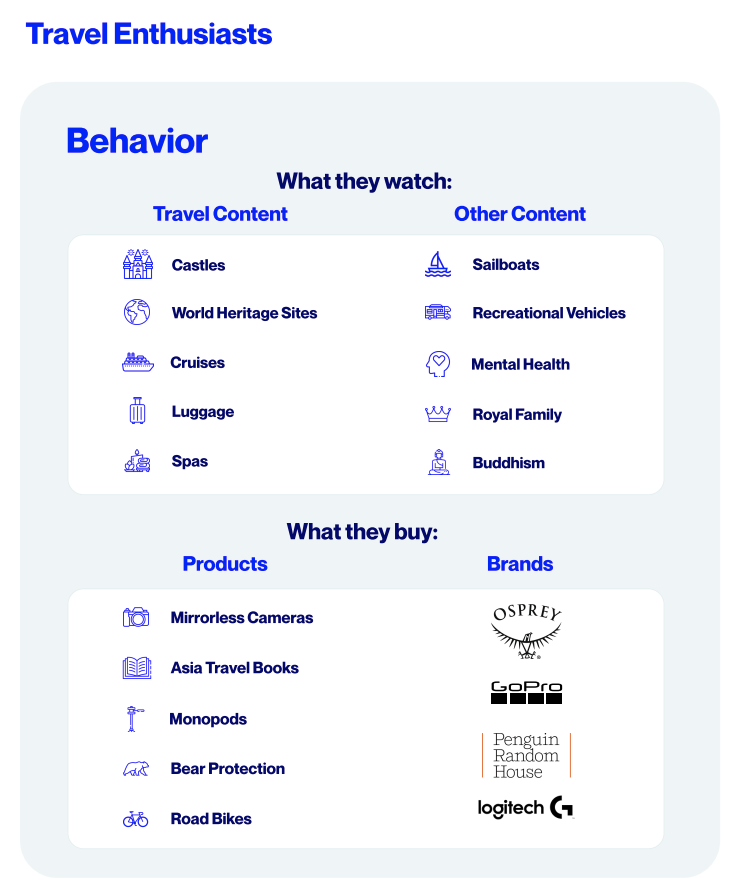 Marketers & media companies can benefit from understanding what content types and creators are actually driving conversions for specific brands and product categories. As for this H2 2022 trend, we predict that ecommerce & social video will continue to intertwine so that more and more shopping is done in social apps and video formats.
---
Click here to download the full-length report covering the most significant trends of H2 your company should be leveraging.
Learn more about how you can lean into digital streaming opportunities and position your company as a global leader here.