Predicting the future of online video is difficult, but that's not going to stop me from giving it a shot. What I do know is that Facebook, Twitter, Snapchat, and others are now proving to be formidable video platforms, despite YouTube's historic dominance in the space. On the heels of the Facebook Q3 earnings call, where Facebook announced they are generating 8 billion video views per day, Snapchat announced they are doing 6 billion views per day. Contrast that to the last reported numbers from YouTube when they announced in 2012 that the site gets 4 billion views per day. YouTube has been somewhat vague about their current view numbers, choosing instead to focus on how much time people are spending and investing in the platform.
YouTube Growth = Hours Uploaded Each Minute:
But there is one number YouTube has freely shared in the past 8 years: hours of video uploaded per minute. Almost exactly a year ago, YouTube announced that there were 300 hours of video content uploaded to the site each and every minute. And, at VidCon this past July, YouTube CEO Susan Wojcicki announced the newest figures – YouTube users now upload more than 400 hours of video to the site every minute. That's the equivalent of 1000 days worth of video every hour. Good luck keeping up with your favorite creators.
It's no wonder users are finding it increasingly difficult to not only break into the space, but to hold on to the audience they have established in the first place. YouTube Red may alleviate some of that pressure temporarily, as users have the opportunity to spend more time watching videos and less on advertisements.
But how about today, 6 months from now, or a year from now. How much content might YouTubers be uploading by then? Using the numbers from the past 8 years + excel + some trendline forecasting, I'd like to make a bit of prediction.
YouTube Now Sees ~500 Hours of Video Uploaded/Minute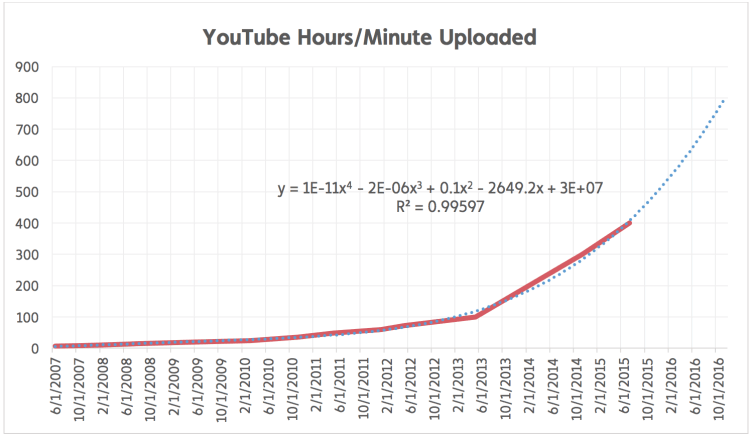 Sometime during this month (November 2015), Youtube will likely realize around 500 hours of video content being uploaded to the site every minute. As of writing this post, the model above estimates 490 hours/minute.By YouTube's 11th birthday in May of next year, YouTube users will be nearing over 600 hours of video uploaded every minute and by this time next year that number could top 700 hours of video uploaded every minute. Of course, Excel can't account for market indicators and if I were to model the numbers a different way, the site would be completely full of content and cease to allow uploads in March of 2017, so take these numbers with a grain of salt.
Here's the raw data used for the graph above:
| | |
| --- | --- |
| Date Reported | Hrs/Min Uploaded |
| 6/1/2007 | 6 |
| 10/1/2007 | 8 |
| 1/1/2008 | 10 |
| 6/1/2008 | 13 |
| 8/1/2008 | 15 |
| 5/1/2009 | 20 |
| 3/1/2010 | 24 |
| 11/10/2010 | 35 |
| 5/1/2011 | 48 |
| 1/23/2012 | 60 |
| 5/1/2012 | 72 |
| 5/1/2013 | 100 |
| 11/1/2014 | 300 |
| 7/25/2015 | 400 |
What do you guys think? Are you uploading more content to YouTube than you were last year?