Abercrombie & Fitch has undergone a metamorphosis over the last two decades. At Tubular Labs, we find it remarkable that this company has made a comeback from being criticized as an exclusive, preppy youth retailer with highly sexualized branding to an all-inclusive, forward-thinking brand.
So, how does a retailer transition from a forgotten Y2K-canceled scandal to a modern millennial body-positive brand? Of course, through social video. And, most notably — TikTok.
The Rise and Fall of Abercrombie & Fitch
While the previous 20 years have been a roller coaster ride for Abercrombie & Fitch, this retailer's lengthy history of reinventions is not new. Abercrombie & Fitch has been in business since the 1800s. Teddy Roosevelt and Ernest Hemingway were among its customers, and it was recognized as the "Greatest Sporting Goods Store in the World."
Several financial snafus in the late 1970s and early 1980s resulted in the takeover by The Limited, which eventually selected Michael Jeffries as CEO in 1992. Jeffries would become well-known for his raunchy style and primary credo — sex sells. For 22 years as CEO of Abercrombie & Fitch, he effectively transformed the struggling outdoor brand into a sex-centered elite enterprise. At the height of the brand's popularity, teenagers swarmed to the store, where male models stood outside under club lights and trademark aroma infused the air. A&F was a captivating experience in and of itself, with its insignia emblazoned across all clothes as a mark of exclusive status. In 1999 LFO pop trio sang "I like girls who wear Abercrombie & Fitch, I'd take her if I had one wish". The brand was inextricably linked to the popular culture of the day.
Its cultural significance, however, did not continue long. A class action complaint was filed against Abercrombie & Fitch in 2003, alleging that the company participated in discriminatory hiring practices. In the end, they settled a $40 million dollar payout to discriminated-against applicants.
And in 2006, Jeffries came out in an interview and revealed what everyone had been thinking.
"[Sex] is almost everything. That's why we hire good-looking people in our stores. Because good-looking people attract other good-looking people, and we want to market to cool, good-looking people. We don't market to anyone other than that,"

Michael Jeffries
Jeffries departed the company in 2014 after years of revenue decreases. In 2015, they phased out in-store male models, halted hiring based on "the A&F style," and expanded women's apparel sizes. However, the path to restoring this shattered brand reputation would be difficult and would need far more than simply standardizing brand activities.
In fact, Netflix's documentary White Hot: The Rise & Fall of Abercrombie & Fitch is set to premiere in April 2022 and will cover many of the discriminatory business practices that occurred not only within the company but also throughout the fashion industry in the Y2K time period.
Abercrombie released a statement on their social media channels in response to the documentary. Let's take a look at how they've used social video platforms to re-establish their brand identity and rebound from controversy:
"In the spirit of transparency, we want to directly acknowledge the news of an upcoming documentary that will feature Abercrombie & Fitch and focus on an era that took place under previous leadership. While the problematic elements of that era have already been subject to wide and valid criticism over the years, we want to be clear that they are actions, behaviors and decisions that would not be permitted or tolerated at the company now.
As we've evolved, we've felt the love from this community. We are grateful for the support you have given us as we've taken intentional steps to be inclusive and welcoming to everyone.
Thank you for giving us the chance to show you who Abercrombie is today, and for being a part of who we will be tomorrow. We know the work is never done and remain committed to continually creating a company of which we can all be proud."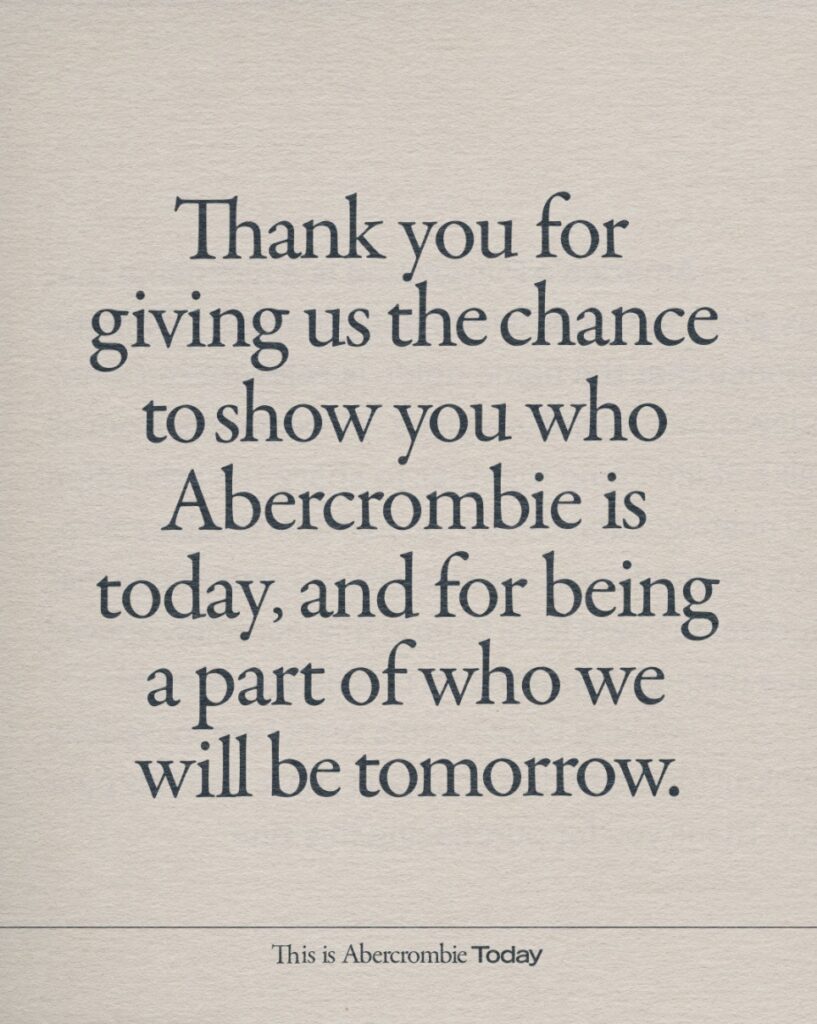 The Rebrand
In 2017, Franz Horowitz took over as Abercrombie's CEO. Since then, the retailer has taken big steps to rebrand itself with inclusivity and celebrating diverse shapes, sizes, and colors. Horowitz shared with NBC News that they have modernized the brand and begun to target 'young millennials', people who are 20-30. In 2019 the company saw remarkable growth, signaling to the world — Abercrombie is back!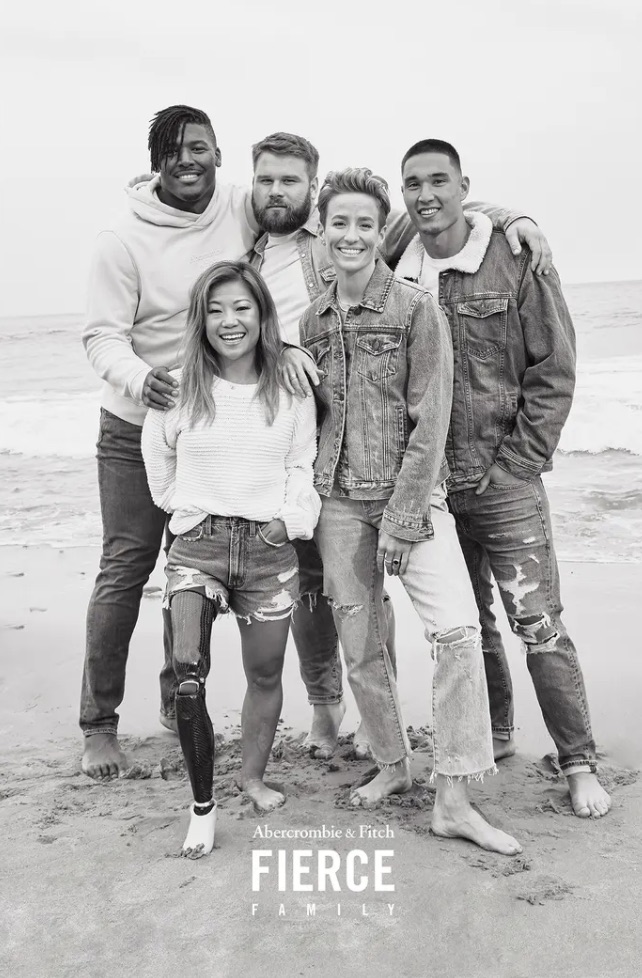 The retailer relaunched its signature scent, Fierce, with a brand new angle in their year-long 2021 campaign #FaceYourFierce. While this scent that hung in the stores of Abercrombie throughout the 2000's will live on in the olfactory memories of millennials across America, the new angle is something completely new. Abercrombie partnered with influential people they termed the 'Fierce Family' which featured transgender model Leyna Bloom, and Paralympic gold medalist, Scout Basset to name a few. Rather than feature 'cool kid' models, they selected unique and remarkable individuals to support the relaunch of their scent!
The TikTok Takeover
This brand's triumphant return was astronomically boosted by strategically hopping on the TikTok bandwagon. TikTok has a way of igniting viral trends the way no other platform can do by encouraging creativity and collaboration amongst users. While this platform has been a crucial component in Abercrombie's rebranding, the brand's account only has roughly 20,000 followers on the app and about 50 videos at the time of writing — so how are they going viral?
Rather than producing their own videos, the company depends heavily on collaborations with inclusive, fashion-focused TikTokers to do the heavy work in terms of social footprint and name recognition. By partnering with a few notable curvy fashionistas and diverse faces, the company ignited a content trend that would explode across the platform. When a brand strategically partners with the right creators who have access to niche audiences, they inspire smaller creators around them to join in on the trend as well.
Today, we see unpaid TikTok users creating their own try on haul videos promoting Abercrombie's new, inclusive brand!
Tubular data shows that videos with #Abercrombiehaul have gotten over 400k views on YouTube in the past year, albeit the main social driver is TikTok. This hashtag has over 51M views on TikTok with the top video garnering over 228k likes. Creator @madelinelah says "I haven't shopped here since I was literally 14, but they've made a comeback."
Audience & Brand Co-Creation
Another influencer @frankietavares tries on the Curve Love Jeans captioning the video "Squat Test Approved" which plays into Abercrombie's rebrand to be inclusive of all body types.
Then, you have male creators like @andy_lobos making retail reviews with captions like "Abercrombie has something with no logos?!?!" pointing to their early Y2K trend of having the name plastered across every shirt, hoodie, and tank top.
Abercrombie did not simply pay a slew of influencers and hope for the best. Instead, they actively engaged with users and paid close attention to the comments and engagements on creator's postings. Being an inclusive company requires listening to the needs and concerns of people of all shapes and sizes and producing clothes that fit everyone.
When asked about their rebrand and engagement with the TikTok app, A&F told Vogue:
"We watch the reviews and hauls of our products. We take notes of how people describe the quality and fit. There's an authenticity innate to TikTok and its entire community that has allowed us to humanize Abercrombie."
In this way, TikTokers have co-created the brand that Abercrombie is today. Rather than companies learning how to leverage and create for audiences, it's important that they learn to create with audiences.
For instance, their 90's Straight Leg and Curve Love jeans have created quite the buzz online and sell out – often. One comment today's reviewers continuously make is that there's no "waist gap" which means the jeans fit over curvy hips nicely while also hugging the waist. Often, curvy bodies have a hard time finding a pair of pants that can accommodate both! This feature that makes the jeans so popular is actually one that stemmed from actively listening to and engaging with social video audiences.
In addition to their participation on the app, A&F also teamed up with creators @denisemercedes and @mariacastellanos_ri who started the movement #StyleNotSize. This movement's mission is to show how fashion can look excellent on all body types. The two influencers create side-by-side try on hauls where you can see clothing items on one slender and tall body and one curvy and shorter body. In the end, they both look incredible in everything they wear and their content helps to highlight inclusive brands. These creators were a perfect partner to Abercrombie's rebrand so they invited them to create their own collection, Abercrombie X Style Not Size. The collection featured jeans, dresses, tops and more.
Insights to Actions
If you'd asked a marketer in 2013 if an Abercrombie & Fitch comeback would be possible — they likely would have said not a chance. But with the right leadership, branding initiatives, and social video strategy, we've seen one of the biggest Y2K scandals turn into a company that inspires inclusivity and provides quality made apparel. Let's wrap up how this company navigated the wild west of TikTok to fuel its transformation:
1. User-generated content is king. Over the past year, we've seen brands thriving off user-generated content that saves on production costs and increases trust and, in turn, conversions.
2. Find the right creators and the rest will follow. When it comes to trending on TikTok, it's important to create a portfolio of diverse creators who have strong community ties. In this case, we saw a few partnerships ignite other TikTok users to create their own renditions. This is the name of the game with this platform.
3. Listen and respond. Increasing loyalty and creating an authentic brand is all about listening to users and engaging with them. A&F is extremely active in the community and they bring those suggestions into their business strategy and creations. Users can feel this level of collaboration and they love it.
---
If your company is interested in learning about Tubular can help you refine your content strategy, contact us here.