Three years ago, John Green, an author and a vlogger, stole the show at YouTube's Brandcast 2015 event in Madison Square Garden. He did it by saying, "Unlike the other people onstage here tonight, I'm not here to entertain you. I'm not here to educate you. Tonight, I'm here to scare you. See, most people onstage tonight are arguing why you should advertise on YouTube. But I'm going to offer you something different. I'm going to offer you a vision of what will happen if you don't."
This year, the speaker who stole the show was Deanie Elsner, President of Kellogg's Snacks Division, who shared how YouTube has transformed the way they approach their brand campaigns today. Coincidentally, her story also started in 2015.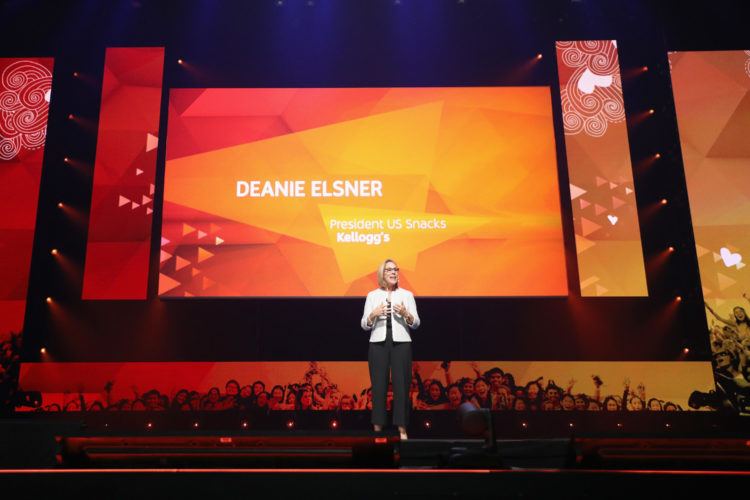 Now, the $4 billion Snack business unit at Kellogg's has over 1,000 employees and 8 plants that manufacture iconic brands such as Pringles, Keebler, and Cheez-It. She is a passionate disruptor, taking on the toughest challenges, using her head and heart to set bold direction and inspiring her team to achieve great things. And she has led the turn-around of three businesses across three different categories within both domestic and international geographies.
Her presentation at Brandcast 2018 knocked my socks off. And I knew instantly that you would want to drill down into what she said. (I also knew you'd want to read, "Video trends: 8 critical industry takeaways from NewFronts 2018" first. But, I juggled the order in which I had planned to drill down into some of the events to move this up in the order.)
Now, I'm going to give you a couple of options. You can watch the 7-minute, 13-second long video embedded in my column, you can read the transcript of her remarks below, or you can do both. Hey, it's up to you. But, you will want to know the Kellogg's Snacks success story.
Kellogg's: How YouTube Changed Our Understanding of the Consumer
Susan Wojcicki, CEO of YouTube: Please welcome Deanie Elsner, President of U.S. Snacks for Kellogg's.
Deanie Elsner: As a 100-year-old company with a portfolio of heritage brands, including Cheez-It, Pop-Tarts, and Frosted Flakes cereal, we never take for granted that we need to be more than just a packaged food company. Kellogg's is actually an important member of the family at moments throughout the entire day. So, at this point I have to believe the question you're asking yourselves is: "What the heck could a company like Kellogg's tell us about technology or how we're going to connect with consumers in an authentic way digitally?" That's a very good question.
When I started at Kellogg's in late 2015, it was a time of transformation. While we participated in the growing $90 billion snacks category, Kellogg's snacks brands were not keeping pace. Sales were declining and it was clear that the center of our challenge was the fact that we were losing touch with our consumers. We had to embrace the idea that the consumer is the new CEO and is calling the shots. And we had to recognize that they're turning to social media and digital platforms like YouTube to communicate, engage with their friends, and connect with the brands they love.
But the problem was our presence on many of those platforms was nonexistent. For example, our spend on YouTube in 2015 was zero. We were aware that many conversations about our brand were happening on every platform every day, but we lacked the understanding about how to use that insight to make meaningful connections with our consumers versus just touching them with a banner ad. Our long-term success was depending on shifting to a digital-first communications approach customized to the individual.
Our first opportunity to advance this digital-first thinking was for Rice Krispies Treats. Now, if you ask most kids or adults whether they like Rice Krispies Treats, their faces light up. It's one of those treats people just can't get enough of. So in partnership with our creative agency, we created a campaign around the theme of "So much to love." The first part of this campaign started with changing our packaging so that consumers could write personalized messages directly on the wrapper. However, the breakthrough to this campaign was figuring out how to leverage the concepts from the trend study we did on Google Correlate, which showed a 93% correlation between conversations about school snacks and the concept of parents leaving lunchbox notes for their kids. That insight became the "A-Ha" moment for our digital campaign.
Now, the challenge that was in front of us was: "How do you individualize that idea so that our message resonated with consumers when they're the most receptive?" We were lucky to be one of the first brands in the US to use a new tool called "YouTube Director Mix," which allowed us to customize our creative with ease, resulting in over 250 personalized assets that could be delivered to consumers in different contexts on YouTube.
For example, if somebody was engaging in a video about cooking, they might see our six-second ad featuring a text with the wrapper that said, "Food Equals Love." The best part of this is we were able to do this all within a reasonable production budget, which for us was a home run.
So, did it work? Absolutely! We saw that the director mix ads outperformed our banners ads by 2 times. In addition, it generated a 29% lift in ad recall as measured by Google Brandlift, coupled with a 15% lift in consideration. What was most compelling is that, we saw close to a 4% lift in our sales and market share growth, despite the fact that we had 20% fewer retail displays.
Rice Krispies Treats went from a brand that had never advertised before to a brand with an ROI that exceeded external benchmarks. Even paying back in its first year. This campaign became the watershed moment for Kellogg's because it opened our eyes to the power of using Google and YouTube to deliver the right message to the right consumer at the right time. The success became the catalyst for other Kellogg's brands to rethink their marketing strategies, as well. In fact, the success of Rice Krispies Treats led us to reimagine our strategy for Pringles.
Now, as most of you know, Pringles is a unique chip from everything else in the market in large part because of its insanely accurate flavors and the fact that it's stackable. In partnership with Google we found thousands of food hack videos on YouTube featuring fans creating their own recipe by stacking their favorite flavors. The Pringles team seized on this insight and created a campaign in the lead-up to the Super Bowl that was grounded in the premise of flavor stacking. We partnered with YouTube to unleash a series of six-second bumpers encouraging consumers to try one of the 286,927 combinations available.
Then, in partnership with SNL's Bill Hader, we created our hero spots and uploaded them on the platform as part of YouTube's AdBlitz program. The results were spectacular. In the end, Pringles delivered over 60 million impressions, garnering huge levels of brand engagement and accelerated growth. Beyond that, we found one in five consumers who were aware of the campaign actually did their own flavor stacking.
And it goes from there. Now, brands across Kellogg's are partnering with our agencies and YouTube to create value for our consumers, while delivering business results. This is why our ROIs have seen year on year double digit growth and why YouTube has earned the honor of being our #1 online video partner in just two years. These two campaigns not only transformed the way we think about digital – but they completely flipped the paradigm of advertising campaigns across Kellogg's. We went from spending very little on digital platforms, to now spending 60-70% of our overall marketing budget. In fact, since 2015 we've increased our spend on YouTube each year, including a 300% increase last year alone. And, in many cases, our digital campaigns are now driving the creative and strategy behind everything else we do.
Now, there's no doubt that it's a challenging time to be a Marketer today. While heritage brands like ours have enjoyed decades of mind-share with consumers, it's clear we're living in a time when technology and social media has the power to shift conversations about brands incredibly fast. But the tools we get from Google help us get smarter, engage with our consumers better, and in many ways, improve our strategies for our campaigns overall.
My advice to the senior leaders in this room is to give your teams the runway they need to take calculated risks, to partner with your media and creative agencies to try new things, and to develop new ways to personalize your creative so that you can stay in lockstep with the ever-changing consumer.
NewFronts Presenters: 2018 Video Statistics
Tubular has put together a full ratings sheet with all the NewFronts 2018 presenters top properties listing their Facebook March Views, Facebook V30, YouTube March Views, and YouTube V30. Click below for the full list!