If you're a media company, broadcaster, or lifestyle and entertainment brand and you're not covering the latest K-pop sensation Blackpink yet, it's time to step up your game.
In February, we discussed how K-pop (i.e. Korean pop) is a global phenomenon with momentum worth harnessing and that trend has continued into spring. K-pop-themed videos are consistently drawing high viewers and engagements across social-video platforms: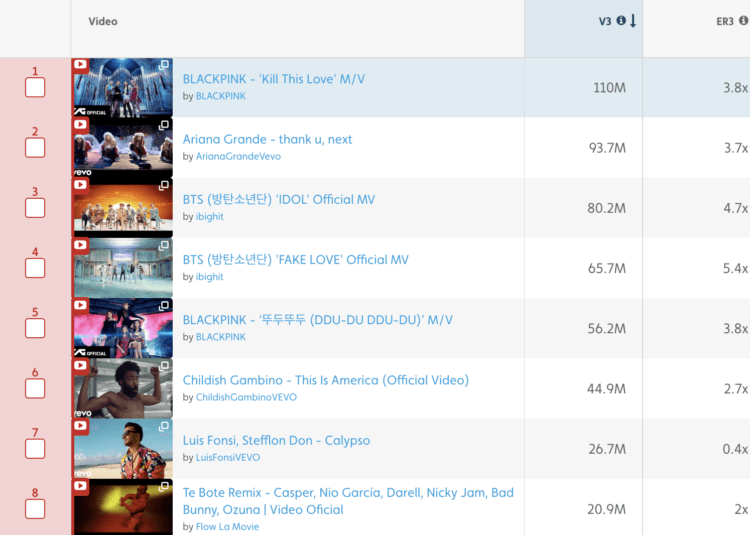 And, of late, Blackpink is YouTube's secret sauce. This past week, the quartet's music video debut "Kill This Love" made the biggest introductory splash in YouTube history. Let's check it out and see how brands can harness the power of this global phenomenon!
K-Pop Group Blackpink Makes YouTube History with "Kill This Love"
Here's how Blackpink's "Kill This Love" is performing just a week after its release on April 4:
The video clocked 158M views in its first 7 days.
In its first 24 hours on YouTube, "Kill This Love" hit 56.7M views, breaking the record for the most views in this short period in YouTube history.
"Kill This Love" was the fastest music video ever to hit 100M views, reaching that benchmark in less than three days. It narrowly beat out Ariana Grande's "Thank U, Next," which garnered 55.4 million views in its first day.
Blackpink's music video also beat out Grande's video with a 3-day engagement rate of 3.8x, slightly higher than the 3.7x of "Thank U, Next." This is 2.8x higher than the average engagement rate on YouTube. Additionally, the latest K-pop video pulled in an overall 7-day engagement rate of 3.8x.
The views don't just come from Korea. The top countries that watch Blackpink on YouTube and Facebook include the United States (14.7% of the band's weighted audience share), Thailand (11.6%), Indonesia (7.3%), and Brazil (7.3%).
Facebook — where the latest K-pop stars only hosted the "Kill This Love" teaser video — brought in a solid 4.5x 7-day engagement rate.
How Brands & Media Companies Can Get in on the Latest K-Pop Fever
It's not just Blackpink that's bringing in the rum, pum, pum, pum, pum, pum, pum. In general, music videos featuring famous Korean singers and musicians are some of the most-watched content on YouTube, garnering 4.3 billion views during Q2 2018 alone!
Remember PSY's "Gangnam Style" which debuted on YouTube in 2012? That catchy K-pop song was the first YouTube video to rake in two billion views in only two years.
For the K-pop genre, it was only uphill from there with the YouTube debuts of other high-performing groups like YG Entertainment's Blackpink, SM Entertainment's boy band EXO, and Big Hit Entertainment's BTS, the first K-pop group to break into the mainstream western market.
Broadcasters, media and entertainment companies, and brands can piggyback on the latest K-pop fever to increase their reach. Consider Jimmy Fallon whose videos grossed 2.6 billion on YouTube this last year. Among the Tonight Show's most-watched videos of 2018, is K-pop group BTS performing "Idol" (coming in at #10 of Fallon's top videos with 17.7M views as of this writing).
Related Read: Billions of Online Video Views Prove the World Just Can't Get Enough of K-Pop
Ready to dive in? The buzz around K-pop group Blackpink can potentially be harnessed for months to come. The all-female group's North American tour starts in Los Angeles later this month and is performing on James Corden's April 18 Late Late Show on CBS.
And this week on Friday, April 12, the K-pop quartet's Coachella performance will be live-streamed to blinks (Blackpink's hardcore fans) in New York's Times Square on a humongous screen — no joke: the screen is as high as an eight-story building and almost as long as a football field. Talk about primetime!