For years, kids' digital media companies and brands relied on driving high viewership to their YouTube channels to increase and capture ad dollars as a way to monetize their content.
But times have changed. Around the world, children's content is coming under the protection of privacy laws like the GDPR in the EU and COPPA in the United States. And most of these laws restrict advertisers from marketing directly to children.
Now, kids' media companies and brands must look beyond ad revenue for new ways to grow their audiences so they can prove their overall value and license, merchandise, or even sell their properties.
In our newest report about Made for Kids content on YouTube, we break down how leading children's entertainment companies and even some brands are growing their audiences so they can prove their value and monetize beyond ad revenue, including:
Creating white space content: Set yourself apart from competitors through unique content offerings in up-and-coming categories.
Expanding your global reach: The more you can localize content, the more likely you are to grow your reach.
Finding untapped audiences: Comparing your owned vs. earned media views can help you find audiences already talking about you and who may want more owned content.
Let's take a look!
Discover and Develop White Space Content
When it comes to growing your audiences and proving your overall value, stand apart from your Made for Kids competitors by finding and creating white space content.
For example, some of the most-watched content from creators like Peppa Pig and Blippi in 2020 hailed from untapped spaces such as kids' sports and children's museums, both of which had higher-than-normal average 30-day views (V30) but fewer overall uploads across Made for Kids creators.
This strategy clearly worked for UK-based entertainment company Moonbug. The digital kids' creator used data to determine what new property to create; out of this stemmed its Go Buster IP, which was eventually licensed by Netflix.
Takeaway: When you want to expand your Made for Kids content and overall reach, look for growing opportunities in spaces that aren't crowded yet and develop content for these areas.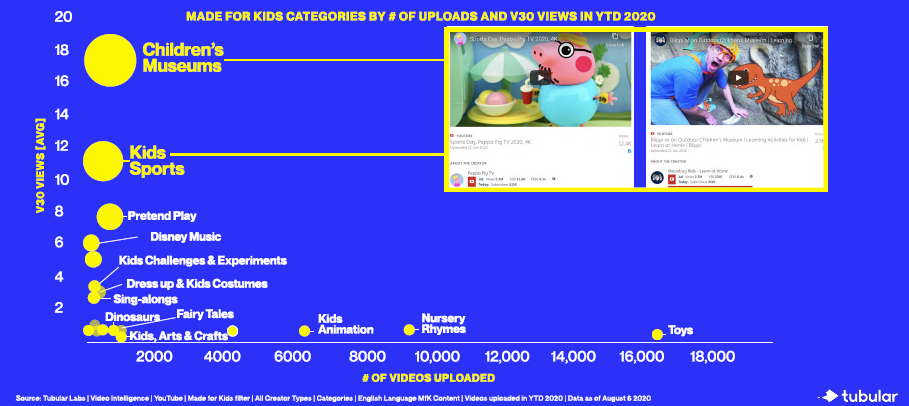 Make Localized Content to Expand Reach
Localizing content is an important part of reaching new audiences around the world. When you do, your kids' entertainment company will have a bigger global footprint across Made for Kids content and you'll have more proof of value to bring to the table.
For example, properties like Peppa Pig and Masha & the Bear are available in over 20 languages around the world. Their expansion into other regions helped each property drive a ~50% increase in viewership across their respective YouTube channels from January to July 2020.
In particular, Masha & the Bear's global success has led to licensing and distribution deals with U.S. and UK media giants like Universal Kids, Netflix, and Tiny Pop.
Takeaway: In order to attract licensing and merchandising partners, prove your global appeal by translating your country-specific success into regional-specific content pushes.
Find the Audiences Already Talking About You
Finally, discovering your owned to earned media ratio can help you not only discover untapped audiences, but can also help you prioritize where first to expand globally.
This strategy is particularly useful for brands who have yet to make an impact in localized regions, but see that audiences in these areas are already talking about them via earned content and driving significant views.
Mattel's Barbie is a good example of analyzing owned vs. earned media. The brand's YouTube channels dominate in countries like the U.S., Russia, and Spain.
However, the percentage of Barbie-related views in the APAC region are significantly higher on earned media, meaning the Barbie brand has an opportunity to grow its owned media within those audiences.
Takeaway: In regions where audiences are already talking about you primarily through earned media, use this opportunity to grow your owned media presence in these areas and improve your pitch to potential partners.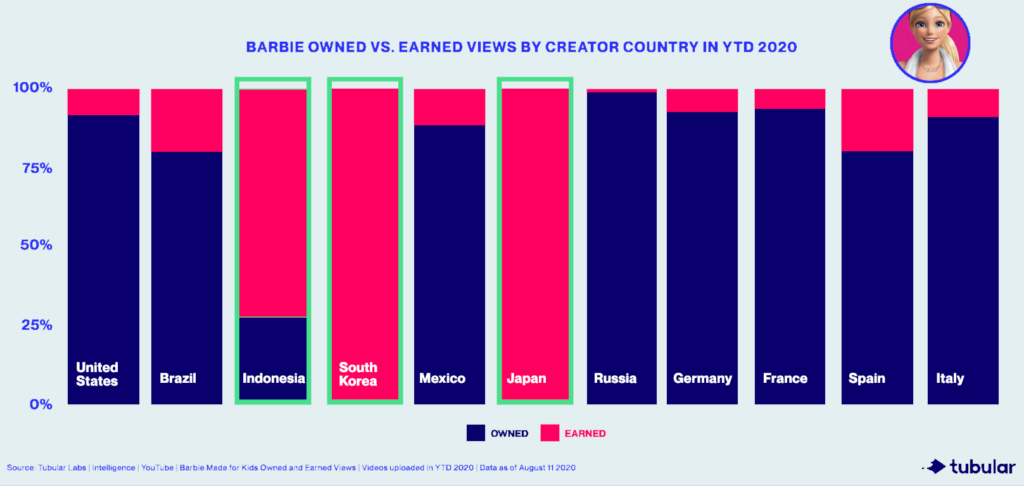 Want to prove the true value of your kids' entertainment offerings?