BREAKING NEWS: McDonald's launches a new menu item and TikTokers use it to create mini-horror films and rack up millions of views.
The Grimace trend has racked up 855.7M views across platforms since it started earlier in June
#Grimace and #Grimaceshake are the top 20 and 21 hashtags on TikTok in the past week from US creators
The most viewed TikTok video garnered over 33M views alone
Lot's of attention — but not particularly the messaging McDonald's was hoping for. So was it a marketing frenzy or marketing flop? Let's dive into the trend that's jumped out from behind the bushes and taken audiences by surprise!
---
A month ago, Grimace was just a friendly, somewhat forgotten, friend of ole' Ronald McDonald. But his distinctive purple color and roundish figure first made its appearance in McDonald's cast of colorful characters in the early 1970s. Back then, Grimace was quite a different creature altogether.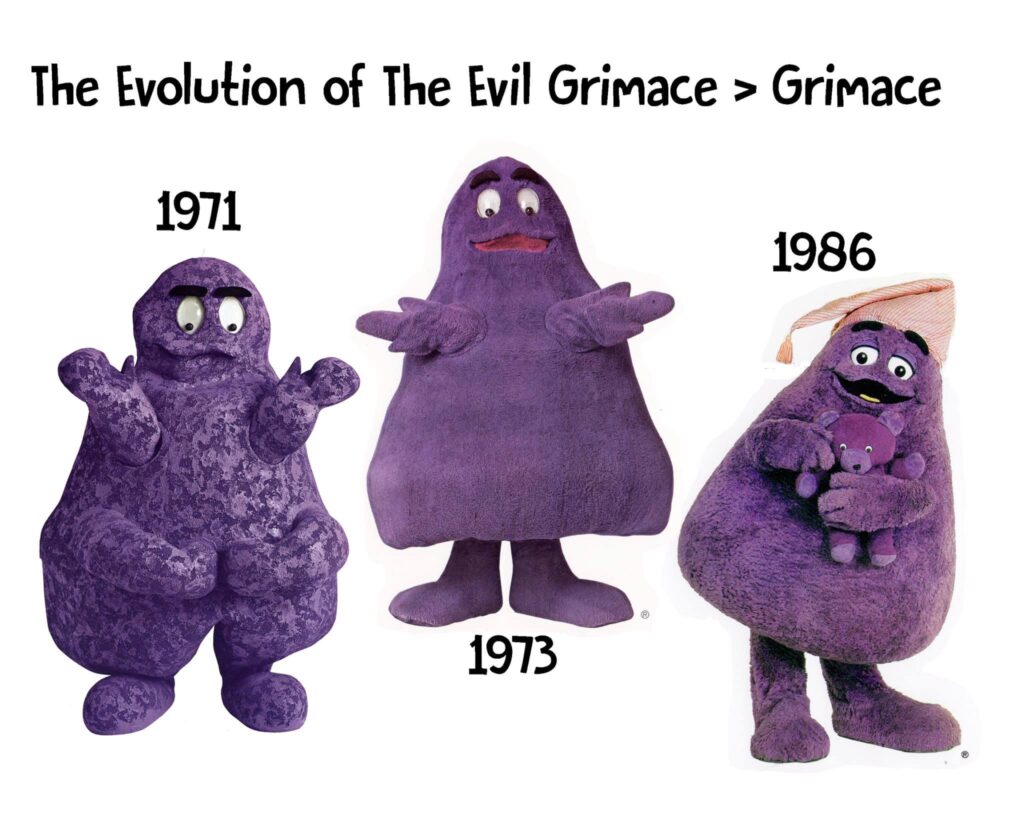 He was a villainous character with multiple pairs of arms, often depicted as a milkshake thief. But over time, the McDonald's brand evolved, and so did Grimace. In fact, he underwent what can only be described as a "Grimacevolution." As the years passed, his limbs reduced in number, and his personality shifted to a more friendly and lovable demeanor. While Grimace's villainous role was abandoned, his obsession with McDonald's milkshakes would never die.

So for his birthday, McDonald's decided to celebrate with the launch of the Grimace Milkshake and a Grimace social media takeover. On June 5, Grimace posted from the McDonald's Twitter account a photo with the caption: "fhioea;odijcfaewklcldW". Then replied to their own tweet:
The company even changed their photo to a picture of the purple friend and their bio to "this is grimace btw :)".
Unlike the world of television, social media allows brand characters like Grimace to interact with audiences by reacting, commenting, and reposting— breathing a whole new life into once one-dimensional characters.
Before we understand how did TikTok turned a cheery milkshake launch into a death-inducing horror story, we want to see how Gen Z interacts with fast food brands on social.
---
Gen Z is a tough audience for fast food brands. This generation has a 'No BS' meter. They also exhibit a deep desire to invest their money in companies that are socially and environmentally conscious. This has been a more challenging audience to break into for fast food restaurants that aren't traditionally seen in this light. Luckily, social video offers the best tool to reposition brands in a way that appeals to these younger consumers.
Where Millennials and Gen X are considered the pioneers of social media, Gen Z is a generation that was born into it. This makes them natural social creators & engagers. They don't just share, like, and repost – they prefer to create and share their unique spin on trends. Thus, interesting storylines give Gen Z audiences something to interact with.
And while McDonald's attempted to bury Grimace's evil past over the years, Gen Z also has an affinity for nostalgia. With the rapid spreading of information on short-form video platforms, this audience can quickly unearth details and stories of the past just by scrolling. Finding out about Grimace's dark years was all the fuel they needed to start a hilarious trend.
In the most liked TikTok video created by @emotionalpatrick, he tells the audience he's going to try the Grimace shake. Once he sips the shake he says "it's very berry" but before he can even finish his sentence the shot changes and he is on the ground, with shake all over him, choking on the purple liquid.
The creativity doesn't end there. In fact, one video by @JadenWilliams has a "Sensitive content" warning that asks audiences to either skip the video or opt-in to watch, which is something TikTok normally does for real-life crime scene footage.
We first see the TikToker say "Trying the new grimace shake. Happy birthday, Grimace". But before he could say "pretty good" the camera shuts out. The next time we see Williams he is duct taped to a chair as if he's been abducted. Before him is a dark, spooky hallway that emulates The Saw horror films. We see an evil Grimace slowly making his way down the hallway. Just as Williams is about to escape the duct tape restraints, Grimace charges him and the clip ends there.
---
As your social video data geeks, the team at Tubular wanted to understand the science behind how this trend struck viral gold.
First, we know that all audiences are different. From a generational perspective, the McDonald's advertisers of the past felt that Gen X-ers and Millennials weren't resonating with the evil six-armed milkshake bandit. They preferred a big friendly purple giant that resembled Barney or the Teletubbies. Gen Z however, enjoys the fun of creating a mini 'horror film' on TikTok and sharing it with their community.
Tubular's social video insights indicated that in 2022, typical new menu item content generated the most views, however entertaining content generated the most engagement for fast food brands. Plus, data suggests that views don't impact audience loyalty and conversion rates—but engagement does.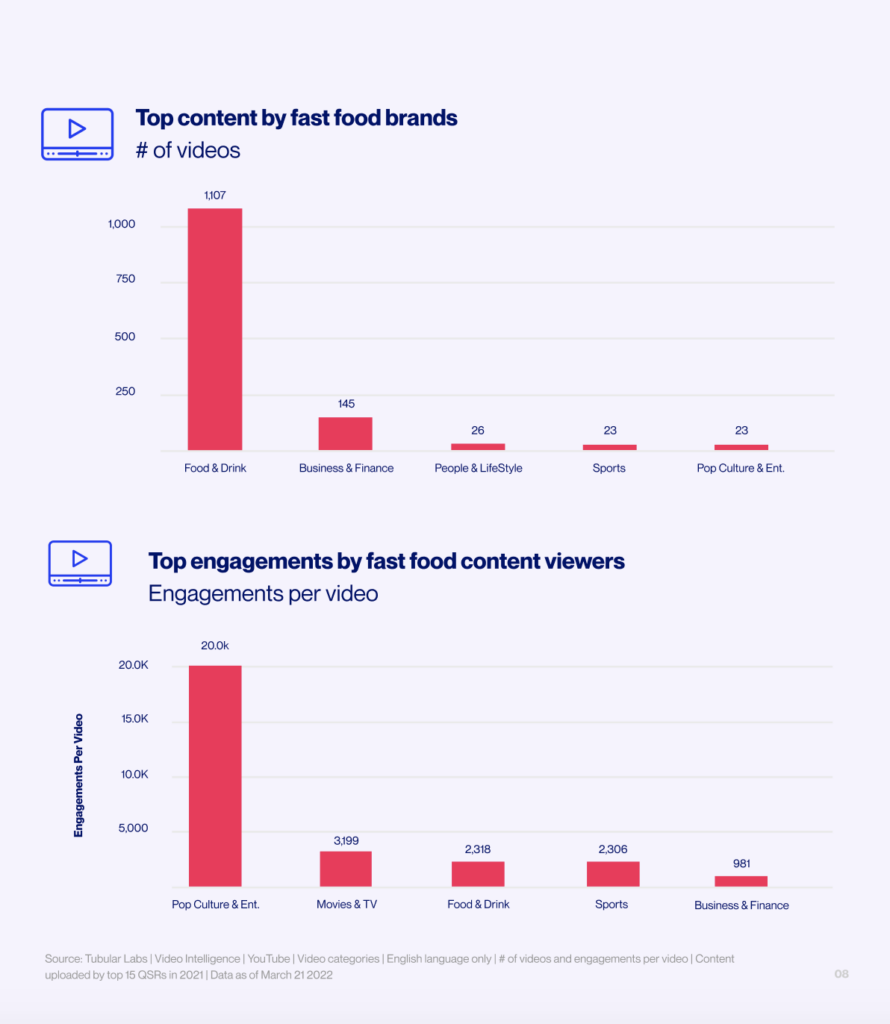 So you want the secret sauce to engagement? It's entertainment.
While McDonald's might not have intended to have millions of views racking up on videos of milkshake drinkers choking, convulsing, and being hunted by Grimace, it is certainly a marketing win!
Rather than take a chance and hope for a happy accident that will skyrocket your latest menu item into virality, it's best to actually know your audience beforehand. With video analytics and behavioral data, you can understand the unique flavor of humor and content preferences of audiences. Identify culturally relevant content and partnerships by looking at what consumers already watch and who they interact with on social video.
Tubular's Audience Also Watches data found that in 2022, McDonald's viewers are highly likely to also watch content from Food & Bev, Kids Entertainment, and Gaming creators.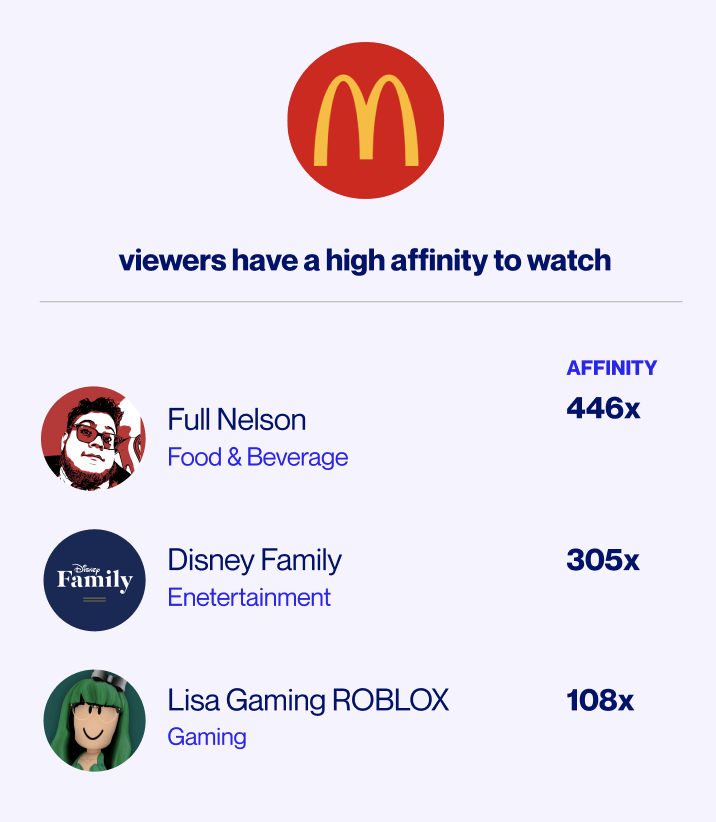 Tubular's Consumer Insights data also found that Gaming was the top product category the McDonald's audience shops for on Amazon. This data confirms that McDonald's choice to create a Grimace Game with the launch of their Grimace birthday milkshake would help drive engagement.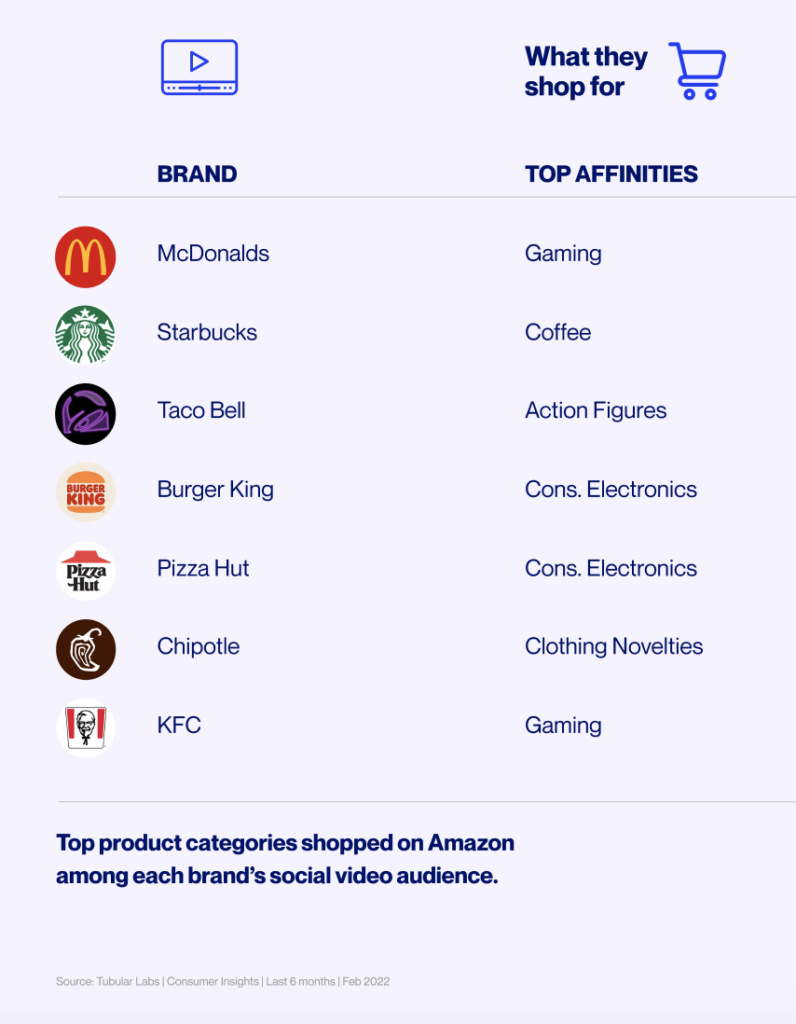 You can increase your chances of kicking off a viral trend by first understanding what your audience enjoys making user generated content about.
While brands can't control UGC messaging the way they can with owned content, it's an opportunity to be in dialogue with your consumers, achieve cultural relevance, and find inspiration for your own strategy and even for your menu. Even if a happy birthday milkshake is turned into a blood-ravaging drink, it's still perceived as more authentic. More authenticity translates to higher conversions and brand trust. For Gen Z, these qualities are non-negotiable.
Challenges, product tests, memes and videos about secret menu items are a few examples of what content creators enjoy making fast-food-related content about.
---
Insights to Actions:
Social video is a dance of communication, reaction, engagement, and learning. Today's youngest audiences don't have patience or time for brands and creators who aren't staying relevant to the conversation.
Anticipate trends before they happen to stay ahead of the curve
Understand what audiences are watching, engaging with, and buying— speak their language, and embrace their culture
Step out of the traditional advertising models and into what audiences are choosing to interact with
If you're interested in learning more about how Tubular can help fast-food brands connect and keep pace with Gen Z audiences, read our report: Nourishing Relations with Fast Food Diners on Social Video
---
If you want to stay on the pulse of culture through social video's single source of truth, it's time to request a free demo of Tubular. Click below to unlock social in a whole new way.