In the fast-moving music industry, finding and signing the next big star to your music label is vital to staying ahead of the competition.
And while social video can be a great destination for discovering new talent, you still have to find the cream of the crop out of thousands of musicians trying to make a name for themselves.
How are you supposed to find artists who have a proven track record of success on social video which can translate to revenue and growth for your label?
Our new report reveals exactly how your label's A&R team can find and sign these rising stars on YouTube! We looked at the growth of music on that platform over the last year, and found that:
Unsigned artists and those signed to independent labels claim a large portion of YouTube views: The vast amount of independent musicians on YouTube means your label has a clear opportunity to scout new talent not yet snagged by your main competitors.


Indie rock and soul music are growing genres across music influencers: If you can find artists who are growing in popularity within these genres, you're more likely to be the first to work with them.
Here's some more details to help you make the best choice when discovering and signing new talent:
Increase Your Music Label's Share of Voice by Signing Independent Artists
Music creators continue to grow in popularity on YouTube, with views increasing 4% vs. last year as of September 1, 2020. This increase includes plenty of up-and-coming musicians hoping to make it big.
For example, when we looked at the overall share of voice across the top 100 videos uploaded by music influencers so far in 2020, 38% of total views stemmed from independent artists and labels. This is 2% higher than the share of voice earned by Universal Music Group in this same time frame across these 100 videos!
The dominant presence of indie artists and unsigned musicians on YouTube provides a unique opportunity for your music label to find and add talent to your roster knowing they're already primed for success on social video.
Takeaway: Increase your views and share of voice across platforms like YouTube by finding unsigned artists who are clearly making an impact on social video and therefore have a higher likely potential for long-term success.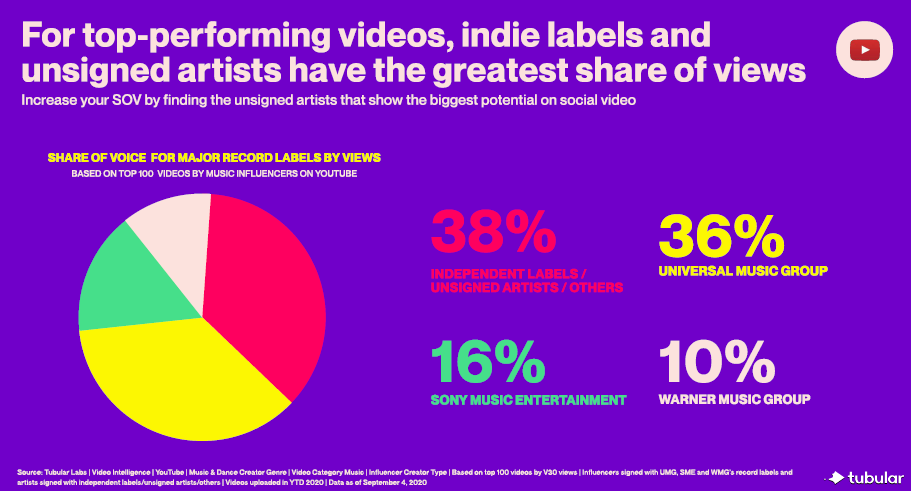 Focus on Growing Genres to Scout New Talent
While it's easy to say you should find up-and-coming talent on YouTube, it's harder to figure out exactly where to look. That's why you should pay attention to genres growing in popularity on the platform.
In our report, we discovered that from September 2019 to August 2020, some of the fastest-growing categories on YouTube uploaded by music creators were indie rock (which grew 55% with 1.2B views) and soul music (which grew 47% with 6.9B views).
Clearly, over the last year audiences have been eager to watch and listen to artists in these specific genres on YouTube. So once you understand which genres are trending upwards, you can scout out top talent and artists who are leading the pack in that area of music.
Takeaway: Look to growing genres and sub-categories of music to understand what's popular among audiences and fans. Then, seek out the most-watched or fastest-growing musicians within these genres and sign them so you can be the first to work with them.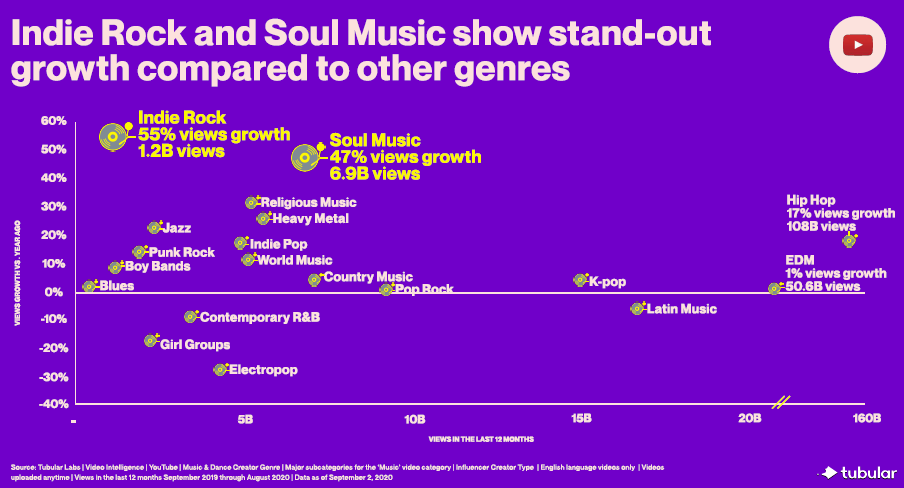 Want to see how else you can uncover your next big music star?