Last week, the first in-person IAB NewFronts since 2019 took place in New York City where the leading brands, media publishers, and advertisers gathered to watch keynote speeches that featured famous actors, eccentric singers, and even 26-piece marching bands. Before events began, YouTube announced it would move its presence from NewFronts to linear-focused UpFronts, putting them in an entirely new competitive category — so we knew it would be a week filled with tons of excitement and surprises.
The media industry is evolving as video audiences become the scriptwriters of pop culture. Advertisers around the world have responded in innovative and strategic ways. At Tubular, we feel the most significant advances revolve around integrating advertising and entertainment for a seamless viewing experience.
Ad supported media just got an upgrade
One of the main points made across several presentations was that SVODs saw their first decline in years while AVODs saw an impressive upswing. According to Samsung's content measurement solution, AVODs are up 10% this year, while SVODs have fallen by 11%. With so much competition from platforms like Hulu, Disney+, HBO, Peacock, and Prime, the king of streaming services, Netflix, reported its first decline in subscribers in over a decade. From streaming competition to the economy's inflation, many factors are shaking the media marketplace. But, with the rise in AVODs, many consumers are sick of paying for a multitude of services and would much prefer a free, ad-supported experience. Enter Amazon's Prime, Freevee and NBCU's Peacock.
This shift from SVODs to AVODs calls for new and simple ways for advertisers to put product placements into shows and target these audiences. Amazon and NBCU both took to NewFronts to announce their new capabilities in virtual-product placements. This technology revamps approaches to product placement by allowing post-production to enter products in pre-approved places. Even more interesting is that the technology allows these products to change based on the consumer. For instance, one consumer who likes men's fashion might see a watch sitting on the desk of their favorite show's main character, while another might see a bag of M&Ms in the same place. This reinforces the need for content and audience insights to be in conversation with ecommerce insights. As social video reigns supreme over other types of media on the internet, viewing behaviors and ecommerce behaviors must be used in unison to give advertisers a holistic understanding that supports partnerships and ad deals.
Snapchat simplifies brand partnership.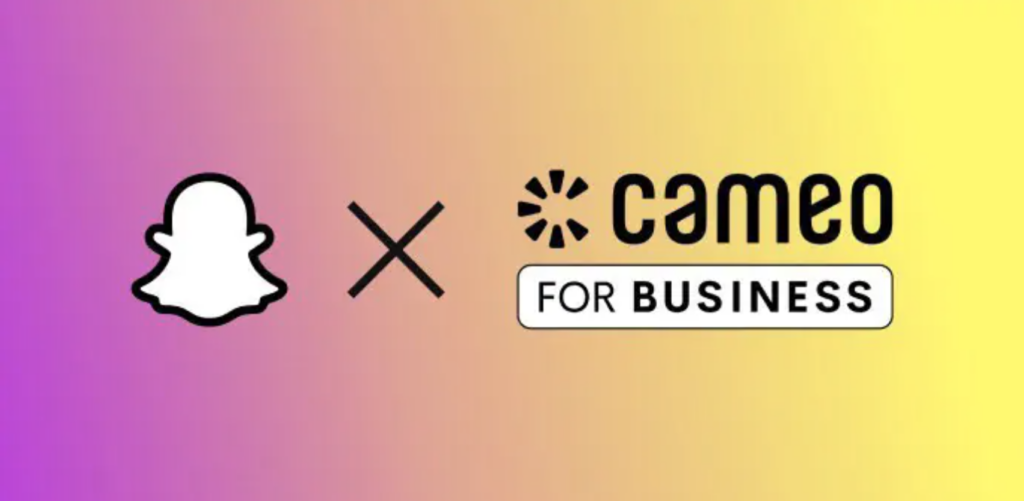 Snapchat came to NewFronts with guns blazing, announcing partnerships and content. First, they brought out Simone Biles to discuss her new Snap Original series, where she tries out different hobbies and encourages viewers to get out of their comfort zone. While Snap Originals have been around for years, the platform announced both new shows and updated contracts. The social platform also announced its partnership with Cameo. Cameo has historically allowed individual consumers to hire their favorite celebrities to wish their mothers a Happy Mother's Day or their friends a happy birthday. Many celebrities make a good chunk of cash by recording short 30 second clips of themselves wishing fans happy birthdays, but now brands can get in on the fun. Through this partnership, brands can hire celebrities to review their products and encourage viewers to make purchases. For ease with endorsements, brands can sidestep the tedious process of partnerships, use the Cameo app, and efficiently get high-profile celebrity partners. Could this alter the way advertisers negotiate and form partnerships? Most likely — and we can't wait to see this take off.
TikTok takes on paid advertising
All eyes were on TikTok as one of the fastest-growing platforms that both perplexes and excites advertisers around the globe. The app has been chasing its tail trying to offer advertising and measurement solutions at the rate at which it's growing and it hasn't been easy. At this year's hybrid in-person, virtual NewFronts, the platform announced TikTok Pulse, allowing brands to schedule their content alongside the top 4% of TikTok videos. Here are the details: Advertisers can choose from 12 content categories to place their advertisements alongside. Then, the app uses its machine learning to ensure content is up to standards. A TikTok announcement states: "Our proprietary inventory filter ensures that TikTok Pulse ads run adjacent to verified content with our highest brand suitability applied on the platform." Then, ad revenue is split with creators 50/50, and marketers would have transparent and trustworthy access to measurements that assess campaign performance. The program is said to launch in June of 2022, and we expect to see the app integrating more accessibility for advertisers in the future.
---
With Consumer Insights, our partners can easily see what unique social video audiences are shopping online for. You can optimize your media strategy to drive conversions from audiences to product categories or brands to specific creators more efficiently.
If your company is interested in learning how Tubular can help you refine your content strategy, contact us here.