In my previous articles I've already taken a look at the online video metrics that really matter for publishers, and also for B2B and B2C marketers. But in this post, let's focus on what type of metrics brand advertisers and their ad partners and agencies should be paying attention to. So, let's dive right in.
Metrics: Brand Advertisers and Their Ad Agencies
Awareness: Although "views" is an outmoded metric, brand advertisers and their ad agencies still need to buy advertising on a cost-per-view (CPV) basis. How dysfunctional is that? And it still doesn't tell you or your client how many views you need to increase awareness. Fortunately, Google's "brand lift" solution and Facebook's "brand polling" offering provide us with a better set of metrics. How?
Google's brand lift solution measures the actual impact of a YouTube ad campaign on brand awareness, ad recall and brand interest. Here's how it works: Google isolates a randomized control group that is not shown your YouTube ad and an exposed group that does see your ad. About a day after seeing (or not seeing) your ad, Google Consumer Surveys delivers a survey to both groups. Since the only effective difference between the two groups is whether they saw your ad, Google can accurately determine the lift attributed to your campaign.
Facebook also offers brand polling that enables advertisers to measure brand awareness and ad recall. Like Google's solution, Facebook randomly puts part of your target audience into a control group that isn't able to see your ads. The poll is then served to the control group and a test group with identical characteristics. The lift between the control and test groups accurately shows the impact of Facebook and Instagram advertising.

Both of these surveys provide brand advertisers and their ad agencies with significantly better metrics than "views."
Attitude: Although engagement metrics such as likes, comments, and shares provide a basic barometer that shows how an audience responds to videos, brand advertisers and their ad agencies need better metrics to measure the impact of their campaign on attitudes. Fortunately, Google's brand lift solution provides you with more than just data on brand awareness, ad recall, and brand interest. It also measures the impact of YouTube ads on consideration, favorability, and purchase intent. Questions about these brand metrics were added to the brand lift surveys in June 2015.
In addition, Google's brand lift solution measures the impact of your YouTube ad campaign on creating interest in your brand by using organic searches on both Google.com, the world's largest search engine, and YouTube.com, the world's second largest search engine. Similar to surveys, Google randomly picks a group that saw your ad and a control group that didn't see your ad. Google then compares the organic search behavior of both groups, looking at how often they search for keywords related to your brand or campaign. The difference in searches can be attributed to your campaign.
Google and YouTube just announced that they were extending the capabilities of Brand Lift to TV campaigns to show marketers how TV ads increase Google and YouTube searches for their brand compared to YouTube campaigns. And from their early tests, they've seen that YouTube generates almost 2x searches per impression than TV. So, Google's brand lift solution can tell you if your ad increased organic search activity for your brand, but Facebook's brand polling can't. Life is unfair. But, this is still an online video metric that really matters. So, I needed to mention it.
Behavior: On the other hand, Facebook's conversion lift offering provides a better set of metrics to help brand advertisers and their ad agencies determine exactly how Facebook ads impact their bottom line. Here's how Facebook's conversion lift works:
When a campaign is created, Facebook establishes two randomized test groups: people who see ads and a control group of people who don't see them.
Then, the brand advertiser shares conversion data from the campaign with Facebook. Typically, this data comes from sources like the Facebook Custom Audiences pixel, a conversion pixel, or secure point-of-sale (POS) data.
Next, Facebook determines the additional lift generated from the campaign by comparing conversions in the test and control groups and makes the results available in Ads Manager
This is an online video metric that really matters – especially if brand advertisers and their ad agencies want to measure their return on ad spend (ROAS).
Metrics For Direct Response Advertisers
Awareness: Now, let's be honest. Most direct response advertisers are happy to let the brand advertisers and their ad agencies create and build awareness. What really matters to direct response advertisers is making the cash register ring. So, one bucket of metrics that might matter to this segment is seeing lists of "top tech products", "spring & summer essentials", or "gifts for gadget lovers". The cash register is very likely to ring for these items very soon. Where can you find these lists? Well, you can see them just by looking at Google Shopping.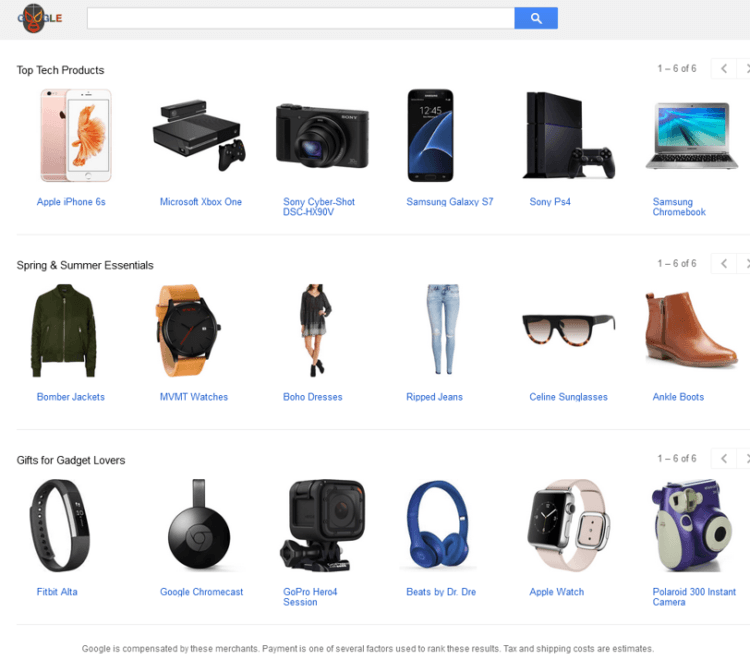 Now, Google is compensated by these merchants. And payment is one of several factors used to rank these results. But, guess what? Many direct response advertisers are compensated by merchants, too. So, payment is a relevant factor for this segment, as well. So, there might be a way to mine this data to provide a metric that matters. Who knows?
Attitude: However, I'm fairly certain that many direct response advertisers will be interested in using Google Shopping Insights to explore trends and the popularity of products across the U.S. Google recently started the Shopping Insights project to help retailers understand how consumers shop for products using Google. In the initial beta version, direct response advertisers can use the tool to explore which products are popular on Google.com, how they trend over time, compare regional preference, and see how people are using mobile and desktop devices to shop.
In a world where 87% of consumers conduct research online before entering a store, more than 90% of goods are still sold in stores, according to Forrester. So, this tool can help direct response advertisers understand consumer awareness and mindshare for a product, down to city-level insights. And then this segment of video marketers could intercept these consumers before they even walk into a store.
Behavior: Finally, there another bucket of online video metrics that will matter even to direct response marketers who only focus on behavior. They come from TrueView for shopping, which was introduced in May 2015, and shopping ads for YouTube, which were previewed in September 2015. TrueView for shopping makes it easy for viewers to get more information about products and click to buy them. And TrueView for shopping allows direct response advertisers to showcase product details and images – along with the ability to click to purchase from either a brand or retail site – all within a video ad. It's available for TrueView in-stream video ads on YouTube. And it works across all the devices people use — phones, tablets, laptops and everything in between.
Built on the cards platform that YouTube announced in April 2015, TrueView for shopping enables direct response advertisers to scale the manual process of connecting individual products with individual videos. Thanks to the integration of the Google Merchant Center into video ads, direct response advertisers need only connect their campaign with a Merchant Center feed to dynamically add products to their in-stream videos, based on the products that are most likely to lead to a conversion. Shopping ads for YouTube help direct response advertisers reach all the other product-focused content on YouTube – from unboxings, hauls, product reviews, and how-to videos. These will let direct response advertisers to show a click-to-buy ad within partner videos on YouTube, going beyond their own videos to transform any relevant video into their digital storefront.
Similar to shopping ads on Google, direct response advertisers only pay when a user clicks on their ad. YouTube has kept the format similar to Cards and TrueView for shopping, so users can easily recognize and click on the "i" icon at the top right of a video to view the Shopping ads. Shopping ads on YouTube are built off of your existing product feed in Merchant Center. They will enter an auction similar to Shopping ads on Google search and are selected based on a variety of contextual signals.
These recent offerings from YouTube create a whole new basket of online video metrics that will really matter to direct response advertisers.