I uploaded my first video to YouTube back in August 2006. It promoted an 11-part series in The Christian Science Monitor that was titled, "Hostage: The Jill Carroll Story," and focused on Jill Carroll, a freelance reporter for The Monitor, who had been kidnapped by Sunni Muslim insurgents in Baghdad on January 2006, and held hostage in Iraq for 82 days. Deprived of control over the smallest aspect of existence, she feared for her life every day.
Now, when I reported our results to my client, the folks at The Monitor weren't impressed that our 0:42-long video had received just 1,908 views. Although, they were surprised that we'd been able to negotiate coverage of their story in advance under embargo by providing CNN, MSNBC, Yahoo News, AOL News, The Huffington Post, and Boing Boing with a link to the YouTube video and a 150-word excerpt from the first part of the series. And they were amazed to learn that within the first 24 hours after our news embargo had been lifted at 6 p.m. on Sunday, Aug. 13, 2006, there were 247 news stories and 1,014 blog posts about "Jill Carroll." But, they were astounded when we showed them their own web analytics data. It reported that with the first 24 hours after the story broke more than 450,000 unique visitors had flooded CSMonitor.com, seven times the site's daily average in July. And their page views for the first 24 hours broke through the 1 million mark, a massive increase from the site's average of 121,247 page views per day in July.
But, they were really astounded when we showed them their own web analytics data. It reported that with the first 24 hours after the story broke more than 450,000 unique visitors had flooded CSMonitor.com, seven times the site's daily average in July. And their page views for the first 24 hours broke through the 1 million mark, a massive increase from the site's average of 121,247 page views per day in July.
Online Video Metrics for 2016
That's when I decided to add video marketing to my content marketing agency's list of SEO, PR, and social media marketing services. That's also when I decided that I needed to focus a lot more attention and thought to online video metrics that really matter. So, here we are in 2016. And over the past decade, video measurement has gotten much more robust – and a lot more complex.
For example, YouTube Insight was launched in March 2008 and then replaced by YouTube Analytics in November 2011. And that's just on the organic side of things. Brand Lift surveys in AdWords were introduced in February 2013. And Earned Actions, which enable brands to track the actions people take after the initial YouTube view, such as subscribing or sharing, were introduced in December 2013. More recently, Google's Brand Lift solution was expanded to include measuring lift in consideration, favorability and purchase intent for ads in June 2015.
And, let's not forget Facebook video. The social network announced new video metrics in Page Insights and Ads Reporting in May 2014. The company launched conversion lift measurement in January 2015. And several weeks ago, Facebook in a post on its "Advertiser Help Center" that its metric for the average time users spent watching videos was artificially inflated because it was only factoring in video views of more than three seconds. The social network said it was introducing a new metric to fix the problem.
Meanwhile, Tubular Labs announced Tubular Video Ratings, a new group of online video metrics that measure views and engagements across videos and publishers, in April 2016. And last month, Tubular announced it is working with YouTube on their upcoming YouTube Measurement Program, which aims to provide YouTube's clients and users with accurate, consistent, and relevant measurement data. For that announcement, Alexandra Watt, the Director of Business Development at Tubular Labs wrote in the company's blog, "We're all living through a once-in-a-generation shift … from linear TV to internet-enabled video. Tubular estimates that there are over 10,000 independent creators who make a living in online video; 66,000 media companies and brands generate 111 billion views/month; and over 3 million new videos are uploaded to the public every day."
However, she acknowledged that most of the third-party measurement "solutions" currently on the market weren't designed for the scale and pace of online video. So, Watt added, "As the online video industry matures and speeds towards 1 trillion video views per month and billions of dollars shift towards online video ads and sponsored integrations, it's time for us as an industry to get serious about third-party measurement." I couldn't agree with her more. And I want to pitch in to help YouTube and the industry provide the online video metrics that really matter. So, what are the video metrics that matter these days?
Online Video Metrics That Matter
Well, there isn't a simple answer to this question because different video marketers have different marketing goals and business objectives, so they need different key performance indicators (KPIs). For example, at least five different segments of video marketers and advertisers need very different sets of metrics to track their results across owned, paid, and earned media:
Owned: Media companies, publishers, multi-channel networks (MCNs), and YouTube creators are trying to build valuable audiences like the highly coveted 18- to 34-year-old demographic.
Paid: Brand advertisers and their ad agencies are trying to increase brand awareness, ad recall, consideration, favorability, purchase intent, and brand interest.
Owned: B2C and B2B marketers are trying to get more customers to make a purchase (for an ecommerce site), complete a game level (for a mobile gaming app), or submit a contact information form (for a marketing or lead generation site).
Paid: Direct response advertisers are trying to Increase engagement with their video ad, drive visits to their website, encourage viewers to buy their products, or increase conversions.
Earned: Influencer marketing agencies and teams are trying to find the most influential rising video stars and move quickly to contact the creators they want to work with.
In other words, there isn't one set of online video metrics that really matter these days. There are at least five sets – one for each of the different segments of video marketers and advertisers mentioned above. And there are at least three buckets of metrics to measure the impact of video on the viewer's awareness, attitude, and behavior for each of the five different segments.
Yes, I know this is an over-simplification. But, we've got to start somewhere. So, consider the following buckets of the online video metrics as a starting point for a much longer and more interactive discussion of the ones that really matter.
For: Media Companies, Publishers, and Creators
So, let's take a look at some of the metrics that media companies, and other video publishers must consider.
Awareness: Since YouTube was launched in 2005, the number of "views" has been used as a metric to measure success. But, its usefulness is being hotly debated these days. Part of this is because a "view" of a YouTube video isn't equivalent to a "view" of a Facebook video. So, comparing the number of "views" on the two leading video platforms is like comparing grapefruits and kumquats. But, it's also time to admit that no one really knows how many views you need to increase awareness. Fortunately, there's an alternative. It's "watch time." YouTube added "estimated minutes watched" to the "Views" report in YouTube Analytics on Oct. 11, 2012. A day later, YouTube started adjusting the ranking of videos in YouTube search to reward engaging videos that kept viewers watching.
In June 2014, Facebook announced that it was adding how long someone watched a video to its ranking factors, which had previously included likes, comments, and shares. And in February 2016, Facebook added new video metrics to its reports that let advertisers see the percentage of people who have viewed their videos with sound in Page Insights and Ads Insights, too. And for comparison purposes, minutes equal minutes, hours equal hours, and days equal days — whether a video is watched on YouTube or Facebook. But, how much "watch time" do you need to increase awareness?
Well, the Google Agency Blog published some research in August 2015 which found that there is a consistent relationship between how long a video ad is viewable and increases in brand awareness and consideration. The longer a user views your ad, the higher the lift in these two important brand metrics.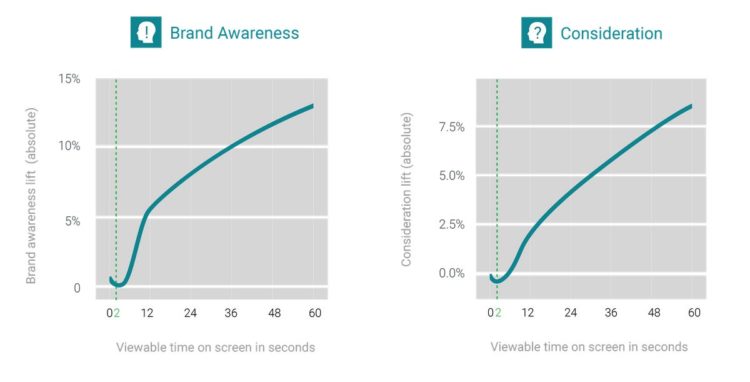 So, I think media companies, and video publishers, and creators, should ALL use "watch time" as a metric that really matters.
Attitude: Since YouTube was launched in 2005, the "ratings" that a video received has been a metric that's often gone overlooked. Why? Well, initially YouTube showed the number of stars that a small percentage of viewers had given a video. Five stars meant they loved it; one star meant they loathed it. But, in September 2009, YouTube replaced its five-star rating system. Why? Well, the overwhelming majority of videos on YouTube had a stellar five-star rating, while only a few viewers were moved to rate videos when they didn't like them. In other words, people either liked the video they'd just watched or they couldn't be bothered to rate it. That made the five-star rating system pretty useless. And shortly after that, YouTube replaced it with the thumbs up, thumbs down ratings that Facebook had made popular.
Today, there's a better rating system than "Likes" to use as a metric. It is "engagements." According to Tubular, "engagements" include Likes, Comments, and Shares. In addition, Tubular's ER30 measures a video or publisher's engagement rate benchmarked across all content (e.g. 2.2x more engaging than average). This is the new online video metric that really matters.
Behavior: Since April 2011, YouTube Partners have been able to track their results by looking at the "estimated earnings reports" in YouTube Insight, and then in YouTube Analytics. Then, in February 2016, the estimated earnings report was updated and renamed the "revenue report." Why did the folks at YouTube do that? Well, the best explanation that I can share with you comes from Commander Leonard 'Bones' McCoy, M.D. (DeForest Kelley) in Star Trek: The Motion Picture, "I know engineers, they LOVE to change things."
Nevertheless, you can use the Revenue report in YouTube Analytics to see:
Revenue-related details for the four partner content types — all claimed content, claimed partner and premium user uploaded content, claimed standard user uploaded content, and all partner uploaded content.
Revenue-related details at the channel and video levels.
Estimated revenue.
Estimated ad revenue.
Revenue derived from transactions, like paid content and Fan Funding.
Revenue derived from YouTube Red.
In other words, this bucket of online video metrics still really matters – no matter what it's called.
Well, we covered a lot of ground, didn't we? We'll be following up this article with information on the online video metrics that really matter for B2B, B2C, & Influencer Marketers, and for Brand Advertisers and Their Ad Agencies, so stay tuned.