It's difficult to push video content out to the users of Reddit if they suspect they are being marketed to in any way. But once in a while, a creator or brand pushes through and captures the imagination of a certain sub Reddit, and magical things start to happen for that content.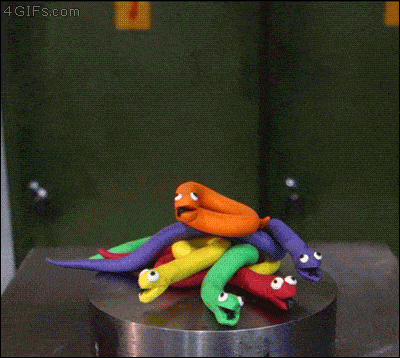 Take the example of that most fascinating of subjects – hydraulic press demonstrations. Yes, I know what you're thinking, but combine that heavyweight machinery with some pop culture, and you have videos that the Internet have started going crazy for.
The Hydraulic Press YouTube channel has been active on the video platform since late in 2015, but has seen an explosion in views and subscriber growth just in the past 30 days. It currently has (at time of writing) just under 540K subscribers, and has generated 42.7 million channel views. According to Tubular, that's nearly a 6000% growth in subscribers and a 3498% increase in views in just 30 days – and it's all down to Reddit. So fast is this channel growing due to exposure on the Front Page of the Internet, its YouTube subscriber base has grown by 12%, and views by 8% just in the last 3 days alone!
Hydraulic Press Videos: YouTube Growth in Last 30 Days
The Hydraulic Press YouTube channel picked up 484K new subscribers between 03/13/16 and 04/13/16 – and generated 41.6M views (out of the total 42.7M) in that same time frame. Now, Reddit is a difficult landscape for creators to manoeuvre, but it appears to be the biggest factor in the incredible growth of the YouTube channel in the past few weeks.
How can we be sure? The Tubular stats don't lie, but a deeper delve into some YouTube analytics data also gives us an indication of what's been happening. The creators have been uploading video content to YouTube since October 2015, with 'Crushing Golf Ball with Hydraulic Press' the first of those uploads. There was minimal viewing or engagement activity in the first few months after upload, but views then started to rocket around mid-March 2016. Which is right around the time that Reddit/Videos fell in love with the content from the Finnish creators.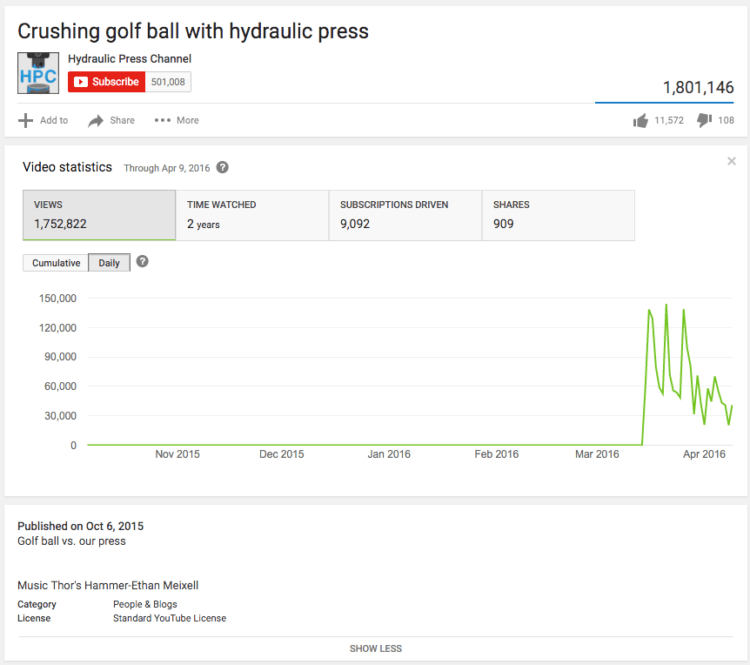 How Did the Channel Get So Big So Fast?
So what's the secret behind the growth of this little YouTube channel? We would argue that it's true authentic content, combined with a sincere wish to engage and delight viewers with some outstandingly quirky footage. Crushing fruit, Play-Doh, Barbie Dolls, and old Nokia phones makes for some stunning visuals, and plays right into the hands of viewers who love something a little-left field that amuses, and engages, and allows them to enthusiastically share with their friends, family, and peers.
The channel's most viewed video to date is this new take on an old problem – how to fold a piece of paper more than 7 times. Not only did it attract a lot of attention on Reddit, many other content-aggregation sites like Someecards, Lad Bible, and 9Gag also picked up on it, leading to even more visibility for the YouTube video. And of course, to more views and engagement for the video embed used for the different posts about it. Not only did it go viral on desktop websites, it also picked up around 80K shares, likes, comments on YouTube, Facebook, Twitter, and Google+.
Due to the surge in (organic) interest in the videos, it's very likely that YouTube itself started to return content from the channel to viewers as part of its 'related videos' algorthim. This in turn would have raised even more awareness for the videos in the YouTube ecosystem, leading to increased subscriber and view growth.
If you haven't seen the hydraulic press videos yet, then treat yourself for a few minutes today. They are highly satisfying, hugely entertaining, and a lesson for any video marketer who wants to understand how to work with creators like this as part of an Influencer marketing campaign.