The gaming industry will reportedly be worth around $180 billion by 2021. With this growth comes a huge opportunity for brands to partner with creators to tap into this popular market. To get an idea of how brands can do this, we're taking a look at May's top ten campaigns surrounding sponsored gaming content.
Last month's gaming campaigns were diverse in that no one particular sponsor or partner dominated the leaderboard, with the exception of one brand which claimed two of the month's top campaigns. All campaigns also managed to pull in at least one million average sponsored video views within their first week (V7)! Let's dive in.
Top Global Sponsored Gaming Content of May 2019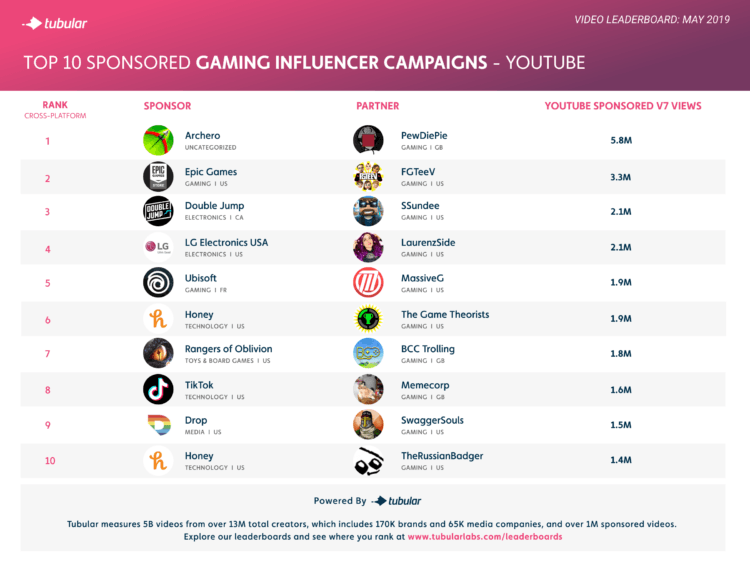 Game Studios Tap Gamers to Reach More Gamers
Out of May's top sponsored gaming content, five of the clips hailed from video game developers and studios. On a gaming leaderboard, it shouldn't be surprising to see these brands acting as some of the primary sponsors of content. After all, this method is one of the best ways to reach more potential users and turn them into long-time gamers of the featured titles.
For starters, we see mobile game Archero partnering with long-time gaming YouTuber PewDiePie to claim May's top campaign with a 5.8M V7. The Swedish-born creator, who was one of three British-based gaming creators to land in the top campaigns last month, worked with his fiance Marzia Bisognin to show viewers how Archero is played:
Next up was Epic Games, the studio behind the wildly popular game Fortnite. Epic joined with family-based gaming channel FGTeeV to create a promotional video about its award-winning title World of Goo, which generated a V7 of 3.3M.
Canada's DoubleJump game studio placed third with its partnership with gaming YouTuber SSundee, who generated a 2.1M V7 for the collaboration. The fourth game developer to work with creators in May was triple-A giant Ubisoft, who teamed up with YouTuber MassiveG to create a gameplay video around its title Ghost Recon.
The final studio/title on May's top sponsored gaming content leaderboard is Rangers of Oblivion. The mobile game sponsored a clip with UK-based comedy and gaming channel BCC Trolling about Fortnite.
This should be considered an odd move; what title wants to sponsor a video about another game? But the tactic worked; the video pulled in 1.8M sponsored V7 views. Presumably, Rangers of Oblivion saw an overlap between Fortnite fans and its own, and wanted to appeal to them indirectly instead of promoting its own game.
Brands Appeal to Like-Minded Gaming Audiences
In a similar vein, many brands find they can make successful partnerships with gaming creators when they utilize audience insights to discover what other topics those audiences are interested in. Four brands in May certainly experienced successful cross-overs, which likely brought more attention to their products and services.
Honey was the ultimate brand winner in May, having led two of the top 10 sponsored gaming videos for the month. The browser plugin, which helps users automatically apply coupons and deals as they shop online, worked with The Game Theorists to hit a 1.9M V7 and land at #6. Honey also partnered with creator TheRussianBadger to generate 1.4M V7 views on a Rainbow Six Seige commentary and gameplay video.
Of course, Honey wasn't the only sponsor in May to try to reach a new demographic. We also saw LG Electronics USA collaborating with gamer LaurenzSide to produce a strong 2.1M V7 on a video about recreating memes from TikTok, all while nudging the audience to try the brand's new speakers.
Ironically, TikTok itself was another brand who landed in the top ten for sponsored gaming content in May. The short-form video app worked with UK-based Memecorp to create a "TikTok memes I can't explain" video that pulled in a V7 of 1.6M.
Last but not least on May's sponsored gaming leaderboard was Drop. Formerly known as MassDrop, the e-commerce website sells products for niche communities, so it seems like partnering with a gaming creator (whose audience would be interested in, say, mechanical keyboards from Drop) is a no-brainer. Drop worked with SwaggerSouls on a Counter-Strike: Global Offensive clip where such a keyboard was featured:
The message to brands? Just because gaming isn't your area of expertise, you could be missing out on some lucrative partnerships that bring in more brand awareness from consumers.
The bigger the industry gets, the more important it will be for you to consider sponsoring gaming creators and publishers to help get your message out to millions of gamers around the world.
Related Read: Debunking the "Typical Gamer:" What Brands Need to Know