Update: She did it! TSwift managed to take in a total of 57M views, overtaking both Ariana and BTS to claim the #2 position.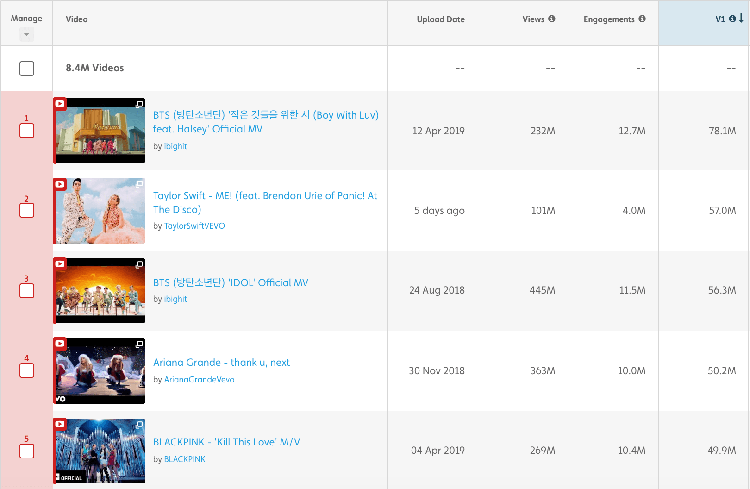 ---
Pop icon Taylor Swift is back on the scene after releasing her first new music video in over a year. After building fans up on Instagram for a mystery surprise on 4/26, her new video, "Me!" finally premiered last night.
But will it beat out current musical sensations Ariana Grande and K-pop's BTS?
The takeaway: Taylor's "Me!" still needs 20M more views to overtake Grande's "thank u, next" as the third most-viewed video in 24 hours. She needs almost twice that to take the crown away from BTS.
As we all know, the pop music landscape is treacherous territory, and TSwift is no stranger to the battle. Will "Me!" be enough to land her at the top of the video charts yet again? As we've reported before, K-pop artists, specifically mega-stars BTS, have dominated the (blank) space in TSwift's absence (sorry, we couldn't help ourselves).
For this article, we thought it'd be interesting to pit BTS and Taylor Swift against each other by examining how many cumulative views each artist had 24 hours after the publication of a music video.
Here at Tubular, we refer to this as the V1, which examines views as a function of time (in this case, a day.) A high V1 indicates that an artist received a significant number of views in the first 24 hours of publication and vice versa. This is a great metric to use if you want to make an apples-to-apples comparison of views between a video released last week to a video released last year.
Let's take a closer look using the example below where we searched for the highest V1 for music videos dating back to last year: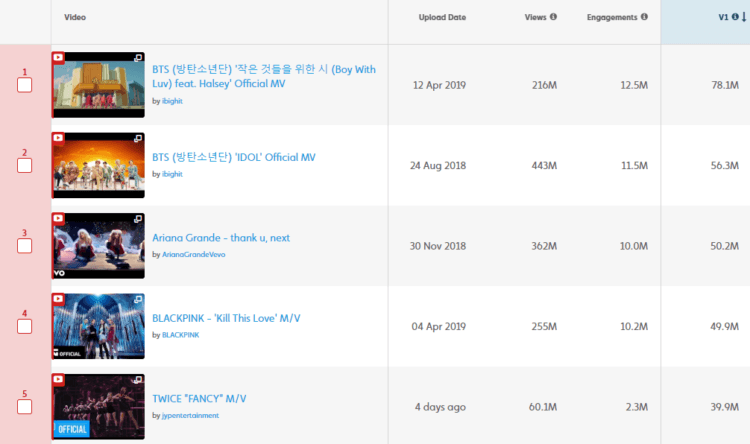 By filtering for highest V1, we see that K-pop groups claim four of the top five highest-viewed music videos on the first day after upload. Giving proof to our claim of BTS's dominance, the group not only has the two highest V1's, but their video "Boy with Luv" beats out the only western pop artist on the list, Ariana Grande, by 27.9M views on the first day. We're sorry, Ariana, but thank you, next…
Since Swift was noticeably absent from the scene last year, she doesn't appear at all in the top five. But if we take a look at the data over the past two years, we can start to see how the TSwift camp is in position to possibly pull off the upset!
Cumulative data from 2017-2019 shows Taylor beating both BTS and Ariana in terms of total views, despite the fact that she hasn't released any videos since 2018!
Taylor Swift: 5.2B Views on YouTube
BTS: 4.9B Views on YouTube
Ariana Grande: 4.8B Views on YouTube
Taylor has a chance, but with only 29.3M views at the time of writing, she'll need almost 21M more views to upset Ariana's hold with "thank u, next" and almost 49M more views for her to take #1 V1 for music videos in 2019.
Good Luck, Taylor. We're rooting for you!