Welcome to the 4th part of our 5-part series where we're revealing all the most exciting social video trends we've forecasted for 2023 in: Navigating Social Video in 2023: What you need to thrive.
Throught Tubular's social video analytics, we uncovered the following trends:
In Part 4, we're diving into one of the trends marketers are most mystified by — the exciting world of augmented realities and virtual worlds!
The pandemic propelled these technologies into mainstream popularity when people were seeking meaningful connections while social distancing during lockdowns. Need proof? Earlier this month we chatted with virtual world platform, Roblox, about their unprecedented growth over the past few years. Check out what our social video analytics revealed about their viewership group!
In the following graph, you see how Roblox's social video viewership more than doubled in March 2020 when lockdowns were enforced around the globe.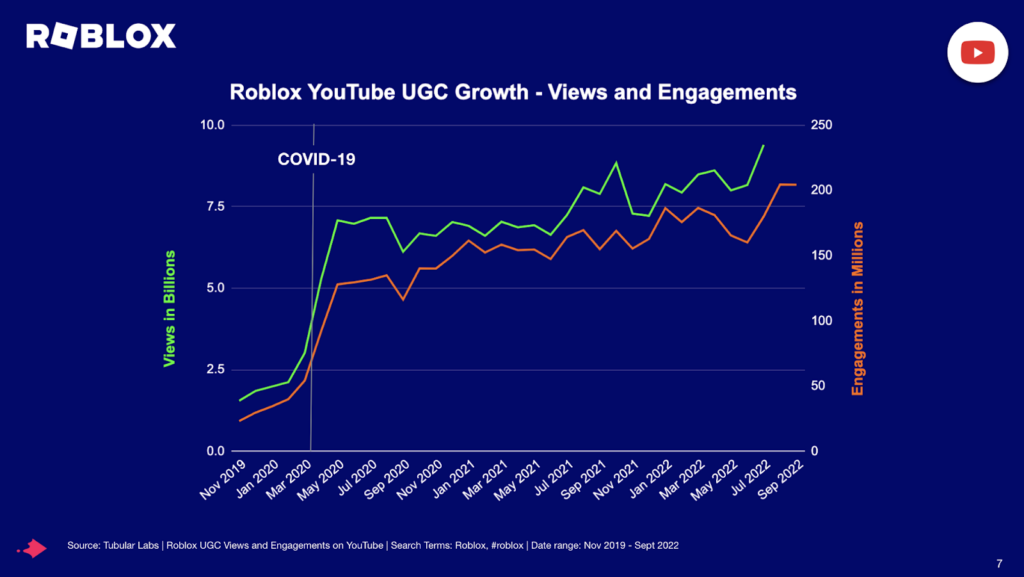 While some thought this growth was only temporary, viewership has continued to climb which indicates virtual worlds and augmented realities are here to stay. Since then, many marketing budgets have carved out space to begin exploring the unchartered territories of VR & AR technologies.
We've already seen innovations from Benjamin Moore, Wayfair, and Dior that provide augmented furniture styling, eyeglass try-ons, and exterior home paint color selections.
Virtual worlds & augmented realities are here right now. You don't want to be the last to jump on the bandwagon. See why below.
---
Augmented Reality Innovations in Virtual Worlds
Key Data Points:
250M daily active users engage in augmented reality on Snapchat
14.8M video views about AR & VR across platforms
Content about AR & VR saw a 38% year-over-year growth
The data doesn't lie – AR and VR technology is on the up and up.
Consider the following questions to ask yourself if your company is ready to embrace the future:
Are you positioned to understand the millions of virtual trends that are changing every day to guide your experimentation with AR & VR?

Do you have access to social video analytics that tell you the type of content audiences consume about your category?

Are you in tune with the signals that can project the way this space will change and grow in the coming year?
Social Video is highly intertwined with AR & VR.
In our webinar with Roblox, Influencer Marketing Ops Manager, Grace Shen, said:
"Early on, we knew there was a very strong correlation between [social video] viewership and active users on the platform. If a user was watching Roblox YouTube video it was also very likely that they were using the platform at the same time".
Dipping your toes in the pond
When it comes to your brand's initial splash into AR or VR, it's all about mitigating risk. Social video analytics can tell you what your target audience is watching, searching for, and browsing for online. In-depth social video insights can give you a well-rounded view of who your audience is, what they like to watch, and what they care about most. This should guide your creative conceptualization as you pioneer your company into the future.
---
That's all for now folks! Thanks for tuning into Part 4 of our State of Social 2023 series.
If you can't wait to unveil Part 5 on social search engines, click here to download the full report: Navigating Social Video in 2023: What you need to thrive.
Stay tuned for the 5th and final part of The State of Social 2023 blog series:
Augmented Reality Innovations in Virtual Worlds
Up next… The Evolution of Social Search Engines