Our Data Tells the Story.
Stores are open. Stadiums are packed. Unmasked smiles return to the streets a little brighter than before. Still, some folks feel hesitant and unsure of the future ahead.
Social Video tells the story of a world — recalibrating.
A year ago, the world stockpiled toilet paper, protested for haircuts, and Netflix & Chilled in painful isolation.
Amongst the chaos and craze, Social Media kept us tethered together.
Video kept people dancing, laughing, and cooking around the clock (sourdough bread, anyone?).
Last year's data reflects a resilient world, desperate for connection & entertainment.
Our brands, creators, and media companies answered the call. They stood firm in their leadership, extended helping hands, and worked neverending hours to adapt to the world's needs.
"So, how does the story end?" you ask.
How do we lead the world out of lockdown to new normal that's better than the one we left behind?
The data writes the score.
2020 saw enormous upswings for social video ratings as people looked to the internet for entertainment. In specific categories, we saw sharp upturns, such as Gaming, Cooking, HomeDIY, and Fitness.
On the other hand, we saw downturns in other categories like Sports, Movie Trailers, and Travel.
But even as lockdown comes to a close, we have not seen a decline in viewership. Instead, we saw numbers continue to rise (18%+ on Youtube) because the categories that suffered in the pandemic are making a comeback.
Heeeeelllloooo football and live music!!!
We'll never complain about standing in a sweaty, crowded stadium again!
Pop Culture + Entertainment dominated Youtube, satisfying that desire for connection.
Check out the content types within Pop Culture + Entertainment that caught fire.
Jokes & Pranks were all the rage! People were pranking their moms, spouses, and even their dogs!
Never did we think that laughter and joy would be hard to come by, but for many in isolation – it was. The way Entertainment categories flourished tells us that laughter is not a want — but a need. Partnering with clients who were providing entertainment and joy to the world made our jobs more meaningful than ever.
Shorts
YouTube has shifted in 2021 with the introduction of #Shorts.
TikTok stole the hearts of Gen Z's around the globe. Instagram responded with Reels, and Youtube came out with #Shorts.
People are drawn to quick, entertaining videos. This just reiterates the power of Social Video.
We connect to video in a way that pictures don't suffice. They offer a multi-dimensional experience of story, music, character, and connection. At Tubular, we help companies tell better stories through social video.
Looking at the Shorts analytics, we see that the demand outweighs the supply. This indicates a tremendous growth opportunity for creators, brands, and media companies. Thus far, individuals are leading Shorts creation, setting a precedent for Media Companies and Brands as they catch on later.
Popcorn with the Movie Theater Butter
Box Offices hit a dead halt when the lockdown began, and many production studios decided to release their feature films on streaming services like Netflix, HBOMax, Disney+, and more.
There's been a lot of debate about whether theaters would ever bounce back to pre-pandemic business.
If Vin Diesel has anything to do with it, the answer is — absolutely.
Fast and Furious 9 was originally set to release in May of 2020. Rather than sell it to a streaming service, the production company decided to save the star power and wait it out.
The wait paid off! Tubular data shows all 4 movies at the top of the leader board premiered in Theaters. Leading the pack is Godzilla vs. Kong, which aired in theaters and on HBOMax streaming.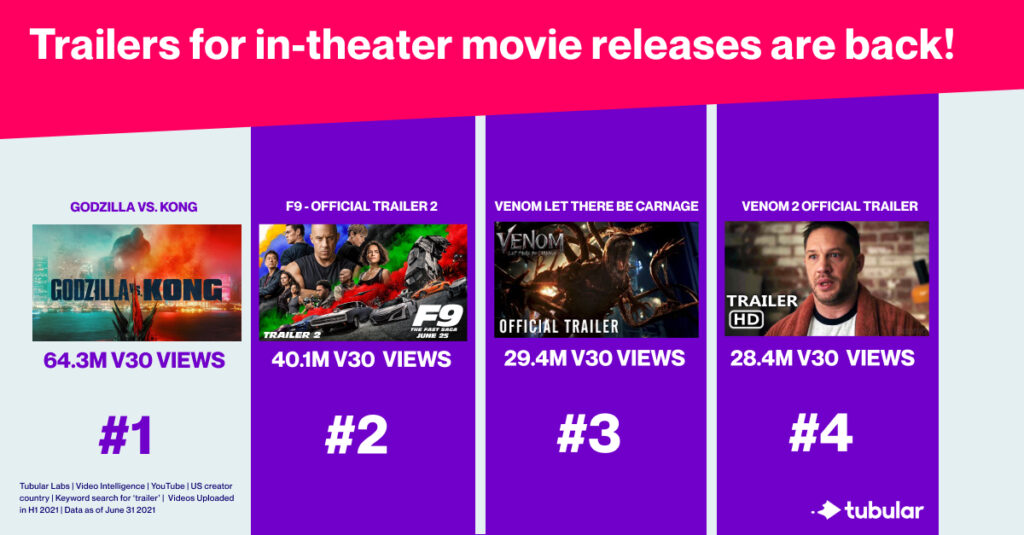 We will likely see a lot of 'hybrid' releases in the future that simultaneously premiere in theaters and on streaming platforms. The data tells us that people enjoy the freedom of choice to watch at home or in theaters. Tubular Intelligence relays that message, loud and clear, to producers and film companies.
Our goal is to host a conversation between what society wants and how companies satisfy those entertainment desires.
But there's one thing that's for sure – that Movie Theater Magic isn't going anywhere, folks.
Hungry for New Experiences
You can't tell the story of the pandemic without talking about the food!
It's not surprising that ethnic food videos were trending in H1. As we say adios to lockdown, everyone seems to have caught the travel bug. Foods from around the world are a great way to explore other cultures as travel restrictions slowly ease up.
Another fascinating food insight: Videos about Food Trucks + Street Vendors grew in popularity. Indoor Dining remained largely restricted. The Food Truck scene was having a renaissance moment!
Looking Forward to the Olympics
There's truly no event that brings the world together like the Olympics. We can't think of a better way for humanity to celebrate its strength and commemorate the hardships we've all endured over the past year.
In H1, we saw an increase in Olympic social video buzz. The graph below shows ESPN, Overtime, and other broadcasters posted alternative video content inspired by individual creators.
Content such as Family Olympics and Dog Olympics are posted for entertainment and building buzz. It's always awesome to see how larger organizations learn from individual influencers and creators.
The Tubular Team is waiting with excited anticipation to see how social video affects the broadcasting of the Olympics. The last Olympics was held in 2016. Since then, so much has shifted for social video, and we will be here to analyze and share it all!
This past year has been one for the history books. It's been remarkable to watch humanity's ability to rise above reflected in our data. At Tubular Labs, we are excited for the future of video and proud to be working with the world's culture-creators and change-makers.