Media companies, brands, and agencies around the world now have an audience measurement standard that can finally reveal their true reach on social video thanks to Tubular Audience Ratings™.
Based on these new metrics, we've looked at media giants from both the U.S. and the UK, analyzing their audiences by cross-platform reach, de-duplicated reach, unique minutes watched, and more.
Now it's time to do the same for Germany! Read on to see the true, cross-platform top 10 German media giants based on de-duplicated audience reach and minutes watched by demographics across YouTube and Facebook.
Top 10 Cross-Platform German Media Companies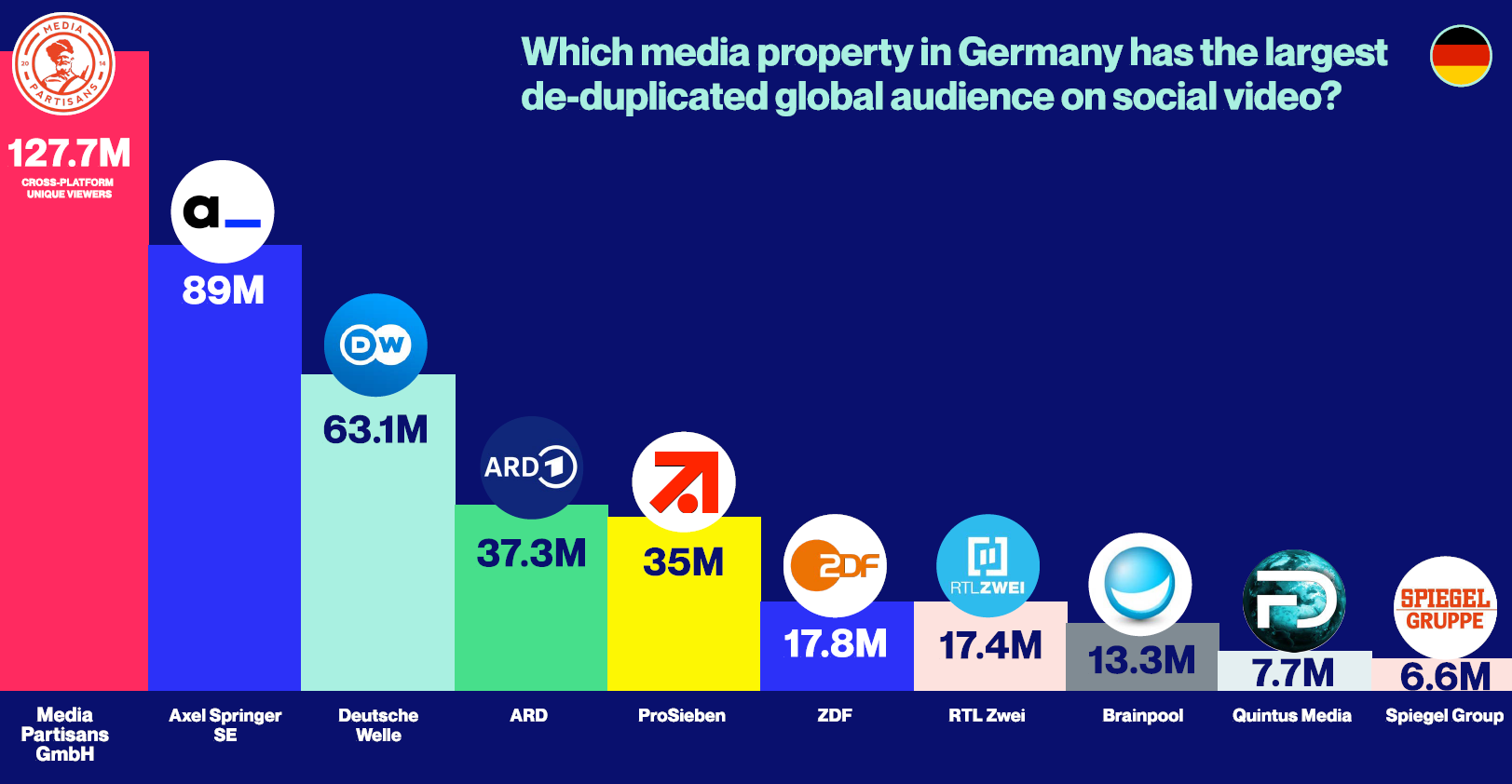 Congratulations are in order for Media Partisans GmbH, whose total de-duplicated cross-platform reach was 127.7M unique viewers in September 2020. Next up was Axel Springer SE with 89M unique cross-platform viewers, followed closely by Deutsche Welle with 63.1M unique viewers.
These top three Germany-based media properties reached over 50M total unique viewers worldwide. This number even included markets outside of Germany, with English-, Spanish-, and Arabic-speaking audiences finding and watching these companies' content.
Most German media companies have a solid presence across both YouTube and Facebook. The biggest cross-platform audience overlap came from ARD with 32% of its viewers watching content on both platforms. RTL Zwei was a close second with an overlap of 27%.
Top German Creators in Key Demographics by Audience Reach
Speaking of RTL Zwei, the media giant dominated the show when we looked at average audience demographics from July-September 2020. In particular, RTL Zwei had the highest cross-platform unique global viewership for both males and females aged 25-44 of any German-language and Germany-based creator.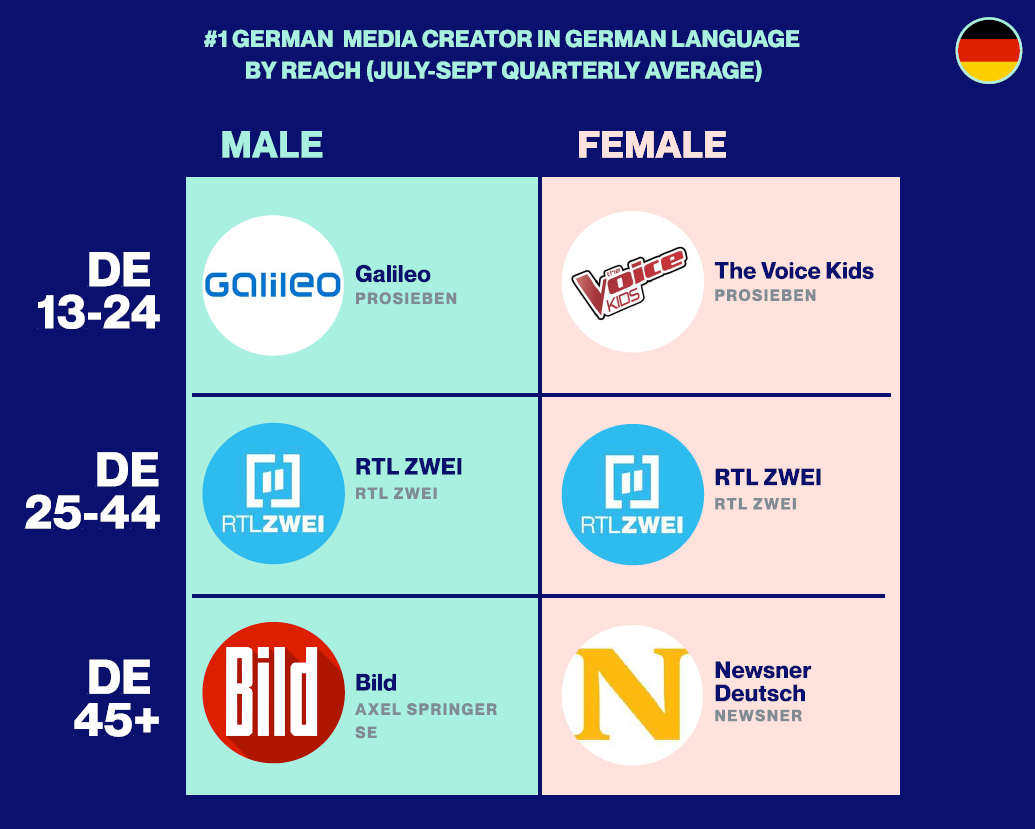 As for the 13-24 demographic, ProSieben's Galileo property was the most-watched among males while the same media giant's The Voice Kids earned the most unique global viewership and audience reach for females.
Rounding out the demographics leaderboard was Axel Springer's Bild, the top contender for global unique reach for males 45+. Newsner's Newsner Deutsch was the leader for unique female viewership aged 45+ around the world.
Media Giants Compared by Genre and Minutes Watched
As we did with the U.S. and UK cross-platform media giants, let's take a look at Germany's media leaders based on global audiences by genres and minutes watched in September 2020.
The Entertainment genre dominated attention, making up almost half of all minutes watched of German media creator content. Sports skewed significantly lower compared to our findings in the UK Cross-Platform Media Giants report.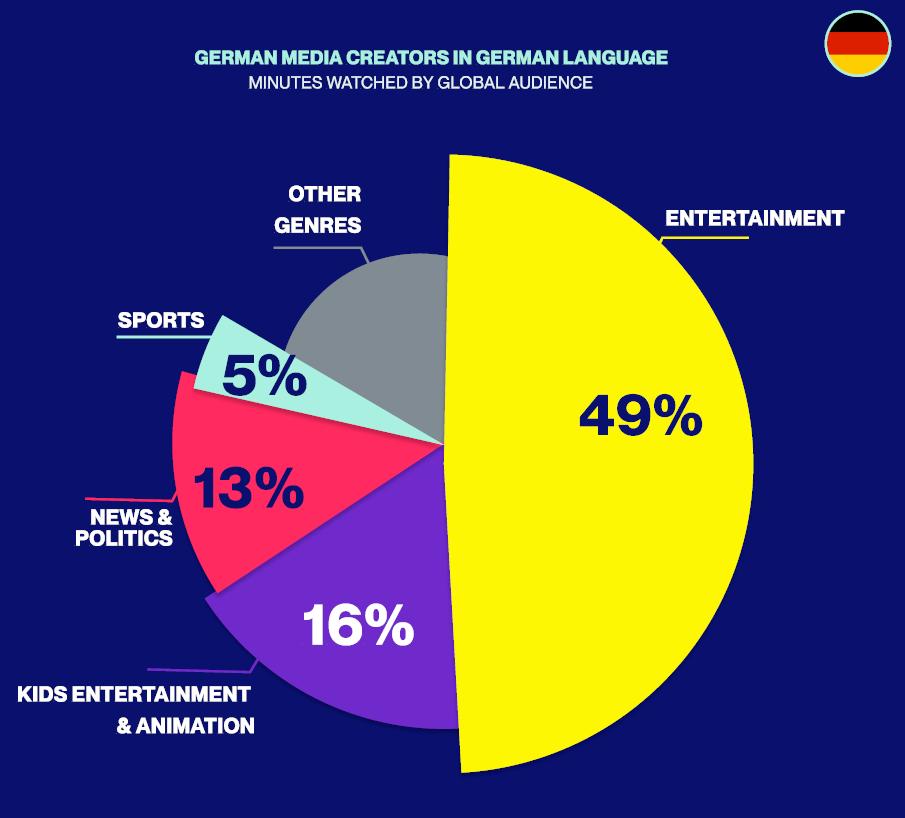 The top German-language Entertainment creator was Galileo with 244.9M unique minutes watched in September, while Oggy und die Kakerlaken earned top honors in the Kids' Entertainment & Animation genre with 153.6M unique minutes watched. Finally, FC Bayern München was #1 in the Sports category with 100.6M unique minutes watched.
Want to know your unique cross-platform reach in Germany?