Media companies, brands, and agencies around the world can finally know their true audience reach on social video with Tubular Audience Ratings™.
In line with our recent U.S. Media Giants report, we have new data that reveals the true, cross-platform top 10 UK media giants based on de-duplicated audience reach and minutes watched by demographic and location across YouTube and Facebook.
Here's which companies made the leaderboard…
Top 10 Cross-Platform UK Media Companies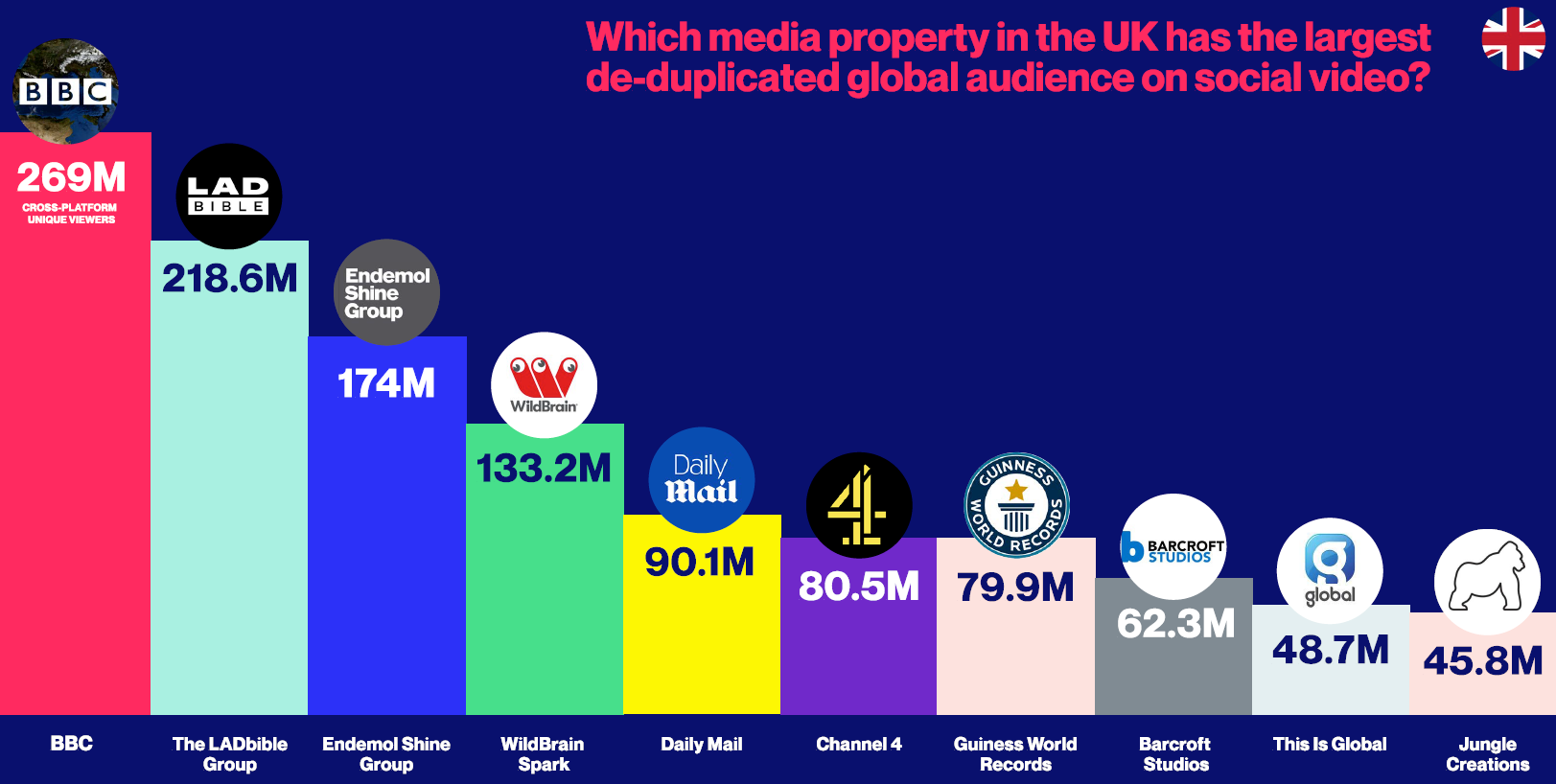 Four UK-based media properties reached over 100M unique viewers worldwide in September 2020, based on de-duplicated global viewers with 30-second quality views on Facebook and YouTube.
Over half of the top 10 companies had audience reach figures higher than the total population of the UK. This implies British media is a key exporter of video content to the rest of the world.
BBC landed at #1 with 269M unique cross-platform viewers, with The LADbible Group also claiming over 200M views. Endemol Shine and WildBrain Spark were #3 and #4, respectively, with over 100M unique views each.
In terms of cross-platform audience overlap, LADbible saw the single largest unique audience on Facebook, with WildBrain Spark attributing most of its viewership to YouTube. BBC's audience had the largest overlap, suggesting strong brand loyalty across both platforms.
Top UK Creators in Key Demographics by Audience Reach
Specific media creators also appeared on the demographic leaderboard in the UK in terms of unique reach. Based on a quarterly average from July-September 2020, we discovered Endemol Shine Group's Mr. Bean reaches the most unique viewership across both males and females aged 13-24.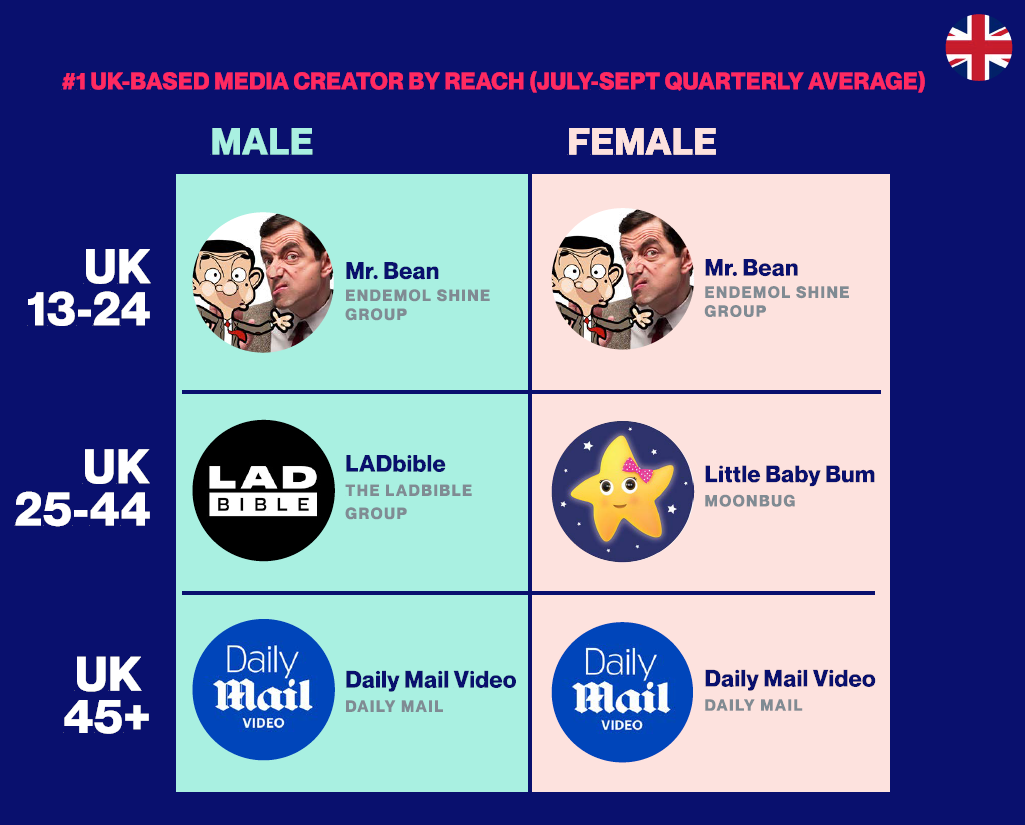 In the 25-44 demographic for males, LADbible earns the most unique audience reach, while the same age group for females was dominated by Moonbug's Little Baby Bum. Since Moonbug creates kids' programming and entertainment, it's likely mothers in the UK are viewing or co-watching this content with their children.
Daily Mail Video earned the most audience reach in the 45+ demographic for both males and females. The sweep by Mr. Bean in the younger demographic and by Daily Mail in the older one is a testament to these creators' far-reaching, effective content strategies.
Media Giants Compared by Genre and Minutes Watched
Finally, we also looked at the top UK media creators in terms of both genres and minutes watched by global audiences, not just those based in the UK. In September 2020, for example, Entertainment (both adult and kids) and Sports captured over three quarters of the attention on UK media creators by minutes watched.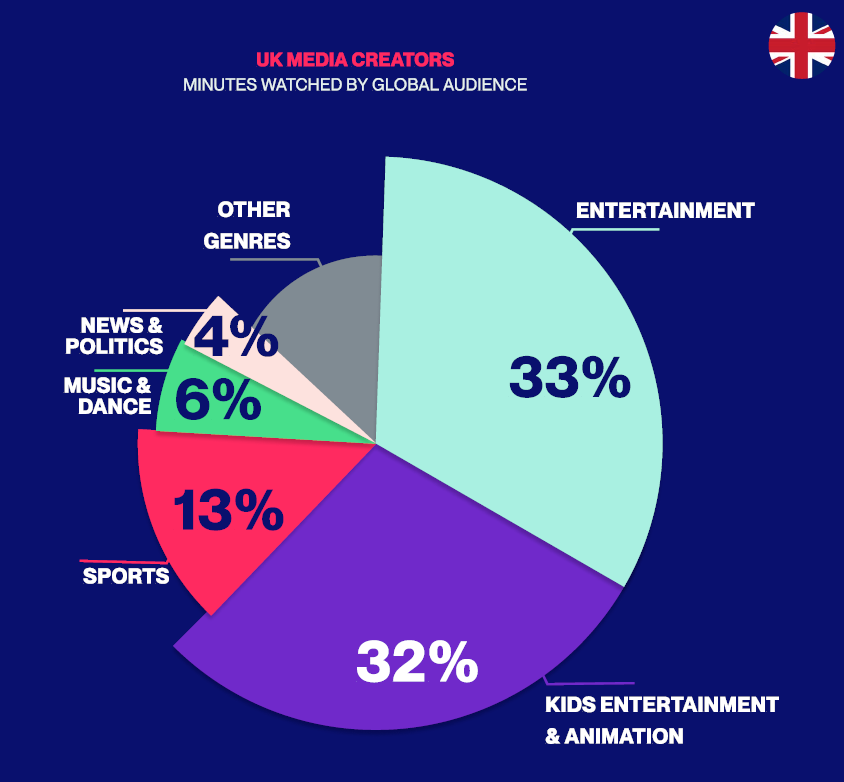 Mr. Bean again took #1 for the top Entertainment creator for adults with 1.7B unique minutes watched, while Masha and the Bear was at the top of the Kids' Entertainment & Animation leaderboard with 2.1B minutes watched.
England and Wales Cricket Board placed first in Sports with 613.6M unique minutes watched. Meanwhile, BBC News Arabic beat the company's UK-based channel to hit 208.7M minutes watched in the News & Politics genre.
Want to know your unique cross-platform reach in the UK?