It's time to see who's winning at video — the monthly leaderboard for the top Facebook publishers is now live for March. The ten most-watched publishers generated 10.6B total views last month, and saw some interesting changes within their ranks.
March's leaderboard also uncovered a few distinct trends across the top video publishers on Facebook:
News and politics publishers are firmly established on Facebook — and growing. For the last few months, we've tracked the growth of news publishers on this platform, and they're not slowing down anytime soon. At least 8 publishers improved their rankings in March.
Entertainment is becoming more localized and verticalized. Last month, there was a large influx of Vietnamese entertainment, as well as more Spanish-language and India-based publishers. And across 21 publishers who jumped at least 100 positions each, the predominant genres included nature and animals, sports, food, and DIY and crafts.
Let's dive into these trends in more detail below!
See more of this month's leaderboards here.
March 2019's Top Facebook Publishers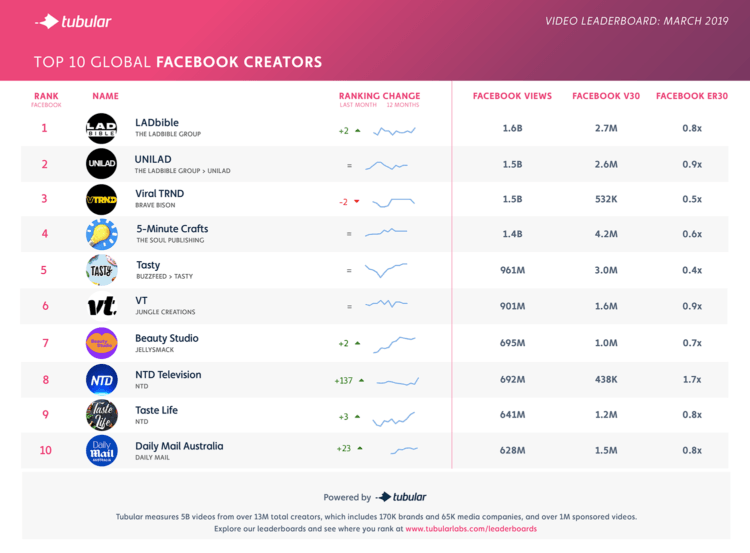 Across all Facebook publishers, viral entertainment giant LADbible reclaimed its #1 spot, which it held last back in June 2018. Its subproperty, UNILAD, remained in the #2 spot, giving the overall LADbible media property the top two most-watched Facebook Pages across the entire world in March.
Media company NTD boasted two publishers in the top ten on March's leaderboard: NTD Television and Taste Life. The former hails from the news and politics genre, with the latter featuring food and drinks. Both were indicative of the larger trends across the 100 top Facebook publishers of news and vertical-based publishers moving leaps and bounds on last month's chart.
Likewise, the top 10 video publishers of March included 5-Minute Crafts (DIY and crafts vertical), BuzzFeed's Tasty (food and drink), and Daily Mail Australia (news and politics). These genres have clearly found a home on Facebook, as the rest of the 100 most-watched publishers will reveal below!
News and Politics Facebook Publishers Attract More Eyeballs
There's no shortage of news and politics publishers on Facebook, and many of them continue to grow their viewership by the month. At least eight news and politics publishers improved their rankings in March.
We already noted NTD Television (+137 spots) and Daily Mail Australia (+23) above. However, the most fascinating new face to March's leaderboard was The Epoch Times, a news media company whose Facebook page jumped +1787 spots to land at #100 across the top Facebook publishers.
The publisher also boasted a high 30-day engagement rate (ER30) of 1.8x, a good 0.8x higher than average engagement rates on Facebook. It seems that along with harder news, The Epoch Times is also distributing viral content for its audiences, like this most-watched clip with 15.9M views in March alone:
Other news and media publishers who gained more attention in March include:
Out of these six, only three were American-based news publishers. EBC is based in Taiwan, while Show Ana Haber is from Turkey and Journal el Bilad is based in Algeria.
The lesson here for brands and other publishers is that news and politics is a topic Facebook viewers want more of, so start creating it. Additionally, the more localized the news can be to particular regions of the world, the more likely publishers are to see their views grow and their names land on the monthly leaderboard.
Top Facebook Publishers Get More Local and Vertical
Speaking of localized publishers, we couldn't help but notice that across the rest of the top 100 publishers on Facebook in March included lots of regional or country-specific accounts. Mexico's OkChicas, for example, placed #15 last month with a rank increase of +8, while that same country's Craftología hit #72 after jumping a massive +1265 spots!
Vietnamese entertainment also had a good month for this leaderboard. Gãy TV landed at #38 after jumping 198 spots, and VieShows hit #47 with a +204 increase. Likewise, Dien Quan Film was halfway through the chart at #50 thanks to a jump of +241 positions.
A few other publishers with a local or international flair who saw an increase in viewership in March include:
There were plenty of other localized publishers on Facebook this month, including the news channels already noted above. The localization of Facebook video is also happening alongside its verticalization. "Entertainment" is no longer a safe way to describe what a publisher provides its audiences, especially when we look at the high performance of specific verticals across these publishers.
As was the case in February, animals and nature-based publishers continue to attract eyeballs. Top Facebook publishers in this genre for March included Try Not to Laugh (#19 with +11 positions), Wonderful Earth (#36 with +1018 positions), MetDaan Animals (#37 with +49 positions), and Incredible Nature (#61 with +406 positions).
Next up was sports, with publishers like Sports Center (#30 with +38 positions), ESPN (#52 with +25 positions), and Bleacher Report (#96 with +16 positions) gaining traction. The food and beverage genre is also popular on Facebook, with publishers like Chefclub, kiwilimon, Tasty, and Taste Life showing the growth of this vertical on the platform.
And of course, top Facebook publishers just wouldn't be same without a healthy dose of craft and DIY content. In addition to the aforementioned 5-Minute Crafts and Craftología, we saw Jellysmack's Craft Pop Plus land on the leaderboard for the first time ever at #27.
Sister property It's Craft Time landed at #65 after jumping +568 spots, and U.S.-based Flowerss hit #66 with a +296 increase in ranking. Brave Bison's Canvas Arts was #71 with +103 positions, and Arabic-language publisher Cute DIY placed in the top 100 for the first time at #82.
What are Facebook publishers to do about all this? Start verticalizing and localizing content, of course. Gone are the days when starting a general entertainment Facebook page would get you somewhere; now, audiences know exactly what they want and they head to those specific verticals and regionally-minded publishers. So give them what they want!
Tubular Video Ratings
You'll notice some exclusive data in this month's chart as we include Tubular Video Ratings, a unique group of online video metrics that set the standard for measurement of views and engagements across videos and publishers. They include a simplified first 30-day engagement rating (ER30) and first 30-day views (V30).
Get the Full List of the 25 Top Facebook Publishers
Tune in Every Month for the Most Up-to-Date Stats! Each month TubularInsights will publish the most up-to-date leaderboard charts, so stay tuned! In the meantime, sign up for a free Tubular account and get access to the complete list of the top 25 video creators across YouTube, Facebook, and Cross-platform.