When we release our monthly leaderboards, we're sometimes surprised at which top YouTube channels land on the chart, and that's definitely what happened for December. A lot of familiar creators, brands, and channels were seen in the top ten, which collectively generated just over 12 billion views last month (800K more than they pulled in during November 2018). But in December, quite a few new channels popped onto the scene we weren't expecting. Before we jump into these surprise channels and trends, let's take a look at key data points from last month:
The top three channels saw at least 1 billion views each, with the top performer garnering almost 3 billion views alone.
The top four channels all maintained their same ranks from November.
The highest average 30-day engagement rate (ER30) of the top ten channels hit 2.9x, while the highest ER30 of the top 100 publishers hitting a massive 9.8x!
The best 30-day average (V30) from the top ten channels was a whopping 39.7 million, which also happened to be the best overall V30 across the top 100 channels.
Out of all 100 creators, five of them increased rankings by at least 100 positions, with +1833 being the highest jump in ranking across these creators.
Top YouTube Channels December 2018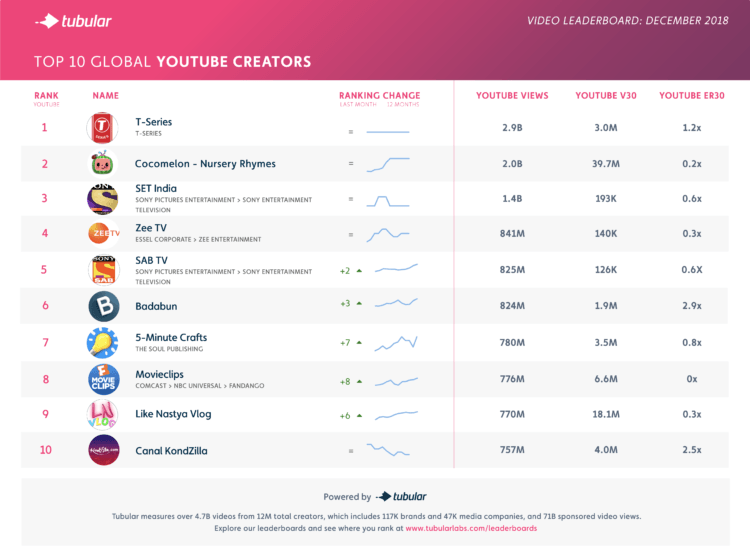 December's top ten YouTube channels actually saw quite a bit of change. Indian media brand T-Series continues its domination of YouTube despite gaming personality PewDiePie beating it in terms of subscriber counts. And thanks to the continuous viewing habits of young children, Cocomelon of course stayed in #2 and claimed the highest V30 across all 100 top publishers at 39.7 million. SET India, Zee TV, and Canal Kondzilla all stayed in their same positions from November 2018. However, all other channels in the top ten increased their rankings, with SAB TV and Badabun increasing their rankings by two and three spots respectively. 5-Minute Crafts, Movieclips, and Like Nastya Vlog all jumped back into the top ten in December thanks to around 770-780 million views each. However, it's the rest of December's leaderboard chart we're really interested in looking at, especially considering YouTube's parent property Google dominated its own platform at the end of the year.
December Was Google's Takeover Month on YouTube
Normally, we don't see Google ever landing in the top YouTube channels leaderboards. Despite running one of the biggest online video platforms, the tech and data giant simply doesn't actively create and distribute video content on its owned and operated channels. But that all changed in December 2018.
For starters, let's look at Google's channel. It landed at #25 in December after jumping 620 spots thanks to more than 494 million views and a higher-than-average V3 of 2.8 million. A quick search showed us the reason behind this massive increase in viewership: lots and lots of year-end videos. Nine of Google's top ten most-watched clips from December were Google Search summaries of the last year, with Google's "Year in Search – 2018" topping the list with 113 million views to date; this video was a clear hit with viewers because it celebrated all the positive, happy-go-lucky search trends from 2018, ending with the phrase "Good things are worth searching for." The only other video on Google's top ten list last month highlighted the benefits of Google Assistant in a very nostalgic, Home Alone-inspired ad featuring none other than the film's star Macauley Culkin himself (all grown-up, of course, and enjoying the ease of running his empty house with Assistant).
Next up, we had YouTube Music take spot #60 on December's chart thanks to a rank increase of 163 and a view count of more than 326 million. This was double the channel's view count from November 2018, but only one video was uploaded to the channel in December. This means the majority of the views YouTube Music pulled in last month was from old content, a rare occurrence but we do see that happen once in awhile on the leaderboards. Finally, we saw the YouTube proper channel landing in the top 100 at #93 with almost 256 million views after jumping an astounding 1833 spots! This channel saw most of its views from content related to the now-infamous YouTube Rewind 2018 video; the most-watched clip at 3.8 million views, for example, is a behind-the-scenes look at how Google made the Rewind video.
Squishy Things and Sports Land on Top YouTube Channels
One of the next surprises on December's top YouTube channels leaderboard was a DIY/life hacks channel dubbed HelloMaphie, which landed at #42 thanks to almost 388 million views and a rank increase of 228. HelloMaphie uploaded five videos in December, with the top two featuring compilations of "crunchy and soft things" being run over by car tires. Additionally, other videos from December hit on the wildly-popular slime trend (we'll cover this trend in a separate article tomorrow on Tubular Insights, so keep your eyes open for that one).
Also new in December was Australian-based channel cricket.com.au, which should be self-explanatory in terms of which sport it covers! This channel has never landed in the top 100, which means that if it can jump 819 positions this quickly after garnering 262 million views in December, we'll be seeing plenty more of cricket.com.au on future YouTube leaderboards! In general, Australian cricket fans are flocking to this channel, with December's most-watched video about an Australia vs. India match pulling in 14.1 million views to date.
Tubular Video Ratings
You'll notice some exclusive data in this month's chart as we include Tubular Video Ratings, a unique group of online video metrics that set the standard for measurement of views and engagements across videos and publishers. They include a simplified first 30-day engagement rating (ER30) and first 30-day views (V30).
Get the Full List of Top 25 Video Publishers on YouTube & Other Video Platforms
Tune in Every Month for the Most Up-to-Date Stats! Each month Tubular Insights will publish the most up-to-date leaderboard charts, so stay tuned! In the meantime, sign up for a free Tubular account and get access to the complete list of the top 25 video creators across YouTube, Facebook, and cross-platform. Get access today just by clicking this link.