In December 2018, the top YouTube channels around the world generated 12 billion total views. While that number is by no means unimpressive, January's ten most-watched channels still beat it by a solid 2 billion to hit just over 14 billion total views! Our newest YouTube leaderboard for last month also revealed some other cool facts about the top 100 channels, such as:
The top five channels saw at least 1 billion views each, with the top performer garnering more than 3 billion views alone.
The top three channels all maintained their same ranks from December.
The best 30-day average (V30) from the top ten channels was a hot 36.9 million, which also happened to be the best overall V30 across the top 100 channels.
The highest average 30-day engagement rate (ER30) of the top ten channels hit 2.8x, which was shared with one other channel in the top 100. However, the highest ER30 of the top 100 channels overall was a whopping 10x+!
Out of all 100 creators, eight of them increased rankings by at least 100 positions, with +890 being the highest jump in ranking across these creators.
Top YouTube Channels January 2019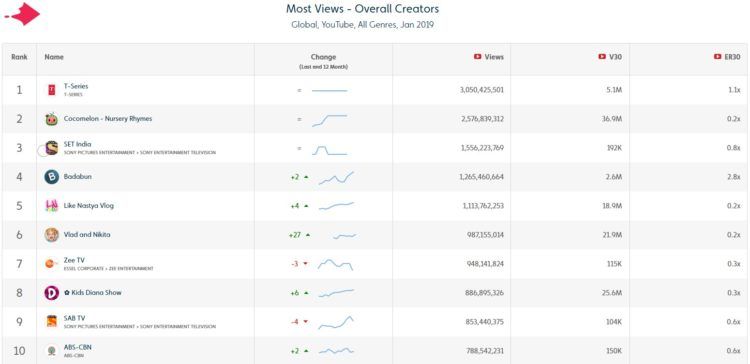 The top ten most-watched YouTube channels are generally familiar names if you follow our leaderboards regularly; for example, the top three of T-Series, Cocomelon, and SET India all maintained their spots from December. What's most significant about the top ten was that eight of these channels maintained or improved their positions in January, with three of them landing (or re-landing, in the case of ABS-CBN) in the top ten thanks to their view increases! Of course, there were other trends across the 100 top YouTube channels as a whole; here's what we discovered…
More Kids' Content Is Taking Over the Top 100
It's certainly no secret that kids' content and family programming dominates on the YouTube charts. However, January in particular saw a massive influx of channels from this genre — more so than usual. For example, six of the eight channels which improved their rankings by 100 spots were family-focused channels, and 35 of the 58 channels that bumped up at least one position were kids' animation and entertainment.
The channel Funny Stacy saw the most improvement across the 100 most-watched channels with a +890 spot increase, while Kids Club TV wasn't too far behind at +706. Pinkfong! Kids' Songs & Stories didn't have the largest increase in ranking (+5) in January across the top YouTube channels, but its improvement is nonetheless significant. Why? Because we recently noted the growing trend of "Baby Shark" challenge videos, and Pinkfong! was the original creator of that video back in 2016! Basically, as the trend has grown these last couple of months, so have the views and attention around Pinkfong!'s content. The channel has taken advantage of this opportunity to create more videos related to "Baby Shark," such as this sing-along one, its most-watched clip from January with 1.8 million views:
Another interesting thing to note about many of January's ranking children's channels is they aren't all created for English-speaking audiences. Here's a quick rundown of what we found in terms of language variety:
We noticed a larger presence of international publishers on Facebook this last month, too; clearly, global creators are turning more frequently to online video as a way to distribute their content, get their ideas and messages out to their audiences, and earn some revenue along the way.
K-Pop Attracts Enormous Amounts of Engagement
Speaking of international content, another trend from January was the incredibly high engagement rates on music channels, specifically those distributing K-pop. Much like the "Baby Shark" phenomenon, we noted a couple months ago how massively popular K-pop content was on YouTube in 2018, pulling in 4.3 billion views in the second quarter of last year. Apparently, though, K-pop fans still adore their favorite artists enough to stay regularly engaged with their music videos as of late.
For example, K-pop channel 1theK earned an ER30 of 2.8x, while the all-female band BLACKPINK pulled in a 3.5x ER30 (on a related note, the band was able to book its first shows in the U.S., where 15% of its YouTube audience lives). Next up was SMTOWN, which claimed an ER30 of 6.6x, the third-highest ER30 of the 100 top YouTube channels from January. And last but not least was Korean entertainment company ibighit with an astounding ER30 of 10x+. While a few other musicians earned impressive engagement in January (like Ariana Grande with a 3.2x ER30), it's obvious K-pop has hit a chord with viewers around the world.
Tubular Video Ratings
You'll notice some exclusive data in this month's chart as we include Tubular Video Ratings, a unique group of online video metrics that set the standard for measurement of views and engagements across videos and publishers. They include a simplified first 30-day engagement rating (ER30) and first 30-day views (V30).
Get the Full List of Top 25 Video Publishers on YouTube & Other Video Platforms
Tune in Every Month for the Most Up-to-Date Stats! Each month Tubular Insights will publish the most up-to-date leaderboard charts, so stay tuned! In the meantime, sign up for a free Tubular account and get access to the complete list of the top 25 video creators across YouTube, Facebook, and cross-platform. Get access today just by clicking this link.