If you've been waiting for this month's newest Tubular YouTube leaderboard, it's finally arrived! Across the most-watched top YouTube channels, we saw a lot of familiar creators and brands show up, but a couple of trends clearly stood out above the crowd in the month of September. The top ten most-viewed channels alone pulled in more than 12 billion total views, an increase of 100 million over August.
These are just some of the other accomplishments of September's creators:
The top four channels saw at least 1 billion views each, with the top performer garnering over 2 billion views alone.
The top six channels all maintained their ranks from August.
The highest average 30-day engagement rate (ER30) of the top ten channels hit 2.5x, while the highest ER30 of the top 100 publishers went all the way to 10x+!
The best 30-day average (V30) from the top ten channels was a generous 40.8 million, while the best overall V30 across the top 100 channels landed at an astounding 120 million.
Out of all 100 creators, eight of them increased rankings by at least 100 positions, with +769 being the highest jump in ranking across these creators.
Top YouTube Channels September 2018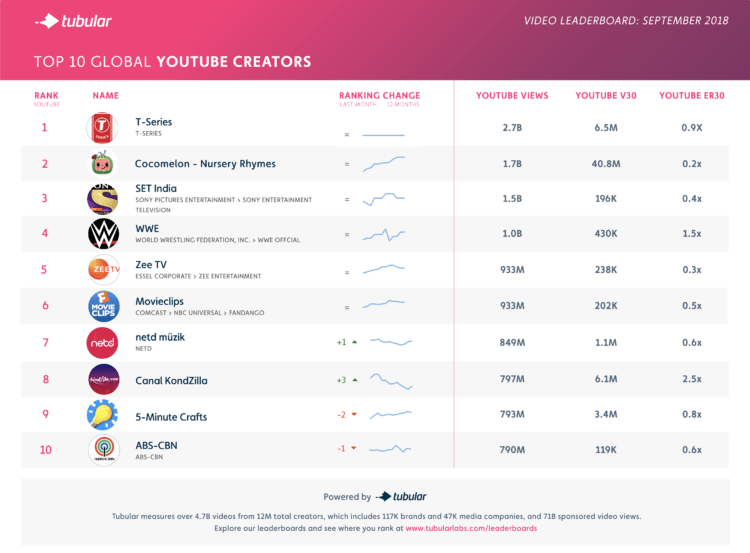 At first, when we scanned the most-watched YouTube channels and creators from September, everything looked fairly normal. There were a lot of children's and family programming channels ranking for millions of views and high V30s, as well as tons of international-based entertainment creators from countries where YouTube is wildly popular (namely, India and Brazil). However, a few key trends stood out in particular in September, so let's dive in!
Rappers, Hip-Hop Music Have a Great Home on YouTube
In August, the top YouTube channels leaderboard clearly revealed a surge of popularity in K-pop music, a fact our Q3 State of Online Video report also backed up in terms of current video trends on YouTube. September's leaderboard still showed plenty of K-pop musicians and bands ranking in the top ten, but it was other musical genres and artists that gained the attention of viewers this month.
For starters, we saw several rappers and hip-hop artists claim spots in the top 100. Eminem placed #31 thanks to a +294 jump in rankings with more than 445 million views; the driving force behind this success appears to be the release of two singles, the official audio from his diss track "Killshot," and a four-part interview series where the rapper discussed his new album Kamikaze. These seven videos alone pulled in 334 million views in September, while the difference was likely made up due to views on older content.
In addition to Eminem, rapper 6ix9ine landed on September's leaderboard at #63 after jumping 237 positions thanks to 316 million total views. While the New York native didn't upload a single new video last month, his YouTube channel clearly didn't suffer from it, as he also took home the title of highest V30 at 120 million. When we expanded our video search to the last 90 days, it appears the majority of 6ix9ine's views stemmed from three music videos released across July and August, with the most-watched clip featuring a duo with Nicki Minaj and generating an impressive 423 million views.
Finally, we saw Lil Pump skyrocket up the charts to become the channel with the most ranking improvement in September thanks to a massive +769 increase! Landing at #92 with 264 million views, the American rapper seemed to pull in plenty more views due to (surprise, surprise) the release of multiple songs over the course of August and September. His most popular — and only — song uploaded to YouTube last month was a collaboration with Kanye West and Adele Givens which saw 253 million views.
Here are a few of the other musical channels that benefited from more views in September (though not all of them are rap or hip-hop):
TV and Online Video Personalities Take Center Stage
It's no secret YouTube is one of the best places for musical entertainment; however, lots of other types of entertainment succeed well on the platform, as well, including vloggers and popular television personalities. The top YouTube channels from September revealed audiences' preferences for a few notable names in particular last month, all of whom had their own types of success on the leaderboard.
Two channels we want to mention are interesting because they're blood-related. Meet Luccas Neto and Felipe Neto, brothers from Brazil who both vlog on YouTube and are doing very well for themselves at that. In September, for example, Luccas jumped seven spots to land at #34 thanks to 432 million views; plus, he boasted a not-too-shabby V30 of 5 million and a higher-than-average ER30 of 2.3x. Felipe landed at #68 with more than 311 million views, and the highest ER30 out of the month's top YouTube channels at 10x+! Luccas uploaded far more videos than his brother, which meant he claimed the most-watched video of the two at 11.5 million (check out his "baby for a day" video below). We'll have to see if the sibling rivalry continues on next month's leaderboard!
YouTube audiences also preferred watching some traditional television personalities in September, starting with the much-loved Ellen DeGeneres. With more than 315 million total views, the titular YouTube channel landed at #65 after having increased its ranking by 38 spots. Ellen's team also helped the channel boast the same ER30 of Luccas Neto at 2.3x, which shows that when translated over to digital properly, TV stars can definitely keep the attention of viewers just like "normal" YouTube stars do.
Finally, we have the ever-popular Jimmy Fallon. The late night host's YouTube channel made it into the top 100 at #97 with over 260 million views after a fantastic ranking increase of 131 positions! With 164 videos uploaded in September, it's no wonder Fallon's outlet became one of the top YouTube channel of the month (i.e. the more videos you have, the more likely people are to find them and watch them). The host's most-watched clip pulled in 15.6 million views, and rightly so: it hilariously shows actor Kevin Hart scared to death of all the creatures brought to the late night studio by animal expert Robert Irwin.
Tubular Video Ratings
You'll notice some exclusive data in this month's chart as we include Tubular Video Ratings, a unique group of online video metrics that set the standard for measurement of views and engagements across videos and publishers. They include a simplified first 30-day engagement rating (ER30) and first 30-day views (V30).
Get the Full-List of Top 25 Video Publishers on Facebook & Other Video Platforms
Tune in Every Month for the Most Up-to-Date Stats! Each month TubularInsights will publish the most up-to-date leaderboard charts, so stay tuned! In the meantime, sign up for a free Tubular account and get access to the complete list of the top 25 video creators across YouTube, Facebook, and Cross-platform. Get access today just by clicking this link.