Lately, Super Bowl advertisers aren't the only ones shelling out massive amounts of money on a single campaign. In fact, Tarte Cosmetics has created a Super Bowl-sized campaign of its very own.
If you're active on the Tok, you've likely asked yourself why it felt like all the trending influencers were just in Dubai. But if by chance you're not on BeautyTok— let us fill you in. 
Here's the gist:
Tarte invited 30 influencers (and their plus ones) on a once-in-a-lifetime luxury trip to Dubai all expenses paid for: business class on Emirates, private villas at the Ritz Carlton Al Khaimah, high-end wardrobes, endless makeup products, fabulous parties, and excursions into the Al Wadi desert.
The influencer event called "Glow Around the Globe" was a kick-off of the brand's new line of Maracuja Juicy Foundations. According to Tarte, the intention behind the event was to lift others up and support women with donations made in attendees' honor to Middle East-based charities. Sounds like a win-win all around, no? TikTok audiences, however, have expressed a myriad of reactions ranging from FOMO to fandom, and even criticizing the trip as "tone-deaf".
Just like with any viral video trend, there are always many layers: lots of wins for the brand, and lots of learnings all marketers can take away. Let's get into the nitty-gritty.
---
When it comes to influencers, there's no shortage of choices
The biggest influencers at the center of this campaign are Alix Earle, Meredith Duxbury, and Monet McMichael. They've posted tons of content — which was the goal of this entire trip. One "day in the life" video shows the squad of influencers 'Tartelettes' heading out for their ATV adventure. Or in Alix Earl's get ready with me (GRWM) video she chats about her schedule while doing her makeup for the day: the perfect chance to plug Tarte products to her audience of beauty buyers. The video accumulated 407k+ views. The only thing is… she doesn't mention a single Tarte product.
At the end of the trip, Monet McMichael collabed on a GRWM video with three other influencers, @aslixearle, @itsaishamian, and @azramian, hashtagged #trippinwithtarte. The video has 1.5M+ views and over 7,000 comments. Not one of the influencers used or discussed Tarte while they went on to talk about their obsessions with other competing brands and products from Makeup by Mario and Armani. And this didn't go unnoticed: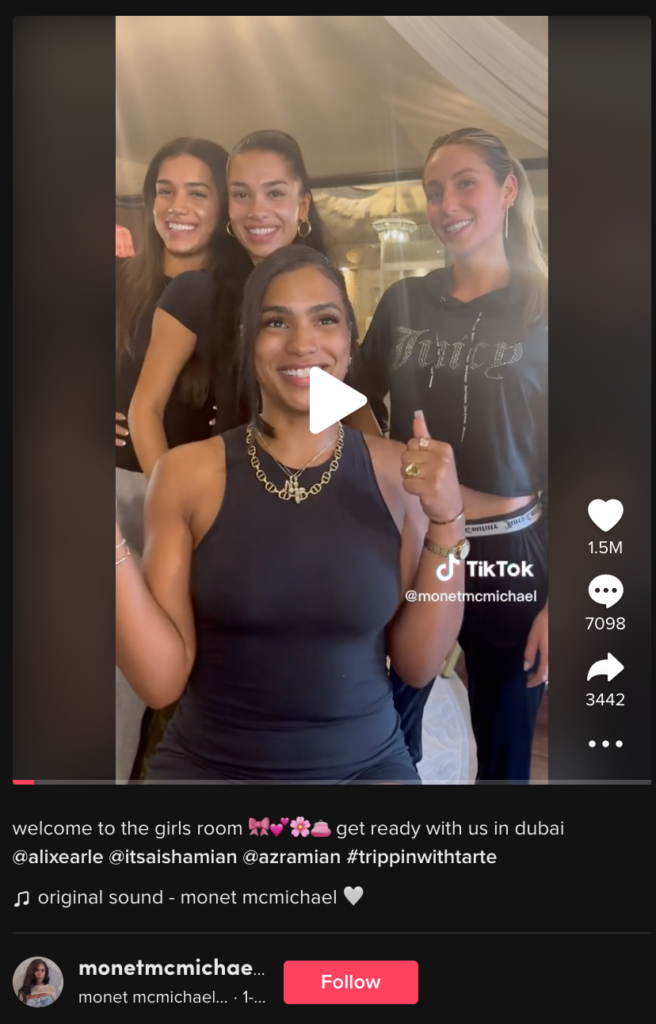 One comment says "tarte?? Maybe?".
Another "I love how y'all are on the tarte trip and not one mention of tarte makeup, this is so real lmaoo".
In an interview with Glossy, Tarte CEO Maureen Kelly shared that the influencers were not paid beyond trip expenses and they also did not have requirements for how many times they should post about Tarte products. That said, this GRWM collab was filmed on the last night of the trip; one might have thought the 'Tartelettes' would have felt inclined to show their appreciation. Perhaps when Kelly told Glossy "we've never done traditional advertising, and instead we invest in building relationships [with creators]," they might have benefited from partnering with influencers who have a connection with their brand.
---
Let's take a deeper look at Alix Earl's connection to Tarte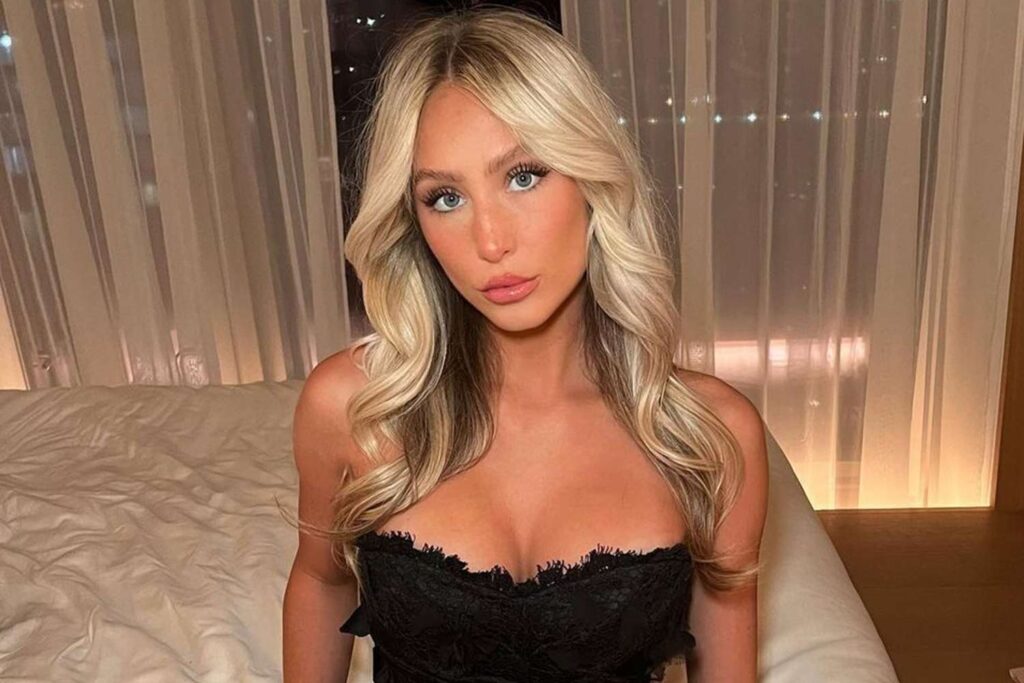 Alix Earl is known for consistently selling out beauty products online. As we see in Tubular, some of the top product categories her audience shops for on Amazon include:
Powder Puffs – 303.6x shopping affinity (meaning Alix Earle's social audience is 303.6 times more likely to purchase than average)
Lip Plumpers – 170x
Bronzers – 131.5x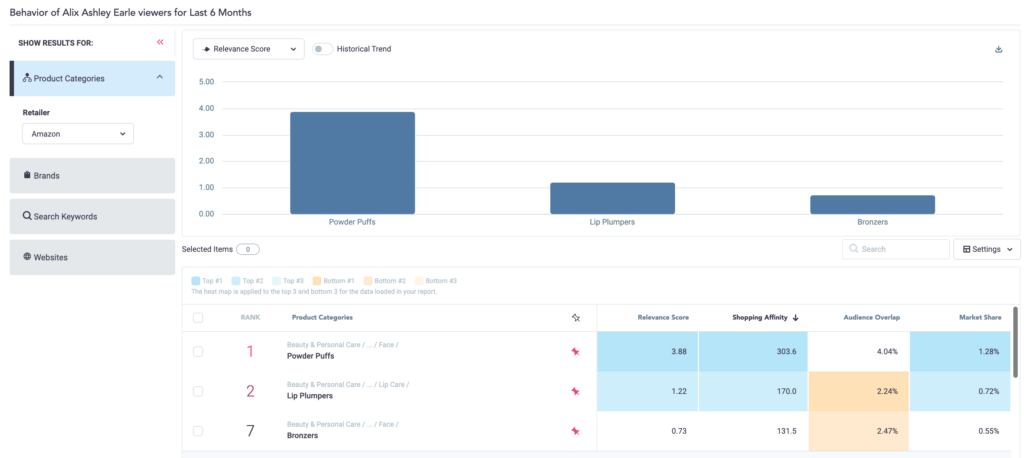 Similarly, the top beauty brands Alix's audience shops for are: 
It's worth mentioning that Tarte is not on her audience's Top 100 brands shopped on Amazon. That said, she does include several Tarte products on her Amazon Storefront including the Maracuja lip balm that hasn't dropped yet after announcing on the trip. We will wait and see if her content will drive any sales here.
Tartecosmetics.com is also missing from her viewer's most visited websites. Not unlike Top Brands, here are top related websites Alix Earl drives traffic to:
Rhode Skin (Hailey Bieber Skincare line) – 561.9x affinity
Drunk Elephant – 438.9x affinity
Rare Beauty – 272.7x affinity
Charlotte Tilbury – 260.4x affinity
Takeaways:
Picking the right influencer for your brand is important. Yes, Alix and other popular influencers have millions of followers, but that doesn't mean they will drive sales or positive engagement for your brand.
It's evident these audiences like Alix's do care about beauty and skincare – but does Tarte as a brand line up with their audiences? Partnering with influencers who were already loyal to Tarte could have ensured stronger PR while also giving back to creators who have created free User Generated Content in the past – nurturing a more loyal community.
---
Gen Z Has Zero Tolerance for Inauthenticity
There's no doubt that the decadent Dubai trip certainly pushed some viewers the wrong way. Many of them took it upon themselves to calculate the total cost of the trip, even looking into the free clothing items, airplane tickets ($12K+ each), villas (starting at $1K per night), and the gift baskets they received. Some claimed that the videos came off as insensitive to impending economic fallout.
So why did Tarte spend so much money on this influencer trip rather than traditional influencer promotions? Essentially, the cost of the trip comes out in the wash. Rather than pay for product review videos, Tarte allocated the money towards the cost of the trip.
But was an ultra-luxe trip the right move to market toward Gen Z audiences? Gen Z, in particular, is hyper-aware of campaigns that lack authenticity.
The problem with partnering with mega-creators is that these creators are often more removed from their niche audience's values compared to other micro-creators. Micro-creators have smaller but usually more loyal communities of audiences that truly trust their opinions. Tubular data often shows that influencers with smaller followings actually have a higher conversion rate than some mega-influencers that reach into the millions.
As for social causes, upon further research, the Tarte trip actually had a connection to Middle-East based philanthropies, however, none of this was promoted on social platforms. In fact, it took a significant amount of research to even learn about their philanthropic activations. If executed correctly, 'social for good' campaigns can be a huge lift for brands launching on social video.
In our report Navigating Social Video in 2023 we predict that more brands will work to align with social causes their audiences truly care about. Indeed did this in 2022 by sharing amplified voices in the LGBTQ+ community to promote workplace equality. The campaign drove a spike in viewership as well as positive community engagement!
Takeaways:
Leading with philanthropy and allowing audiences the chance to get involved in this campaign might have satisfied some of the outraged Gen Z viewers who called this trip "tone-deaf" to the times.
Choosing influencers who are smaller means they are usually more in touch with niche communities, and the values these audiences truly care about. When marketing on TikTok which is predominantly Gen Zers, it's important to lean into authenticity and activism.
---
Getting Clear on Campaign KPIs
Marketers can ensure that their investments on social are successful by aligning campaign KPIs with their influencer strategies. With an infinite sea of influencers to choose from, there are many qualities and strengths to evaluate in choosing the best creator for your campaign. Arming a campaign with a variety of quality influencers is a great strategy to make sure you're hitting all levels of function within your funnel.
Every campaign has a different set of KPIs. Perhaps one goal is to drive sales, in which case partnering with a creator that has a track record of consumer behaviors linked to your brand is best practice. Or maybe the campaign is focused on nurturing loyalty, in which case leading with a philanthropic cause your audience cares about is a great way to give back and encourage engagement.
In Tarte's case, if awareness was the KPI, they absolutely smashed it! Everyone on TikTok was talking about the trip. The hashtag #TrippinWithTarte has over 140 million views, and #TarteDubaiTrip has over 20 million views. 
That said, it's likely that driving buyer consideration and increasing ROI were also on their list of KPIs as the trip was centered around a product launch. In this case, we're not currently seeing a lot of traction in those areas. To drive consideration, marketers need to partner with influencers who excel at product reviews and have higher watch times. Some of these creators are excellent at product reviews but didn't actually review any Tarte products because they weren't required to.
Awareness is important for any brand, but spending millions on a passing fad is not. Tubular data reveals a spike in Tarte's TikTok viewership around the event dates that fell back to normal after the trip ended.
AOL weighed in saying "Yes, Tarte (and Dubai) is getting a lot of free press because of the trip, but whether it has seen an increase in people signing up for the foundation waiting list or more current products being sold is up in the air."
Takeaways:
Playing the awareness game is expensive and often does not drive much revenue. It means a lot of chasing trends and spending a lot of time trying to keep up. The good news is, social video is a tool that can be used for much more than awareness. In-depth insights can help you nurture loyal communities, encourage consideration phases, drive sales, and so much more. With Tubular, you can go beyond spikes in viewership.
Interested in creating your own hyper-targeted funnel with partnerships that align with KPIs through every stage? Check out: Social Video Funnel Optimization: Your Guide to Social Video Success.
---
If you're not already tapped in with Tubular, it's time — set up a demo, completely free, today.