Welcome to the fifth annual Tubular Awards, the only awards show where billions decide! The Awards celebrate the entertainment and media companies who connected with audiences amid unique challenges and rose to the top in 2020.
This year is different than previous ones, though. For the first time ever, winners have been selected not based on views, but based on the Tubular Audience Ratings™ metric of de-duplicated unique viewership across both YouTube and Facebook.
Here's an overview of some of the categories and their winners:
Top Global Media Properties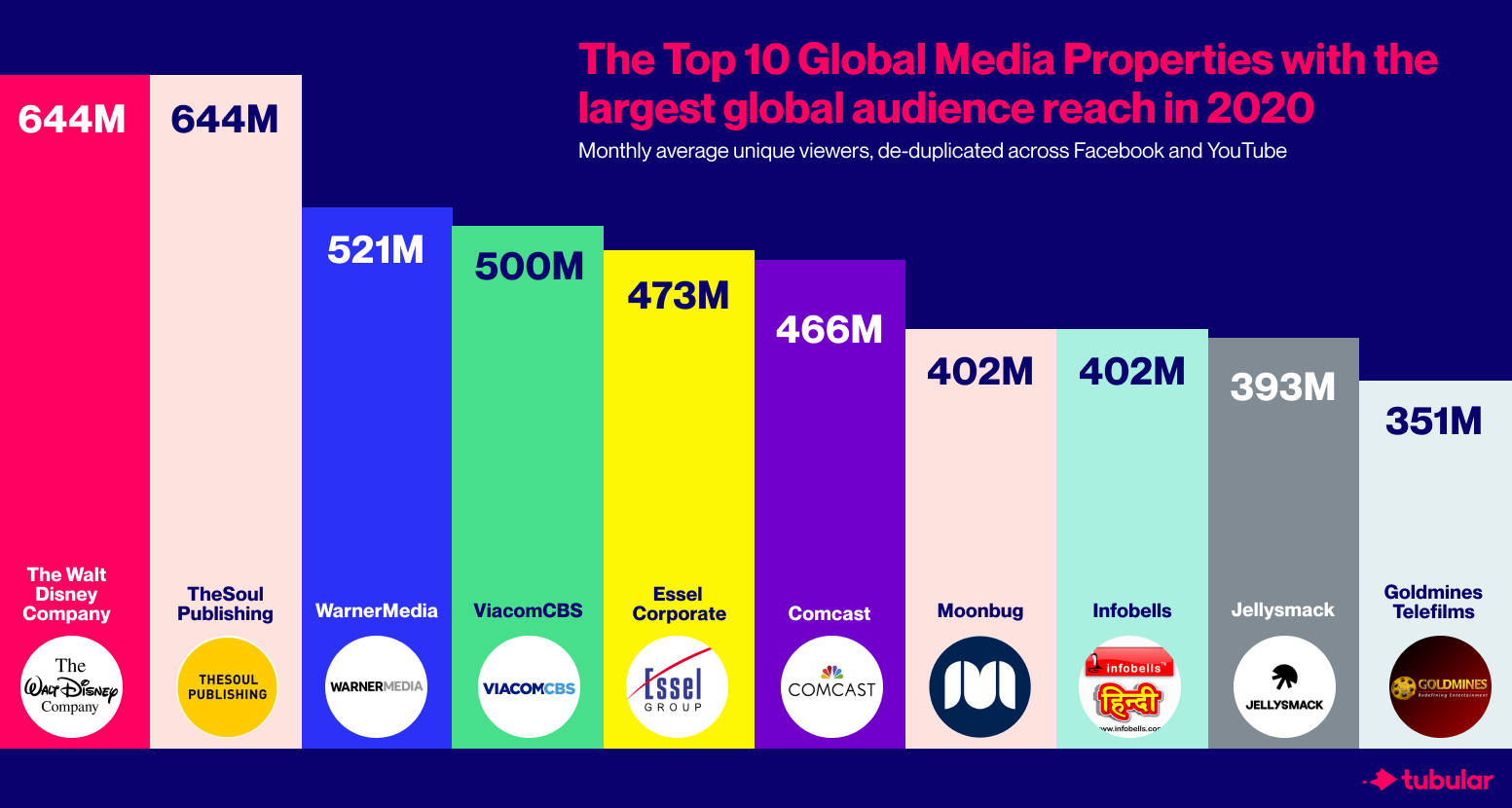 The Walt Disney Company earned the #1 spot for top global media property thanks to 644M monthly average unique viewers from February-December 2020.
Its host of properties across multiple genres, such as ABC News and SportsCenter, helped it reach this position, as well as giving the media giant 14 different Tubular Awards across a variety of categories.
Second place winner TheSoul Publishing secured its spot with a more specialized approach. TheSoul Publishing's watchtime mainly came from just two genres (Entertainment and Home & DIY), helping the property reach U.S. female millennials at a large scale in particular.
Likewise, #3 winner WarnerMedia put efforts into entertaining its audiences; more than 70% of time spent on the company's content was on Entertainment content for both kids and adults.
Several of WarnerMedia's properties landed in the top five or top 10 for genres like Sports and News, earning it eight overall Tubular Awards.
Top International Media Properties
A quick glance at the top media properties in the UK, France, and Germany by unique global viewership shows all types of media properties dominated the leaderboards.
The ten winners in the UK ranged from traditional Broadcast, Cable, Film, & Radio publishers to Magazines & Newspapers publishers to digital-first creators. The BBC claimed #1 for UK publishers reaching the biggest average monthly global audience at 306M.
The winning French media properties were split fairly evenly between broadcasters and digital-first, while the majority of the German media winners were traditional broadcasters.
Food-based media creator Chefclub landed at #1 in France thanks to 112M average monthly unique viewers, while digital-first publisher Media Partisans GmbH was first in Germany with 148M average monthly unique viewers globally.
Top Creators by Genre
This year's Awards also looked at the top creators for four categories by average monthly U.S. viewers: Entertainment, Sports, Kids Entertainment & Animation, and News & Politics. Let's take a look at the first two categories below.
In Entertainment, the top ten winners included digital-first creators like LADbible and BuzzFeed Video, to TV hosts like Ellen DeGeneres and Jimmy Fallon. U.S. audiences also showed a penchant for feel-good comedy content in 2020, with creators America's Funniest Home Videos and Funniest Family Moments landing in the top ten.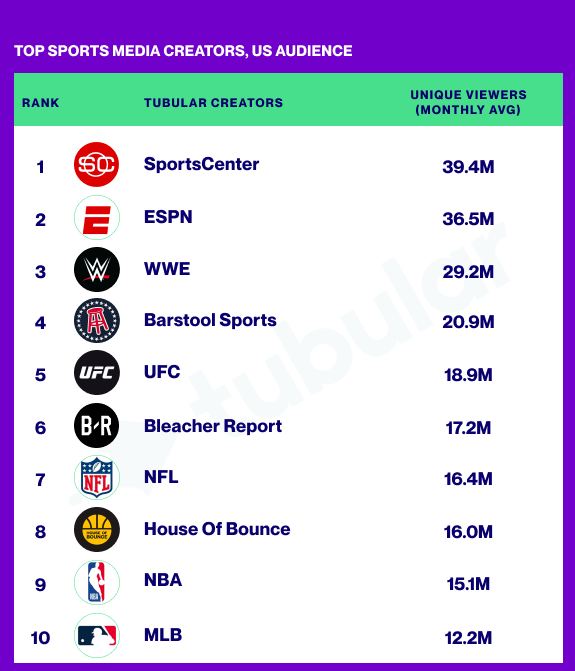 As for sports, five of the top ten creators hailed from sports leagues or organizations: WWE, UFC, NFL, NBA, and MLB. Digital-first creators such as Barstool Sports, Bleacher Report, and House of Bounce claimed top spots next to traditional sports channels like SportsCenter and ESPN.
You can find the winners for the other categories by grabbing the full list here.
Top Media Creators by Audience Reach
Finally, our Awards selected the top media creators based on which key audience demographics they were able to reach.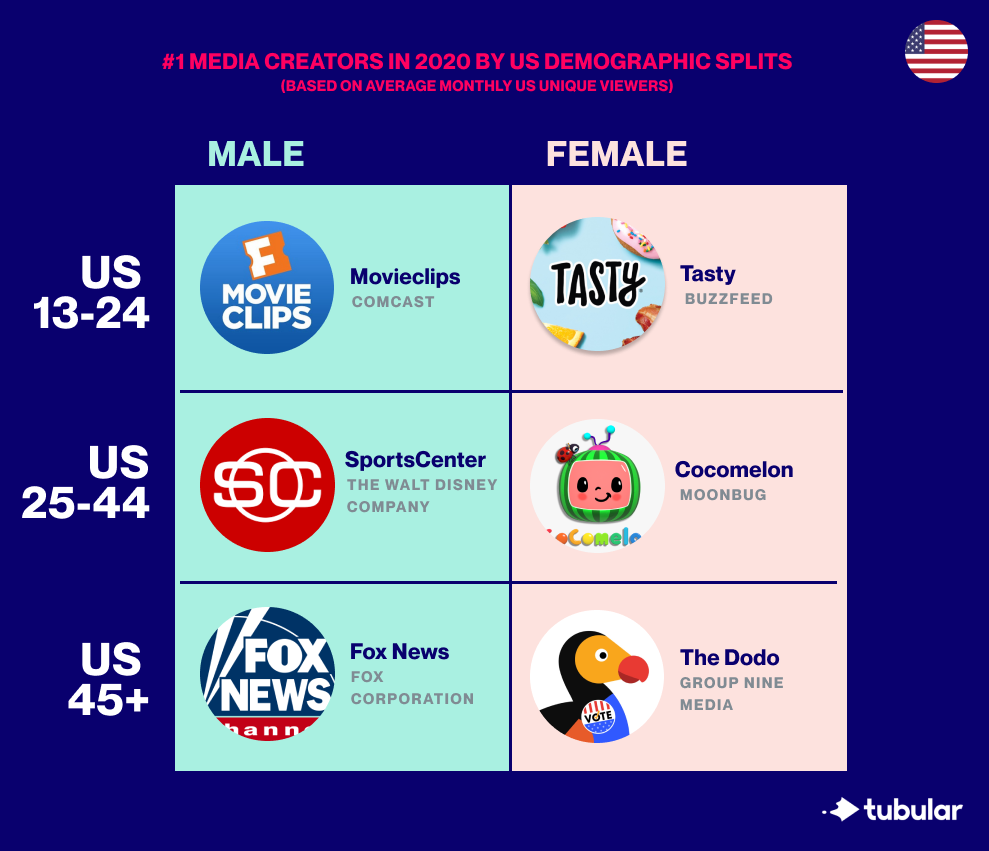 For example, creators in categories such as Film & Movies, Music, Gaming, and Sports succeeded most at reaching males aged 13-24 in the U.S. in 2020. The Movieclips channel, for example, earned an average of 14.1M U.S. monthly unique viewers in this age group to land it the #1 spot, while WorldStar Hip Hop came in second with 11M average monthly unique viewers.
Food, crafts/DIY, kids' content, music, and media creators were most popular with females aged 13-24. Tasty landed at #1 with an average of 9.4M unique viewers in this age group, and 5-Minute Crafts reached this demographic the most in second place with 8.5M average monthly unique viewers in the U.S.
Curious to see the rest of the winners not covered here?