ContentGraph is Tubular's AI learning categorization technology that makes the world of social video make sense.
With over 1,500 Categories and 1M+ Topics, Tubular's technology is in constant evolution mode to mirror the real world around us. Trends, interests, beliefs, and behaviors can all be uncovered and explored on the Tubular platform.
Because it's not just Food & Bev, is it? It's Food & Drinks → Foods → Seafood → Shrimp Dishes
Within this niche topic: Shrimp Dishes, you have several applications through Tubular's product suite.
Audience Ratings: You can answer the question, how much time do US 24-34 yr old females spend watching content about Shrimp Dishes vs. US 35-44 yr old females?
Audience Also Watches: You can answer the question, how likely is Gordon Ramsay's audience to watch content about Shrimp Dishes vs. Angela White's?
Consumer Insights: You can answer the question, how likely are those interested in Shrimp Dishes to shop for KitchenAid products -or- what are the chances they'll search for Minute Maid online?
Going granular has many benefits for marketers who want to optimize targeting, create resonant content, reach new audiences, and drive conversions.
Below are examples of use cases where we show you how to use Tubular categorization technology to refine strategies and get ahead of the competition.
---
Optimize Influencer partnerships and create content that resonates
The K-Beauty category has grown increasingly popular over the past year as beauty influencers rave about associated practices like #slugging, futuristic LED masks, and fermented ingredients in products.
It's no wonder that several of the biggest over-the-counter beauty brands are aligning some of their latest products with these trends. To position these brands as leaders in the K-Beauty world, it's necessary that they look for creators who are speaking to audiences interested in this topic.
The goal: Find beauty influencers who are perceived as trusted K-Beauty experts.
The problem: The beauty category is vast and largely uncategorized. There are over 150k beauty creators all with their own unique audiences.
To find the beauty influencers that can help align your brand with K-Beauty trends, it's necessary to look at the unique composition of each audience. What do their audiences like to watch?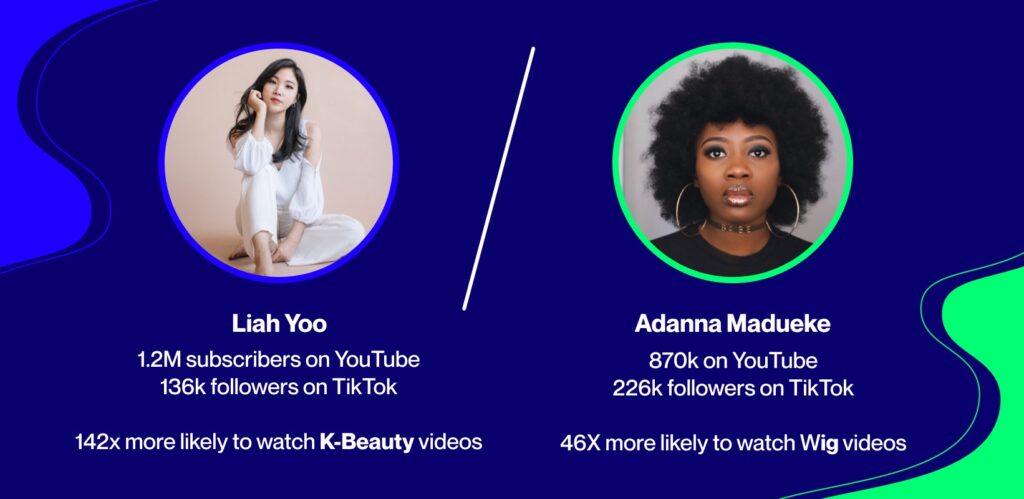 Looking at vanity metrics only, we can see that the influencers Adanna Madueke and Liah Yoo have similar follower counts, likes, and views. But let's consider the differences between these two influencers. When we go granular using Tubular's ContentGraph technology, we can see that their audiences are in fact very different.
Adanna Madueke's audience is 46X more likely to watch videos about wigs. In fact, only 1% of her audience watches content about K-Beauty. Comparatively, Liah Yoo's audience is 142x more likely to watch K-Beauty videos than the average social viewer.
For a brand that is eager to give its consumers K-Beauty options and promote its new products aligned with these trends, partnering with Liah Yoo is a great choice. This partnership would target the right consumers and present the brand as a leader in the K-Beauty space. 
---
Expand audience reach by looking for adjacent sub-categories
Let's consider the scenario where a food brand would want to launch a cooking show to:
Promote their own products
Nurture relationships with existing consumers
Expand reach beyond normative cooking audiences
The goal: Launch a new food show that appeals to your core demographic of US F25-44.
Diving into specific food subgenres helps cut through the clutter of an overcrowded generalized category like Food.
So, how do you choose between subcategories like desserts, seasonal meals, or cocktails?
Watch time is a particularly helpful metric to direct the search regarding content of a longer show format. Tubular data reveals that the target demographic, US females 25-44, spends a lot of time watching Desserts — a whole 713M minutes watched in August 2022.
Now we need a show host — one that will expand reach beyond traditional Dessert viewers.
Looking at Audience Also Watches data, we see that 54% of people who watch Dessert videos particularly watch videos about cake.
Cake content lovers have a particularly high affinity of 12.7x for a professional footballer, Kei Kamara. Partnering with Kei to host the next cake-baking or dessert show would not only align with the preferences of existing audiences but also with new audiences to increase the reach for this food brand.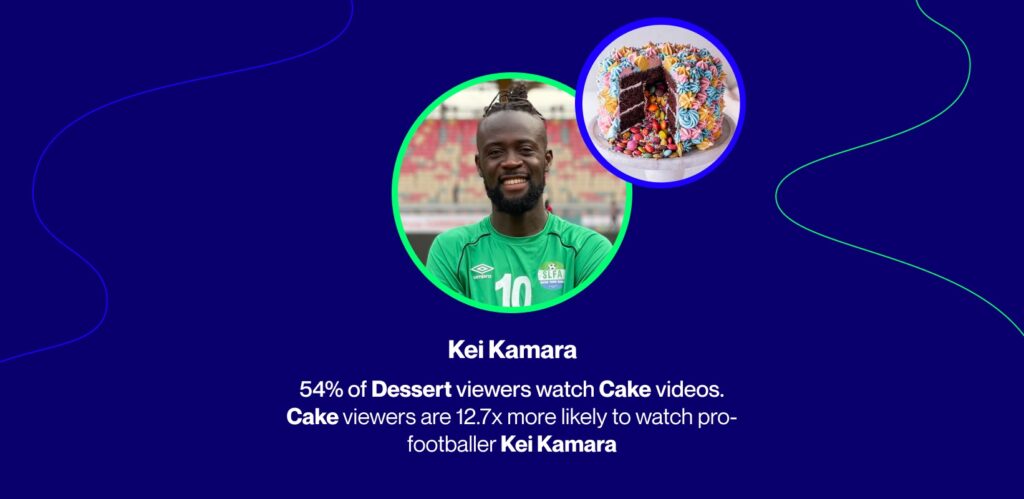 ---
Tubular's new ContentGraph upgrades are applicable across all of your favorite Tubular products including Consumer Insights, Audience Ratings, and Audience Also Watches! 
Watch here to see the upgrades in action:
If you want to try these products on for your own brand or channel, request a free demo here.