The announcement that Google is creating a YouTube specifically for children indicates that despite being a platform designed for engagers 13 and older, little tykes are already big fans of online video. But if they're not using their own accounts, how do we know what they're watching? Certain topics in video content are obviously popular with children; for example, kids loved Frozen in 2014. However, US viewers might not know that children's content is very popular internationally. Let's take a deeper dive into these topics to see what the current kids landscape on YouTube looks like.
FROZEN
Disney's movie not only cleaned up at theaters, it created a YouTube phenomenon. For example, the top 4 most-viewed cover song videos of 2014 on YouTube are renditions of melodies from Frozen: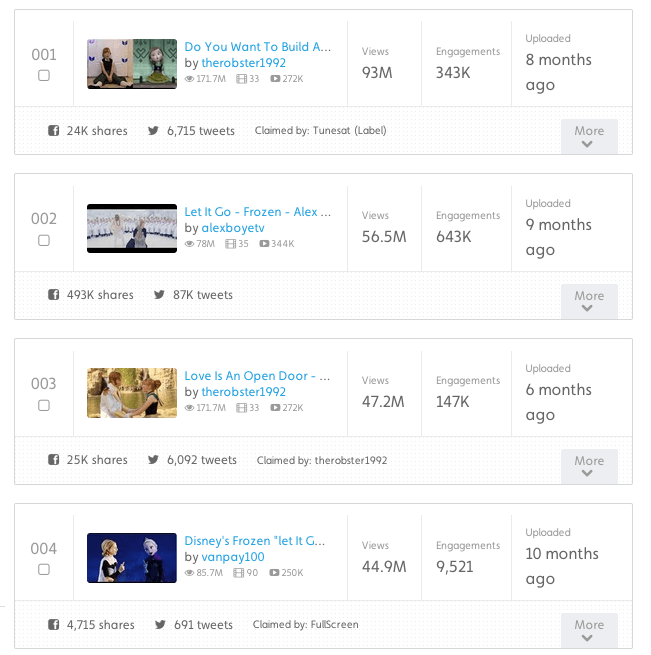 Although Frozen was a film that every member of a family could enjoy, there are indications that a share of the 93 million views for channel robster1992's video of a little girl covering "Do You Want to Build a Snowman" come from kids watching on their parents' YouTube accounts. In fact, let's look at the demographic breakdown for viewers engaging with Frozen related content on YouTube:
DEMOGRAPHIC BREAKDOWN FOR FROZEN CONTENT ON YOUTUBE: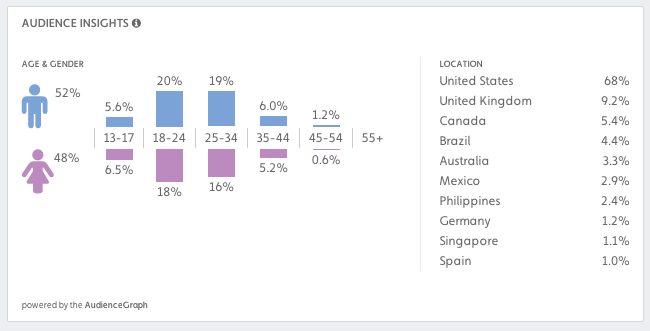 Of course, we cannot see demographics for anyone under 13, because they don't have their own YouTube accounts. However, we can see that 50% of Frozen engagers are over the age of 25, suggesting that this engagement comes from young children watching Frozen videos with their parents via their YouTube accounts.
INTERNATIONAL CONTENT
Interestingly, there's a large audience internationally for YouTube content geared towards children. If we take a look at content uploaded from Russia for example, we can see that 4 of the top 5 most viewed videos of all time are for content related to the animated show "Masha and the Bear":
TOP 5 MOST-VIEWED VIDEOS UPLOADED FROM RUSSIA (ALL TIME):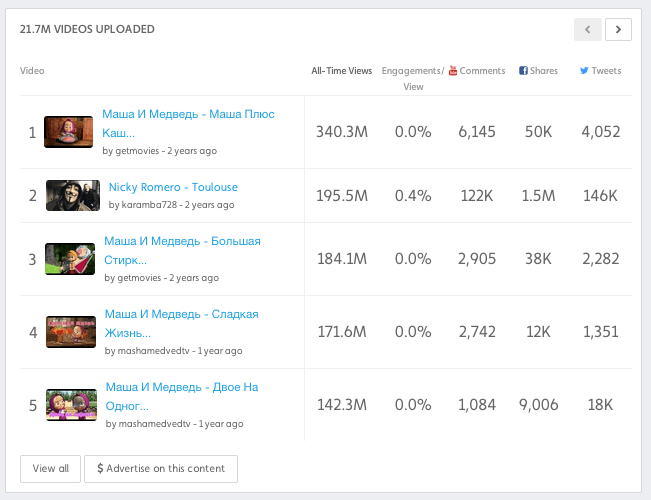 Furthermore, if we look at the demographic breakdown of viewers engaging with content uploaded from Russia, we can see that 30% of male engagers are between the ages of 25 and 34:
DEMOGRAPHIC BREAKDOWN OF ENGAGEMENT WITH CONTENT UPLOADED FROM RUSSIA: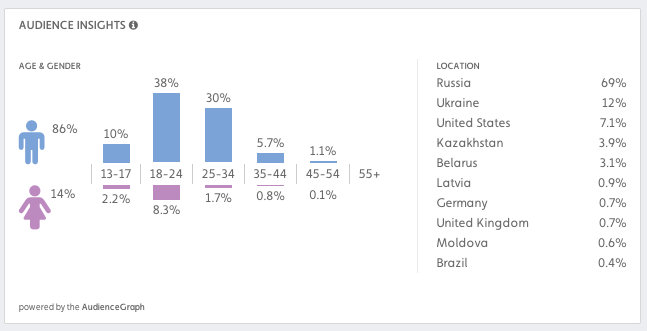 When compared to content uploaded from the US, which breaks down to only 20% male engagers aged 25-34 and when you consider what kind of content uploaded from Russia is getting the most views, "Masha and the Bear" is probably targeting Russian-speaking children watching YouTube on their parents accounts.
Children's content is also very popular in Brazil, where animated content from channel Juptube makes up 3 of the 5 most-viewed videos uploaded to YouTube from Brazil of all time:
TOP 5 MOST-VIEWED VIDEOS UPLOADED FROM BRAZIL (ALL TIME):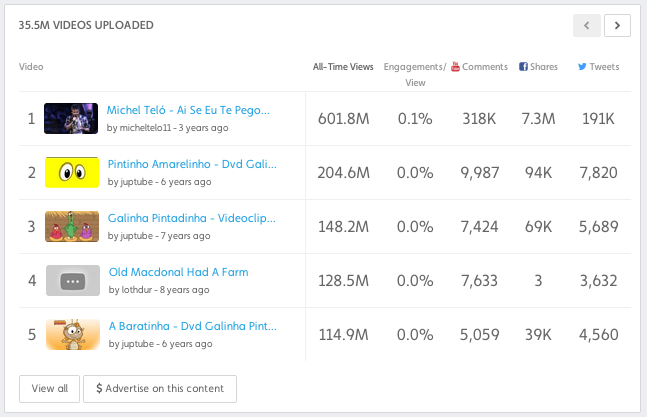 The takeaway is two-fold: first, there is absolutely a huge market for kids content (especially internationally) on YouTube. Second, the kids seem to already be tuning in and we already have a pretty good idea of what that early content will look like. We can't wait for Children's YouTube to be unveiled!
Data as of 12/8/14