Over the last few years, Barbie videos have allowed the iconic toy brand to pull a total Benjamin Button-style transformation, manifesting a more youthful and empowered version of itself in the social-video ecosystem.
For example, the Barbie brand celebrated its 60th birthday this year, but when it comes to the doll's online video persona, 60 is the new 4.9 billion! That's the total number of video views Barbie has hooked to date across her official global social video channels.
In our 2018 Tubular Awards, Barbie manufacturer Mattel landed at #5 across the most-watched brands on video platforms, taking in 1.5 billion views for the year. (Interested in learning how the brand was able to do this? Download our webinar to find out!)
Here are three main takeaways other brands need to consider:
Millennials are key: If you're getting a lot of engagement from millennials on Facebook in particular, aim to cater the content to both them and their children for that platform.
Eyeballs await on many platforms: Though Mattel doesn't transfer its whole YouTube Barbie library over to Facebook, it does transfer over videos that are resonating especially well.
Know your social channels: It's important to track the viewing habits of your social channels and accommodate video length accordingly. On Barbie's YouTube channel, the most views (3B total) come from videos of 2-5 minutes long. On Facebook, the most views (41.3M total) come from shorter videos of 1-2 minutes each.
Now let's dive in…
---
The popularity of Barbie videos appears to have a ripple effect on sales.
"It truly has contributed to our bottom line in a big way," said Quiroga. In 2018, Barbie's global sales reached a five-year high, surging 14 percent from the year prior, which Mattel attributes to a positive perception of the brand.
"We see the power of video and content for our particular audiences and the proof is in our overall sales and our brand-affinity lift," Quiroga said.
Top 10 Most-Viewed Barbie Videos of All Time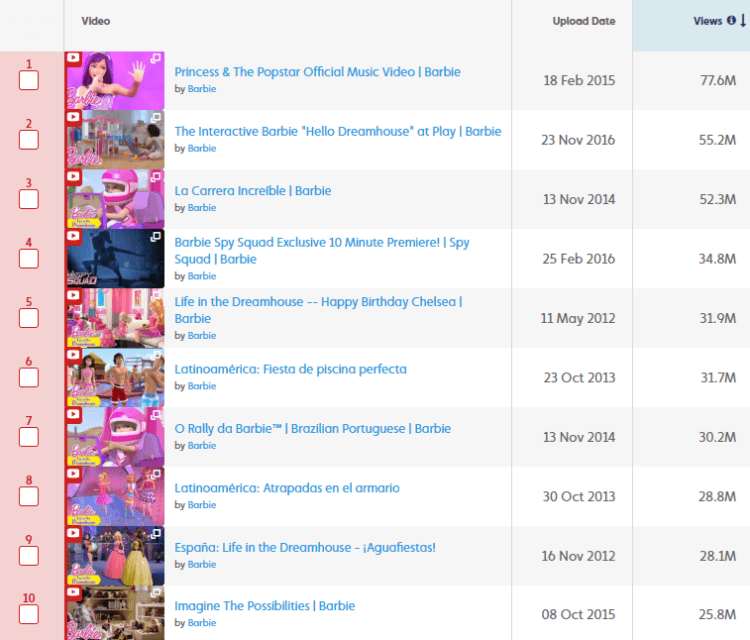 Unpacking Barbie's Social Video Strategy: How Video Helped Facilitate Barbie's Extreme Makeover into Girl-Power Icon
After decades of criticism from women's rights groups for Barbie's supernatural body proportions which reportedly spurred a dip in sales, Barbie has reinvented herself into a female-empowerment icon. And when it comes to this brand identity, video has become the vehicle through which Barbie can talk-the-talk and walk-the-walk.
"Barbie's purpose is to unlock the unlimited potential in every girl," said Quiroga.
Of Mattel's more than 10,000 Barbie videos to date:
Most videos were uploaded to 8 different YouTube accounts, where most of Barbie's views also come from.
Barbie on Facebook pulled in the highest 30-day engagement rate at 1.7x (0.7x higher than the average engagement rate on the platform).
Out of the top 10 most-watched videos across official global Barbie social video accounts, one is a product demonstration (#2), one is an ad (#10), and the rest are all animated shorts and entertainment.
Mattel is also a big proponent of user-generated content (UGC) from Barbie fans. "We love UGC. It's just extra eyeballs for our brands. It's a huge driver of our sales," said Quiroga.
Some of the brand's key video launches include:
Barbie Vlogger
In 2015, Mattel launched Barbie's Vlog, with weekly video entries running 1-4 minutes on its Barbie YouTube channel which boasts more than 6M subscribers. The Barbie vlogger is a top girl influencer on YouTube with more than 110M views.
In the vlogs, Barbie addresses issues from self-acceptance to bullying, profiles historical female leaders, and dazzles with DIY craft videos and assorted challenges like the "Ken Does My Makeup Challenge" (which drew in 49K engagements).
The brand's video messaging marks a 180-degree shift from Mattel's 1992 Teen Talk Barbie. Mattel was criticized by a national women's group after early models of the doll said "Math class is tough."
Fast forward more than 15 years later, and Barbie vlogger has a very different attitude towards the subject: "Math makes imagination real," Barbie said in a June 2018 vlog profiling math and space pioneer Katherine Johnson.
Barbie Video Campaigns
Three recent video campaigns addressing female empowerment are among Mattel's top online performers, inspiring notable viewer engagement. The ads galvanized plenty of brand awareness and further positioned Barbie as a symbol of sisterhood.
Barbie's Imagine the Possibilities Ad: In this 2015 spot, girls imagine themselves in professions that defy stereotypical gender roles. Overall, this ad clearly struck a chord with Barbie fans.
In addition to showing up in Barbie's top ten most-watched videos of all time (#10), and also claiming the highest 30-day average views, the Facebook version of the ad also made an appearance at #10 in the most-engaged list. The ad clocked 25.8M online views (as of April 10, 2019) and helped lift the brand's affinity scores, according to Mattel.
"Barbie | #MoreRoleModels" Campaign: To mark 2018 International Women's day, Barbie released 17 dolls to their Sheroes line, modeled after a diverse group of inspiring women including Frida Kahlo, NASA scientist Katherine Johnson, and snowboarding champion Chloe Kim. The goal: to remind girls that they can be anything they want, according to Mattel.
For the video campaign, Mattel uploaded a GIF-format video to Facebook showcasing photos of several Sheroes with their matching dolls. The GIF upload earned Barbie its highest 30-day engagement rate in history: a 10x+ engagement rate (10x higher than the average engagement rate seen on Facebook videos!).
This engagement shows there is demand for conversations about Sheroes. Moreso, it indicates an appetite for video of diverse role models as they are more reflective of today's consumers. 55% of dolls sold in 2018 were diverse dolls, according to an Adweek interview with Mattel's Senior Mattel VP Lisa McKnight.*
The Dream Gap Project: In 2018, Barbie launched a multi-year initiative to close the dream gap, a phenomenon in which girls, by around age five, stop believing their gender can do or be anything.
The concept resonated most in the Spanish-speaking video space. The October 9, 2018 Spanish-language video about the project entitled "Barbie Brecha De Sueños" saw Mattel's highest 30-day view count. The video received 11.4M total views, 10.3M of which were in its first 30 days.
It's a clear indicator that it's prudent for video properties to translate content into multiple languages as some themes may be more dynamic in global markets.
For Online Video, Figure Out "What Your Audience Is Obsessed With"
Product trial videos are among the highest performers in the Barbie space. The most-watched video of the last 3 years –"The Interactive Barbie 'Hello Dreamhouse' at Play" from November 23, 2016 — had 54.7M views and 104K engagements.
"The market was asking for a more authentic, close-up approach to what products look like — how you play with products and how you tell stories with products," said Quiroga.
When it comes to strategy, Mattel's video team has a clear approach: see what formats stick and scrap what doesn't. One of the early adopters of Tubular, Mattel has used the data-intelligence platform to do just that.
"It really just comes down to the audience data," explained Quiroga. "When [videos] resonated, we supported them and when they didn't, we went back to the drawing board and figured out what formats our audience loves."
For the Barbie brand, different video types have different temporal impact on sales.
"Girls playing with product is a big contributor of short term sales," Quiroga said. For example, Barbie's Hello Dreamhouse was among the top-selling products for Mattel in the 2016 holiday season, following the November release of the product-testing video. According to Mattel forecasts, a Barbie Dreamhouse (which comes in a variety of models) is sold every two minutes.
Whereas for Barbie's animation properties, like Life in the Dreamhouse (#5 on most-viewed videos) and Barbie Spy Squad Exclusive (#4), such content contributes "to our long-term sales because it's truly building brand affinity and giving more of a voice and a storyline and building up characters," explained Quiroga.
For Barbie products, video engagement is also an important indicator in long-term sales performance. The level of "engagement broadens our share of voice and brand footprint which by year's end translates into sales," Quiroga said.
Top 10 Most-Engaged Barbie Videos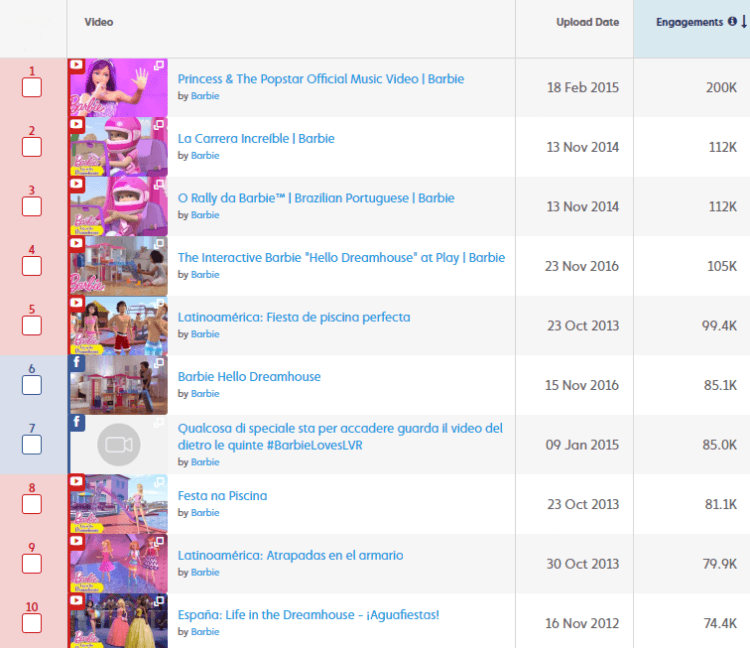 To Drive Engagement, Know Your Audience Segments and Cater Content To Them
Out of the top 10 most-engaged videos across official global Barbie social video channels, six are in languages other than English, including Spanish, Portuguese, and Italian, showing an international demand for Barbie content. While English-based videos have pulled in 2.1B views globally all-time, Spanish is second with 618M views globally.
Princess & The Popstar Official Music Video, which launched in February 2015, is the most-watched and engagement-generating of all Barbie videos with 77.6M views and 200k engagements. The music video, which features a song harvested from the 2012 Barbie movie by the same name, appeared to generate nostalgia for millennial viewers. In YouTube comments, many of these audience members detail memories of watching the flick when they were children.
For Barbie and other enduring kids' brands, the millennial stan (aka superfan) is definitely a thing. In the case of Barbie videos, viewers who identify as age 20+ call the content their "guilty pleasure," and confess that they "just can't stop watching."
Though this millennial engagement may not translate into sales immediately, it could have a potential impact on brand growth. The nostalgia can be harnessed as millennials eventually revisit the content with their own children and make purchasing decisions on their behalf.
Will Mattel direct more content at these Yarbies (young-adult fans of Barbie)? Time will tell.
Interested in learning more about how Mattel revitalized Barbie through social video?
Related Reading:
---
* Source: https://www.adweek.com/brand-marketing/how-barbie-has-changed-since-her-debut-almost-60-years-ago/