Update July 25 
---
While Barbie and Oppenheimer are admittedly an unlikely duo, these highly anticipated movies blew the box office out of the water during their weekend premieres. The double-header film release grossed $302 million according to Comscore, making it the fourth-biggest weekend in box office history.
Barbie, led by film's director Greta Gerwig became the highest U.S. opening ever for a film directed by a woman. This weekend reaffirmed that movie theaters are still as strong as ever, bouncing back from the global pandemic.
Over the weekend, moviegoers of Barbie and Oppenheimer posted their theater experiences and movie reactions on social video. From the Friday premier on July 21st to Monday, July 24th, videos about the Barbie movie amassed over 1.2 Billion Views on TikTok alone. 
The top viewed video so far? Creator Nate Mccallum's reaction to the surprisingly deep meaning behind the bubblegum pink doll movie that received 18.1M views in 3 days. The video also featured a song from the Barbie, "What Was I Made For?" by Billie Eilish – another great way to get videos boosted within social algorithms.
Oppenheimer videos had over 693M TikTok video views over the weekend. Top Oppenheimer videos also included fan reactions (mostly how their moods drastically changed before and after watching) but also discussed star Cillian Murphy's Oscar-worthy performance and the epic iMax technology and cinematography created by director Chirstopher Nolan. The top TikTok sound for Oppeheimer videos originated from a chilling clip from the real J. Robert Oppenheim himself. The sound has amounted to 39.7M video views over the past 3 days.
The real star of the weekend was the insane amount of cross-promotion that both movies achieved – rightfully named "Barbeheimer". The hashtags #barbieheimer and #barbenheimer (as we dig into more below) gained 169M views on TikTok over the weekend – with many fans filming themselves walking from one movie to the next with moviegoers changing outfits from their Barbie pink attire to more ominous clothing to watch the next drama.  
What can we learn from this record breaking weekend at the box office?
1. Cinema is back like it never left – and box office & social video agree. Culturally relevant movies the world's most iconic doll and historic references like making of the atomic bomb helped to generate excitement pre-premier. The endless user-generated content and film reactions continue to convince others to go see the movies for themselves.
2. There is a great opportunity for toys and other legacy brands to break into film. Barbie's success inspires brands worldwide because it illustrates how fans react when a beloved icon is reimagined for the big screen. We are constantly reminded how our modern culture has a widespread appreciation for nostalgia. Up next? Mattel is planning 17 more movies based on its famous toys and brands — here they all are.
3. Social is the place for pre-premier promotion, as well as a place to connect with fans and understand reactions post-premier. 
Read below to learn about the social video strategies that helped promote these films pre-premier.
---
Posted July 21 
As we enter what might be the busiest movie release weekend of the year, social media is buzzing with excitement. Two highly anticipated box office movies are set to premiere today Friday, July 21st, and although they have both generated big buzz, these movies couldn't be more different.
First up is the most anticipated Barbie movie. It stars the one and only Margot Robbie as Barbie alongside a Ryan Gosling Ken and a slew of other recognizable actors surrounded by everything pink and plastic. Vintage cars, Barbie dream houses, plastic shoes, you name it: this movie will bring life to the legendary doll and her fabulous history.
And then, brace yourselves for some thrilling drama! The second movie release is Oppenheimer, a wartime film based on the true story of America's invention of the atomic bomb starring Cillian Murphy and Robert Downey Jr.. Moviegoers will learn the true story of the people who invented the world's deadliest weapon.
In the months leading up to these films, anticipation has surmounted on social media as marketing efforts by Universal and Warner Bros resonate with global audiences.
Due to the doll's long-standing popularity and relevance to American history, the Barbie movie already had a massive marketing footprint. Leading up to the movie's release, it's as if the doll who can do it all is everywhere. Check out this Twitter thread where @MosheIsaacian highlights 20+ Barbie marketing partnerships and campaign initiatives:
Along with tons of other strategic marketing moves, the film released six hit new singles from Barbie The Album as promotion for the upcoming film. The chart below shows that the songs (used as sounds on TikTok) have collectively garnered 2.1 Billion views since the album was released on May 25.
"Barbie World" by Nicki Minaj and Ice Spice has been the most popular among the released singles so far and is responsible for half of the total views.
Considering the massive buzz behind Barbie, one might think Oppenheimer would have a hard time keeping up. But in truth, the Barbie movie and its cast are actually helping generate excitement for the atom bomb film – and vice versa.
Rather than battling at the box office, these movies are cross-promoting and hyping up excitement on social for each other. Let's see how these movies are working in tandem to create the biggest movie release date of the year.
---
With over 18.7k TikTok uploads related to the Barbie movie in the last 90 days, we can see that most of this content is generated by users. Warner Bros. has uploaded 1.1k Barbie videos in the last 90 days, bringing in 200 million views. The singular most viewed Barbie video is the Warner. Bros official trailer with 42.8 Million views.
Barbie star Margot Robbie and the film's director, Greta Gerwig, showed similar support by purchasing their tickets to Oppenheimer and posing in front of the movie poster.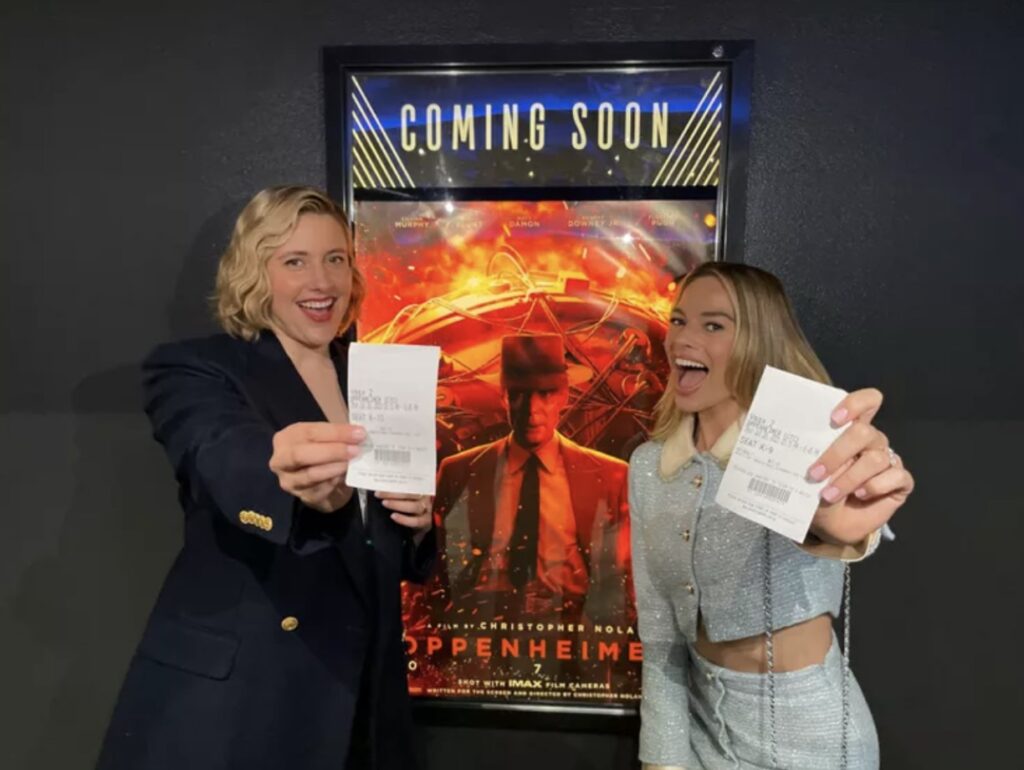 Many moviegoers plan to see Oppenheimer and Barbie on the same day (in fact, over 40k people have purchased double-header tickets via AMC). Rather than competing for ticket sales, the films are actually helping drive more sales for each other by showing their mutual support on social. Needless to say, it will be an exciting weekend at theaters across the world.
---
The e-commerce impact of movie buzz on social media
It's no surprise that the Barbie movie is driving sales for the long-loved Mattel doll brand. After Warner Bros released the Barbie trailer in April 2023, their social audience's likelihood to shop for Barbie products increased by 150%.
Unsurprisingly, Universal's Oppenheimer content is driving a much different type of commerce. Tubular's Consumer insights data indicates that the Universal Pictures social audience is likely to shop for a variety of books, professional video cameras, video game accessories, and interestingly enough, emergency food supplies and protective body gear.
---
The Tubular Team can't wait to watch the box office successes unfold this weekend and beyond. As always, we will be watching how the conversation and reviews continue on social and share the data with you!
Which film will you be seeing first?
If you want to stay on the pulse of culture through social video's single source of truth, it's time to request a free demo of Tubular. Click below to unlock social in a whole new way.