As more publishers turn to Facebook to distribute video content, the data from the monthly leaderboard becomes more interesting. In April, for example, the top ten publishers pulled in a total of 12.7B Facebook video views, while more than 60% of the top 100 publishers increased their rankings.
Two distinct trends dominated last month's most-watched Facebook publishers:
White space/specialty content is growing more popular. The proliferation of video means it's harder for publishers to stand out, but some are prospering in previously under-explored white spaces and specialty content.
Facebook audiences are flocking to international entertainment and education. International content has attracted larger viewership numbers over the past few months, and it's officially a trend that isn't slowing down.
Now it's time to see which publishers ranked in April!
Sign up for monthly leaderboards delivered to your inbox.
April 2019's Top Facebook Publishers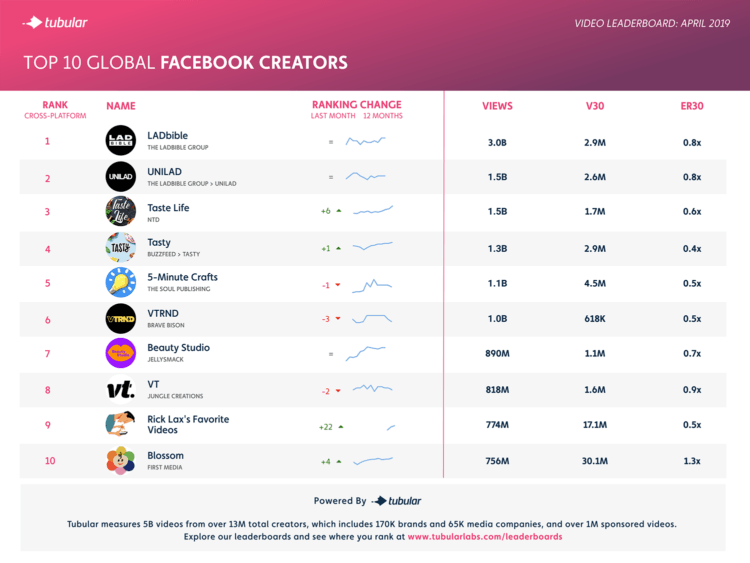 Three of the top ten Facebook video publishers in April maintained their spots from March. LADbible stayed at #1 last month with a whopping 3B Facebook video views, while its sister property UNILAD remained at #2 with more than 1.5B views. Similarly, Jellysmack's Beauty Studio maintained its hold at #7 with almost 890M views.
Other publishers in the top ten improved their rankings last month. Food-based publishers Taste Life from NTD and Tasty from BuzzFeed claimed the #3 and #4 spots, jumping six spots and one spot, respectively. The most impressive jump in ranking among the top ten was Rick Lax's Favorite Videos with a +22 change to land at #9. First Media's Blossom also improved by four positions to land back in the top ten.
Of course, plenty more publishers pulled in millions of views this month to land across the top 100. Let's see who they were and what trends they produced in April.
White Space Content Is Valuable for Facebook Video Views
In the past, we've seen the rise of news & politics creators on Facebook, the domination of viral entertainment, and the mass appeal of animal content. However, a new trend may be joining these shortly, and that is the growth of white space or specialty content.
Many forward-thinking publishers are using data to figure out where potential white spaces are in the online video world that are yet to be fully represented or explored. This strategy can pay off, as several of April's publishers discovered.
For example, Barcroft Studios had two properties on last month's Facebook leaderboard: Barcroft TV (+622 spots to land at #92 with more than 206M views) and Born Different (+29 spots to land at #30 with 402M views). The UK-based company produces original documentary-style pieces that tend to focus on a unique area of human interest.
Born Different is the perfect illustration of a publisher finding white space online. The property features extraordinary humans who prove to the world that being born without legs or dealing with rare diseases, for example, can't hold them back. Its top video from April follows the story of the world's heaviest child as he seeks to lose weight, and was so compelling that it pulled in a total of 82.6M views and 947K engagements across all versions of the clip:
Some other excellent examples of white space publishers from April include Brave Bison's art and skilled hobbies property Canvas Arts (+40 spots to land at #31 with 393M Facebook video views), and the extreme travel and adventure-based UNILAD Adventure (+304 spots to land at #53 with nearly 307M Facebook video views).
Take note, all you brands and publishers: white space and specialty content can get you the views you've been looking for on Facebook.
International Entertainment Engages Facebook Viewers
Over the past few months, international publishers have become a larger portion of the Facebook leaderboards. April in particular saw some of these publishers finding their place amongst the entertainment and media genre.
These are just a few of the Facebook publishers who landed in the top 100 for this topic:
One of the most-watched videos from April hails from UK-based influencer Jay Shetty (#70 with +86 positions and 243M views). His April 27 clip about a poor mother teaching a rich mother a lesson about raising children to have compassion and empathy generated 99.7M Facebook video views and 1.9M engagements to date:
Tubular Video Ratings
You'll notice some exclusive data in this month's chart as we include Tubular Video Ratings, a unique group of online video metrics that set the standard for measurement of views and engagements across videos and publishers. They include a simplified first 30-day engagement rating (ER30) and first 30-day views (V30).
Get the Full List of the 25 Top Facebook Publishers
Tune in Every Month for the Most Up-to-Date Stats! Each month Tubular Insights will publish the most up-to-date leaderboard charts, so stay tuned! In the meantime, sign up for a free Tubular account and get access to the complete list of the top 25 video creators across YouTube, Facebook, and Cross-platform.