It's time to switch things up for this month's leaderboard. While we usually cover each month's most-viewed video channels globally, for this article we wanted to focus on one region of the world: Latin America!
Specifically, we're looking at the most popular cross-platform publishers and creators from Brazil and Mexico. These countries boast some of the largest consumers of video in the world; in fact, as of 2018, both had a higher percentage of daily video users than the U.S.
Audiences in Brazil and Mexico are clearly eager to watch as much video as they can get their eyes on. So let's check out what key trends are popping out across the most-viewed video channels, including:
The growth of family-friendly content: LATAM parents and kids are finding ways to entertain themselves with video.
A rising interest in unconventional sports: Brazilians and Mexicans are giving their attention to niche athletics you might not expect to see.
These trends are valuable for regional publishers and creators who want to gain more traction, but they're also highly important for brands and media companies aiming to expand internationally into these markets.
Let's take a closer look…
September 2019's Most-Viewed Video Content from Brazil and Mexico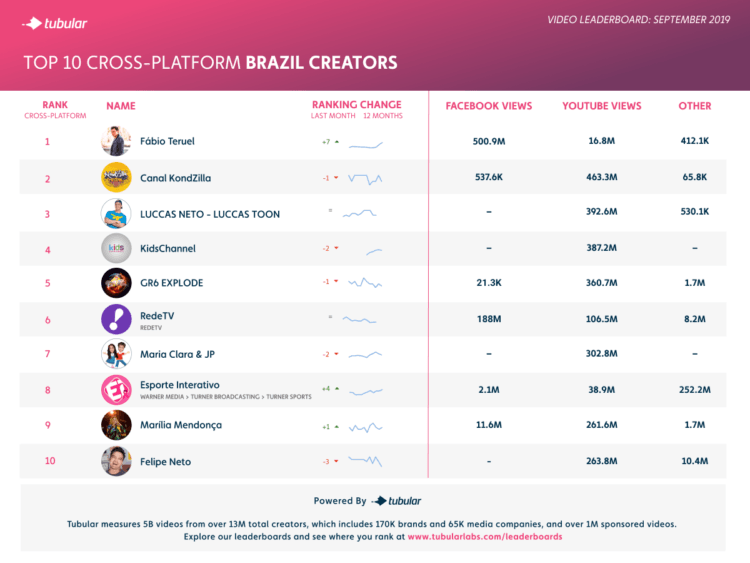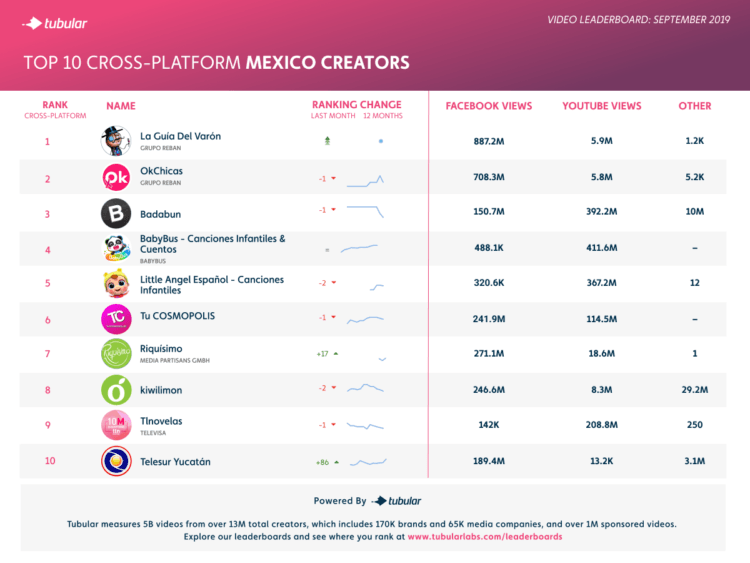 For More Views, Appeal to the Kids
Our monthly YouTube leaderboards routinely show the global popularity of children's content. Parents around the world are keen on making sure their kids are entertained (or maybe it's just distracted).
The same is true of families in Brazil and Mexico. September's most-viewed video publishers and creators from these countries indicate a strong preference for kids' programming.
For example, across the top 10 most-viewed creators from Brazil, three hail from the family and kids' entertainment genre (Luccas Neto – Luccas Toon, KidsChannel, and Maria Clara & JP). Two of the top 10 from Mexico feature children's programming and content, as well: BabyBus and Little Angel Español.
The further down you go on each country's leaderboard, the more apparent it is how popular kids' content really is. In Brazil, creator Funny Stacy PRT jumped 48 spots to land at #21 thanks to 131M YouTube views, while Mundo Bita popped into #23 after moving up 27 positions with views from YouTube, Facebook, and other platforms.
Here are some more of September's most-viewed video creators and publishers from Brazil:
Patati Patatá (#47 after jumping 44 spots)
O Reino Infantil (#52 after jumping 18 spots)
Kids Fun (#67 after jumping 16 spots)
Dolly's Stories Kids (#89 after jumping 31 spots)
We see plenty of kids' programming across Mexico's top 100 from September, as well.
Creators like Masha y el Oso and Blippi Español landed in the top 20, while Cocotoons moved up 26 spots to claim #65. Channels like Kids First –EspañolLatino and Talking Tom and Friends Español also jumped 11 spots and 31 spots, respectively, to land in the top 100 last month.
Let's not forget that some of the world's most well-known children's characters from top media conglomerates were also hot in Mexico in September. Animated series Ben 10 from Cartoon Network claimed #90, and Jorge el Curioso en Español (Curious George) from NBCUniversal's DreamWorks company hit #98.
The growth of children's content in Latin America makes sense when you think about how families are growing in this region. As millennials and younger adults grow up and have children, the more likely they are to keep watching videos for entertainment.
It's also important to note that some publishers — like Cartoon Network and DreamWorks — are taking a regional approach to their current collection of properties. This helps make the content more relevant to audiences in countries like Brazil and Mexico.
So what does this all mean for media publishers, brands, and creators?
Essentially, it's a very safe bet to start by producing children's programming for a Latin American audience. Take a cue from any of the most-viewed video creators above and you'll be well on your way to millions of views and dedicated followers who currently watch more video content than U.S. audiences.
Sports Media Content Scores Big in Brazil and Mexico
Latin America is well-known for its interest in sports content, specifically football (aka for us non-conforming U.S. citizens). In September, the Brazilian and Mexican leaderboards backed this love of athletics with plenty of highly viewed sports creators and publishers.
In Brazil, Turner's Esporte Interativo landed in the top 10 after jumping four positions. Further down the chart, publishers like Globosat's SporTV (#43), FOX Sports Brasil (#44), and independent creator SportsHD (#86) are confidently claiming spots in the top 100.
While not nearly as many sports publishers can be seen on Mexico's September leaderboard, there's one standalone creator that shows how some Latin American audiences have a preference for niche or unique sports content: Carreras de Texas.
With a focus on Texan horse racing and horse culture, Carreras de Texas earned nearly 56M views in September to jump +444 spots and land at #89 on the chart!
According to the Texas Racing Association, dates for horse racing in the state started in January and go through mid-November. The rise of interest in horse racing videos across Mexican audiences coincides with these dates, indicating that sometimes niche sports can cross borders.
Speaking of niche sports content, viewership on female sports competitions has steadily grown over the last year or so in the Latin American. The 2019 Women's World Cup is a perfect example of this.
Video content related to the event garnered 71.2M views in just 90 days by early June 2019. Nike came out ahead with its "Dream Crazier" ad, which co-starred Brazilian football player Andressa Alves (her presence undoubtedly pulled in attention from Brazilian citizens).
For any media publisher looking to grow its reach in Latin America, you don't need to look any further than sports (both well-loved and more niche). Brands can easily get on board with this interest by sponsoring sports video content, as well; the more the merrier, it seems, when it comes to Latin Americans' love of athletics.
Latin Americans Are Obsessed with Entertainment
Bonus insight! September's Brazilian and Mexican leaderboards also showed a massive increase in the consumption of entertainment content. In fact, the majority of the most-viewed video creators and publishers fall into this genre.
We did some digging and found these fascinating data points about entertainment in Latin America from 2018 to 2019 YTD:
This region alone represented, in many cases, 30%+ of the global entertainment content viewership.
Entertainment overall grew a in viewership mainly on Twitter (2X), Twitch (2X), and Facebook (~18%).
2019 has gotten more views from evergreen content than 2018. LATAM entertainment content on Facebook earned 18% of its total views from evergreen content in 2019 YTD vs 13% in the same time period in 2018. YouTube saw a whopping 55% in 2019 YTD vs 24% in 2018 for the same time period.
Want more snippets like this? Make sure to come back in the future for a full breakdown of the growth of entertainment in Latin America!
Get the Full-List of the Top 25 YouTube Channels & Other Video Platforms
Tune in Every Month for the Most Up-to-Date Stats! Each month Tubular Insights will publish the most up-to-date leaderboard charts, so stay tuned! In the meantime, sign up for a free Tubular account and get access to the complete list of the top 25 video creators across YouTube, Facebook, and cross-platform.