If you can believe it, we're already almost finished with February 2019, which means we need to take a look at the top Facebook videos and publishers from January. For December's leaderboard, the ten most-watched publishers pulled in around 13.3 billion views, but January's top ten pushed past that number by a good 1 billion views to hit almost 14.3 billion! Here's a quick rundown of the key stats from last month's 100 most-watched global publishers from all genres:
Like in December, six publishers claimed at least 1 billion views each in January (the most-watched publisher hit more than 3 billion).
The best 30-day average (V30) from the top ten was the same stat from the same publisher in December at 4.5 million, and the highest V30 of all 100 publishers hit 23.4 million!
The highest average 30-day engagement rate (ER30) of the top ten publishers was 1.1x, while the highest ER30 of the top 100 publishers was 2.7x.
Out of all 100 publishers, 10 of them increased rankings by at least 100 positions each, with the biggest position change clocking in at a massive 670 spots.
Top Facebook Videos and Publishers January 2019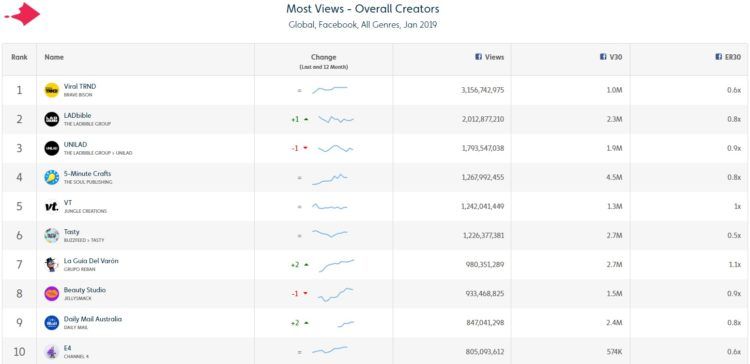 January's top ten publishers didn't change a lot; in fact, five of them held their same positions from December. But we expect that at this point, as the top ten publishers on Facebook will be hard to dethrone completely out of those roles. The reality, though, is that we can't get a bigger picture of the month's trends and audience interests without looking at the top 100 most-watched publishers and their videos. So let's check out two insights we gleaned from last month's leaders!
International Flair Takes Over Top Facebook Videos
For a long time now, YouTube has had a large international presence on its platform (especially in India, where brands like T-Series are seen in all positions on the YouTube leaderboard). But over the last several months, we've seen Facebook gaining more traction with Pages from countries other than the U.S. This was very evident across the publishers from January 2019.
For example, we saw Brazilian comedy and entertainment Page Parafernalha bump up 28 positions to place #25 in January; this publisher was also the #1 overall creator in Brazil across all entertainment publishers on Facebook, as well as the #1 entertainment creator across all platforms in that same country! Música cristiana was another top-ranking publisher in January with a rank increase of +355 (the Spanish-language Page specializes in videos of Christian music), while FremantleMedia's Got Talent Global jumped 23 spots and was the tenth most-watched creator across all genres and platforms in the UK last month. Plus, we can't forget Spanish-language España con HUMOR, which was the publisher with the biggest position increase in January at +670!
Additionally, we noticed there was a particular influx of Arabic-speaking publishers last month. Let's start with TV and entertainment publisher MBC مصر, which jumped 37 spots to land in the top 100 on January's leaderboard with roughly 220 million views. We also saw Egypt's dmc TV place forty-first last month thanks to a +16 rank increase. Egyptian talk show host Mona el-Shazly improved her Page by 47 positions to land in the top 100 for the first time. Finally, the Arabic-language Page for Turkish chef Burak Özdemir landed in the top 100, too, thanks to an impressive +203 rank increase!
News Media Maintains Strong Presence in January
In December, we pointed out how news media publishers and brands were gaining a large foothold on Facebook over the last few months. The same can be said for January, but we started to notice even more news publishers join last month's leaderboard from countries around the world — many improved their rankings, too! Here's the complete list of news publishers that increased their views and positions on the leaderboard in January (besides the Arabic-language publishers just noted above):
Across all the top Facebook videos in January for the news and politics genre, Daily Mail Australia took the cake with seven of the ten most-viewed videos! Its top clip, which comes with a viewer discretion warning, showed a mother giving birth to a 10-lb baby in the car (119M views clearly shows people were fascinated with this feat).
Obviously, the international presence on Facebook is only strengthened by these news and politics media publishers, with several of them hailing from non-U.S. brands and networks. So what do these two trends from January mean for other publishers? First of all, if you have the opportunity to start a Page for international audiences, now is clearly the time to do it. Second, providing your take on the news might be one of the best ways to not just land on the monthly leaderboards, but also build (or add to) a dedicated following on Facebook.
Tubular Video Ratings
You'll notice some exclusive data in this month's chart as we include Tubular Video Ratings, a unique group of online video metrics that set the standard for measurement of views and engagements across videos and publishers. They include a simplified first 30-day engagement rating (ER30) and first 30-day views (V30).
Get the Full-List of Top 25 Video Publishers on Facebook & Other Video Platforms
Tune in Every Month for the Most Up-to-Date Stats! Each month Tubular Insights will publish the most up-to-date leaderboard charts, so stay tuned! In the meantime, sign up for a free Tubular account and get access to the complete list of the top 25 video creators across YouTube, Facebook, and cross-platform. Get access today just by clicking this link.