When you don't cover the YouTube leaderboards for a month, things are bound to change — and change they did. August's top YouTube channels brought to light new trends across the platform, and also saw a highly-coveted change in the #1 spot!
The top 10 YouTube channels from last month pulled in roughly 16.6B total views, with the top two earning at least 3B views each. Four of these top ten also increased their rankings in August.
Here are the top trends we noticed from last month's YouTube leaderboard:
International content is expanding. While we're used to seeing India-based entertainment and programming on these leaderboards, even more countries like Japan, Mexico, and the Philippines are starting to show up across multiple categories, including children's entertainment, music, and news.
Gaming, science, and tech channels landed in the top 100. These three genres experienced the most growth in views in August outside of entertainment, music, and kids' programming.
Read on for a breakdown of the channels and creators who landed on the leaderboard!
You can also see more August leaderboards here.
Top YouTube Channels August 2019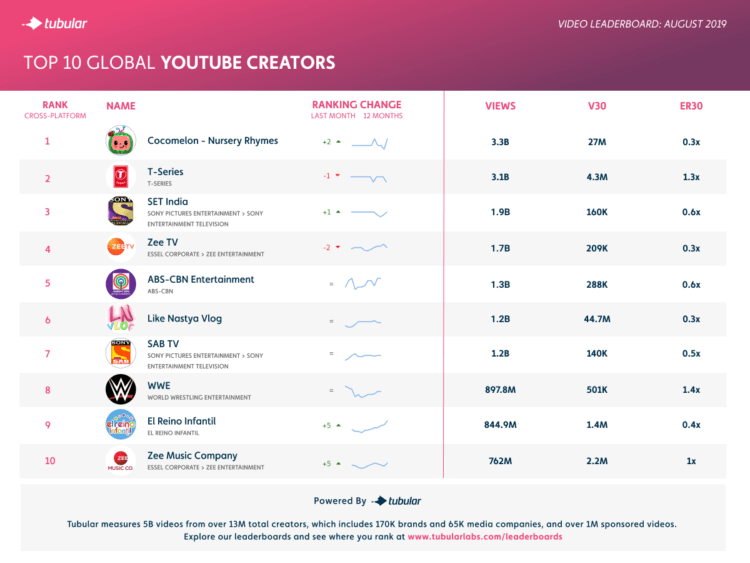 As the chart above shows, the top YouTube channels from August are primarily Indian, Spanish-speaking, and entertainment-focused. However, we have to acknowledge the accomplishment of Cocomelon, a children's entertainment channel that's battled to get to #1 for months and finally claimed the spot last month to beat out long-time competitor T-Series.
Speaking of children's content, Argentinian El Reino Infantil also worked its way into the top ten after jumping five spots to land at #9. In a similar move, Zee Music Company increased five positions, rounding out the top ten YouTube channels of the month at #10.
Four channels — ABS-CBN Entertainment, Like Nastya Vlog, SAB TV, and WWE — held the same spots from July. ZeeTV and SET India also stayed in the top five most-watched YouTube channels in the world.
Now let's check out the main trends that showed up last month…
Going Global: International Channels Expand Their Presence
Clearly, many of the most-viewed global YouTube channels hail from countries other than the United States. But even more countries and languages are starting to show up across multiple categories on the leaderboards each month.
For example, let's look at shfa and shfa2 from the United Arab Emirates. The children's entertainment channels have slowly worked their way up the chart and hit #49 and #61 respectively in August. They're some of the only Arabic-language channels on the leaderboard.
There's also Raffy Tulfo in Action. The official YouTube channel of the news and politics journalist landed in the top 100 in July at #87, and jumped 28 spots last month to claim #59. Tulfo's channel is based in his home country of the Philippines and is conducted in the Tagalog language.
Japan is also finding representation across the top YouTube channels thanks to a channel called Fischer's. The entertainment vertical skyrocketed 94 spots to hit #83 with over 320M views last month.
Finally, Anuel AA provides yet another Latin-based channel to August's leaderboard. The Puerto Rican rapper won the 2019 Billboard Latin Music Award for New Artist of the Year. His channel increased its ranking 147 spots last month to claim #85.
Despite multiple pressures to improve its platform over the last couple of years, YouTube still provides an excellent opportunity for international creators and brands to grow their online video strategy. The growth of international content across the top YouTube channels proves there are plenty of eyeballs ready to watch more!
Gaming and Tech Earn Spots Across the Top 100 YouTube Channels
Back in June, we noted how white space content was popular on YouTube that month, with channels like the International Cricket Council landing in the top 100. While super-niche channels didn't appear on August's leaderboard, three genres did gain more of a presence: gaming, tech, and science.
Individual gaming creators competed against media and entertainment channels to boast top 100 spots last month. PewDiePie, for example, hit the top 20 at #16 thanks to more than 636M views.
The Swedish gaming YouTuber boasts one of the most-subscribed YouTube channels in the world (his subscriber count competition with T-Series has been well-documented). PewDiePie's growth on August's chart was likely bolstered not from gaming content, but from his wedding video on August 19, which earned 28.2M views alone:
Another gaming creator got in the top YouTube channels for non-marital, actual gaming reasons. Jelly, for example, is a relative newcomer to the chart at #82 this month. The YouTuber describes his channel as a child-friendly place to watch gaming content. His most-viewed video from last month about surviving a tsunami in GTA V earned 8.5M views.
Finally, YouTube creator MrBeast landed at #77 in August after jumping an impressive 163 spots. While technically a comedy entertainment creator, MrBeast is tied to the gaming community in that he's well-known for donating thousands of dollars to Twitch streamers (and his audience is also likely to watch PewDiePie content).
Interestingly enough, science and tech channels also worked their way onto August's YouTube leaderboard. German-based creator HaerteTest seemingly popped out of nowhere to claim #74 with more than 347M views. The channel also boasts the #1 cross-platform global spot for science & tech influencers and the #1 spot for overall creators across all genres and platforms in Germany!
So what's HaerteTest's deal? Lots of fun videos about crushing soft items under car tires. This one, for example, earned 192M views in August:
Last but not least, we have to give a nod to Samsung, whose India-based channel hit #90 in August. As the only tech brand on the leaderboard last month, its channel boasted millions of views on its "Add More Love" campaign featuring its latest line of household appliances and an announcement clip for the new Galaxy Note10.
What does this mean for media companies and brands looking to up their YouTube strategy? It may be worth it to look into sponsoring content with popular gaming and science creators, for starters. And tech brands in particular shouldn't underestimate the value of YouTube as a platform to host ad content for internationally-inclined audiences.
Tubular Video Ratings (TVRs)
You'll notice some exclusive data in this month's chart as we include TVRs, a unique group of online video metrics that set the standard for measurement of views and engagements across videos and publishers. They include a simplified first 30-day engagement rating (ER30) and first 30-day views (V30).
Get the Full-List of the Top 25 YouTube Channels & Other Video Platforms
Tune in Every Month for the Most Up-to-Date Stats! Each month Tubular Insights will publish the most up-to-date leaderboard charts, so stay tuned! In the meantime, sign up for a free Tubular account and get access to the complete list of the top 25 video creators across YouTube, Facebook, and cross-platform.