It's been a couple of months since we last covered the YouTube leaderboards, so it's time to dive back in with the top YouTube channels June has to offer.
Last month's chart shows that the top 10 YouTube channels generated nearly 16.4B total views. Not only that, but all ten of these channels earned 1B views each, the first time that's happened in this writer's memory.
Across the top 100 YouTube creators and channels, we also noticed two main trends:
Niche channels are making an appearance. Some publishers have already uncovered the power of white space and niche content, but others are starting to take advantage of the opportunities that come with this type of YouTube content.
Media companies are throwing efforts behind popular properties. Amongst a slew of children's programming and Indian media companies, two global media giants saw impressive growth in June.
Let's take a closer look at these trends and the channels driving them below.
Check out all of this month's leaderboards here!
Top YouTube Channels June 2019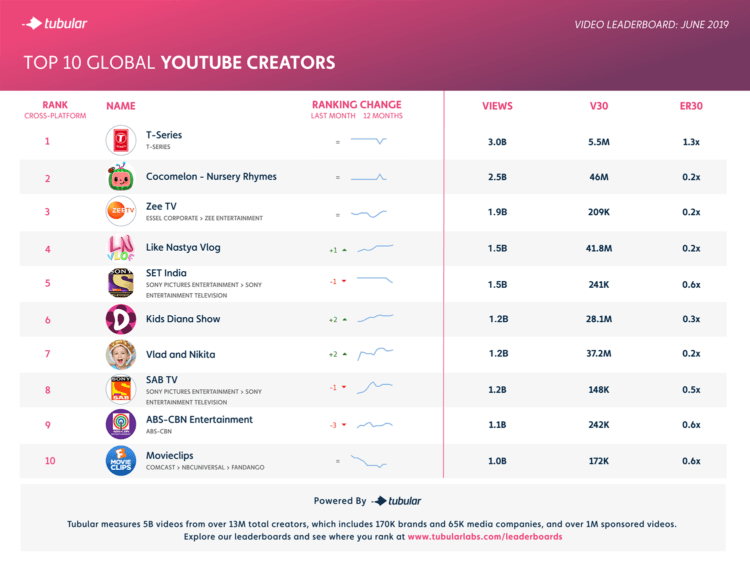 Niche Channels Earn Coveted Spots on the Chart
Back in April, we noted how niche and white space content was becoming more popular across Facebook video publishers. Now that seems to be the case on YouTube, as well.
In June, we noticed two niche channels in particular jumping leaps and bounds into the top 100. The first was the International Cricket Council (ICC). Cricket was on the minds of viewers around the world due to the 2019 Cricket World Cup, which ended on July 14 with a victory by England over New Zealand.
Surrounding the tournaments, cricket aficionados devoted millions of views to match-based content in June. The ICC uploaded 457 videos last month, the most popular of which boasted 21.9M views. It features a match highlight between competing teams India and Pakista
ICC capitalized on the World Cup by uploading match highlights throughout all of June, giving audiences exactly what they wanted on that platform. Both the views and high engagements (232K alone on the video above) helped ICC jump +1251 spots last month to place #35 on the leaderboard.
Another impressive jump across the top YouTube channels June saw was from 5-Minute Crafts TEEN. With a change of +847 spots to land at #94, this channel focuses on DIY hacks and tricks to improve the lives and hobbies of teenagers. Perhaps unsurprisingly, the channel's top clip from June was a list of ways to make young people's Instagram photos viral (32.1M views and 983K engagements!).
5-Minute Crafts has always had a steady place on the monthly YouTube chart, but this targeted channel is a new venture that clearly paid off. In addition to its overall YouTube rank increase, 5-Minute Crafts TEEN improved 52 spots on the global entertainment influencers YouTube leaderboard to place #4 in June.
Will the trend of white space content continue to grow on YouTube? We'll have to see in the coming months — logically, it just seems like a smart idea, because video is just becoming more proliferous online.
As such, it couldn't hurt for brands and media companies to start up their own niche YouTube channels. Finding white space early on gives you that much of a headstart on both reaching more viewers and establishing a relationship with them.
Disney, RTL Properties Prove Their Worth on YouTube
Some media companies have cracked the code for running successful YouTube channels. Disney is easily one of the most experienced, and continues to transfer that knowledge to growing more of its properties.
For starters, we saw DisneyMusicVevo, the main channel for Walt Disney Records, land for the first time in the 100 top YouTube channels at #83 (+55 spots from May). With more than 286 million views, Disney Music's most-viewed clip from June was "A Whole New World" from the new live-action Aladdin (which also happened to do very well in the box office):
Another Disney property also improved its ranking in June. ESPN is a new face to the top YouTube channels June leaderboard after jumping 64 positions to land at #84. Many of the channel's top videos from June are interviews and behind-the-scenes content of basketball celebrities and predictions. Obviously, moving beyond just the highlight reel worked well for ESPN last month.
Finally, let's take a look at America's Got Talent, owned by RTL's Fremantle Media Group. The global media giant recently placed on the Facebook leaderboard in April for its Got Talent Global property, and now it's experiencing success on YouTube, too.
What helped America's Got Talent land at #80 after bumping up a whopping 563 spots in June? Videos pulling on some heartstrings, of course. For example, a clip of an 11-year-old violinist and cancer survivor earning the hard-to-get approval of judge Simon Cowell pulled in 26M+ views alone.
The message here to media companies is clear: knowing what your audiences want will help you grow your YouTube channel. For Disney, piggy-backing off the success of one of its recently released films and providing background clips for sports fans bumped its views, while RTL just had to highlight the touching moments viewers love to share and watch over and over again on America's Got Talent.
Tubular Video Ratings (TVRs)
You'll notice some exclusive data in this month's chart as we include TVRs, a unique group of online video metrics that set the standard for measurement of views and engagements across videos and publishers. They include a simplified first 30-day engagement rating (ER30) and first 30-day views (V30), and more information can be found here.
Get the Full-List of the Top 25 YouTube Channels & Other Video Platforms
Tune in Every Month for the Most Up-to-Date Stats! Each month Tubular Insights will publish the most up-to-date leaderboard charts, so stay tuned! In the meantime, sign up for a free Tubular account and get access to the complete list of the top 25 video creators across YouTube, Facebook, and cross-platform.