When you work in the world of Social Video, you know you're always in for a wild ride and 2022 was no exception.
In our final blog of the year, we're lamenting all the highlight moments– from victorious to heartwarming to absolutely cringe-worthy.
We pulled together this year's most significant Social Video insights to serve you one fun-filled #throwback into 2022.
---
Let's start with the overarching facts
Did you know that there are over Five Million videos uploaded to social every single day?
That's a lot of information to understand and digest. Luckily, Tubular's cutting-edge categorization technology makes it easy to see these massive data sets in easy-to-chew visuals and graphs.
Now let's get into the nitty-gritty of what happened in 2022 within the major social video categories.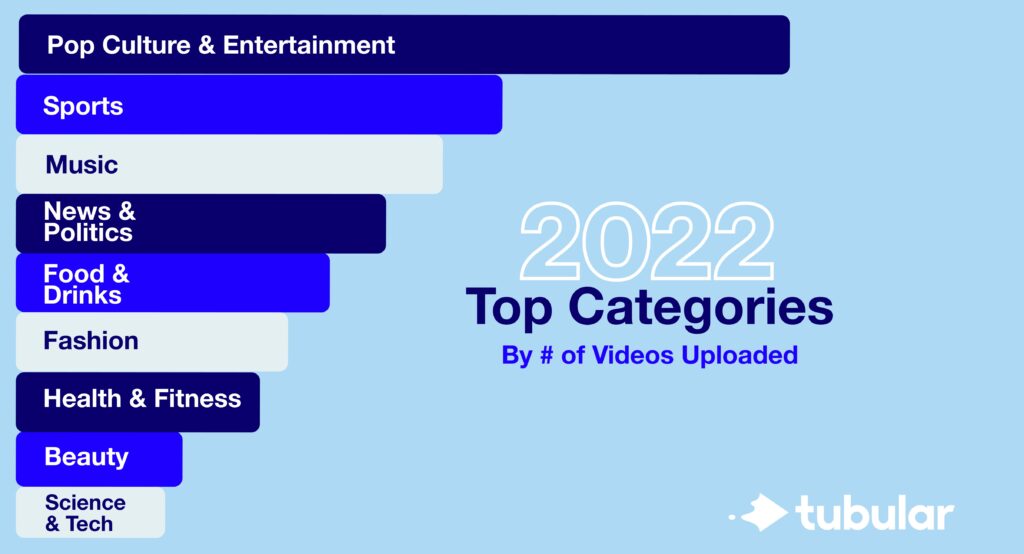 ---
This year's top Music Videos came from the global community
Our Music Video leaderboard uncovers the top five videos by views within the first 30 days. You can see that four out of the top five videos were created by Korean Pop Artists. BTS, BLACKPINK, and PSY have massive fan followings and activate their videos with danceable choreography that translates well to social video.
BTS went beyond releasing their own videos by also featuring group members in PSY's That That and Charlie Puth's Left And Right. Talk about epic crossovers.
Source: Tubular Labs | Intelligence | Videos uploaded 2022 YTD as of 12/15/22 | YouTube, Facebook, Instagram, TikTok, Twitter, Twitch | V30 = views within the first 30 days of upload
Within the wider Music category, Latin Music is a subcategory worthy of highlighting due to its unprecedented growth. Our social video analytics report 33.9k videos uploaded in this subcategory with over 18B views.
Who is 2022's leading creator of Latin Music? None other than Karol G, a Latina pop artist who is outspoken about the need for Latin representation in mainstream music media.
Which marketing tactics made her videos perform so well on social media? Most interestingly, her single, Provenza, dropped right after she played at Coachella 2022. Karol G and Brazilian pop star Anitta became the first Latinas to ever perform on the mainstage at Coachella.
Provenza has racked up 563M views YTD on social video.
But what do audiences love more than professional music videos? Making their own video renditions on social video! That's why it seemed like some of this year's top performing songs were everywhere (because they were).
Let's see how musicians influence sounds on social video →
---
2022 was the year of Harry
Styles had 1M+ social media videos created with his music this past year and over half of those included his hit song "As It Was". The song also broke records for the longest running No. 1 song on Spotify.
How did Harry skyrocket to success in such a short time? While it's impossible to point to just one thing, this was clearly the perfect time to drop his solo record breaking album amongst all his other buzz-worthy moments.
Harry's music wasn't the only to soar on social video. Lizzo's About Damn Time spurred a popular TikTok dance trend with many iconic celebrities getting involved. Kate Bush's 1985 song 'Running Up That Hill (A Deal With God)' made a 2022 comeback thanks to its feature in Stranger Things.
While many sounds spurred from songs, others originated from hilarious celebrity interviews. Julia Fox will forever be remembered for discussing her role alongside Adam Sandler in Uncut Gems, or as she coined it – "Unka Jahms" on the Call Her Daddy Podcast. One soundbite came from an interview of HBO Max's House of Dragons actors describing a very particular drink order. (Ooh stunning!)
---
In 2022, Movie history was made
The movie that was undoubtedly loved across communities was the return of Tom Cruise in Top Gun: Maverick. This film led box office sales earning over $1.49B.
While the film's official trailer wasn't the highest in views, there were ample views surrounding social video activations. From the viral videos of lead actor Miles Teller's wife posting her husband on TikTok to the endless Top Gun Halloween costumes, this film was everywhere.
One particular scene that highlights the chiseled fighter pilot physiques and dashing mustaches of the aviation film comes to mind. Clips of the infamous football beach game graced the feeds of all social media platforms for several weeks.
Videos related to this scene have garnered over 34M views across platforms including 1.2M engagements on TikTok alone.
Below are the year's other top movies ranked by Trailer Video Views and Box Office Sales. Doctor Strange was the year's most viewed Movie Trailer with 61.9M views and is nearing the $1B mark in box office sales.
Posting trailers and supplemental videos on social is a great strategy to generate interest for upcoming movies and understand appeal among different audience segments. Posting promotion videos early lets you refine your marketing strategy for the new film to ensure that when it hits the box office, it will be a hit like these 2022 breakouts.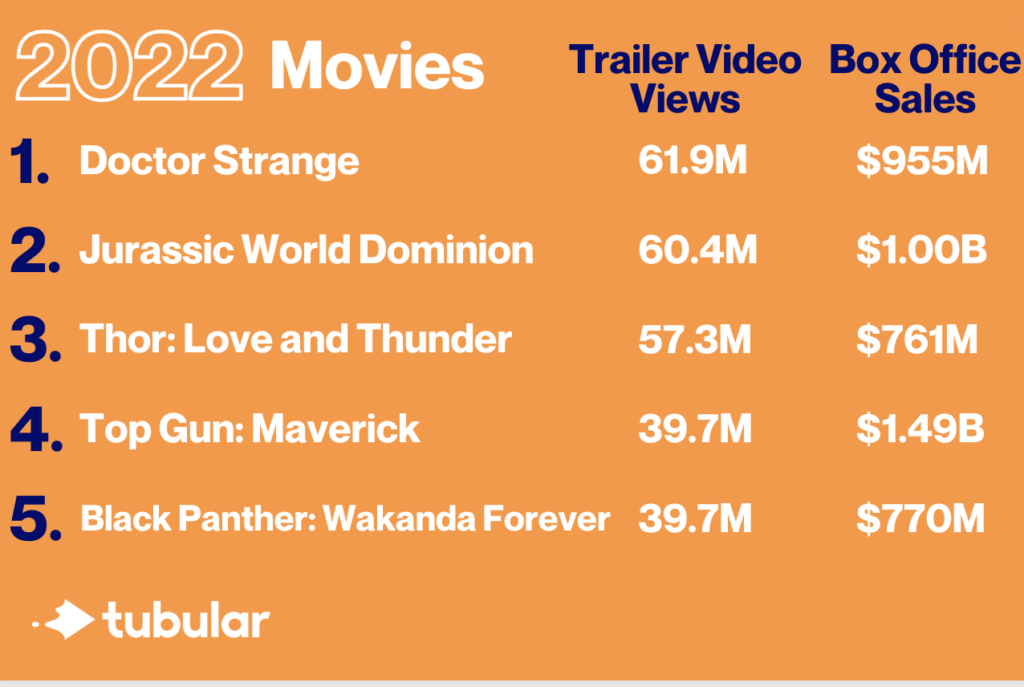 ---
Shocking Pop Culture Moments of 2022 everyone was talking about
It was the slap heard around the world!
When Will Smith and Chris Rock got into it at the Oscars, everyone turned to social media to weigh in. Most were either #teamwill or #teamchris, while others debated if the whole thing was a publicity stunt. Whatever it was— it worked. While the tea was quickly drank and forgotten, celebrity moments like this can set up the success (or downfall) for future releases of movies, music, and more.
Below, you can see Will Smith's spike of viewership of his own content the day after the Oscars. Despite the controversy, Will Smith is still thriving on social with his own videos garnering over 1B views YTD.
Then, there was the Johnny Depp vs. Amber Heard Trial.
TikTok detectives were quite literally showing up in court to submit evidence to lawyers. Unlike the Will Smith slap, this scandal was live-streamed across platforms for weeks on end.
We saw lawyers weighing in on their personal social channels and others giving opinions like at-home newscasters. According to Stream Charts, the Law&Crime Network channel (was was live streaming the courtroom) was the leader among YT channels by Peak Viewers for 10 days from from April 12 to June 1. Plus, the number of concurrent viewers reached 3.5 million people during the announcement of the verdict. This single court case is an incredible example of how much social video is changing the entire media landscape.
---
Fashion comebacks of 2022– thanks to Social Video!
We can't talk comebacks without mentioning Abercrombie & Fitch.
Through strategic partnership and content, this brand that was nearly dead for over a decade was able to reposition themselves. When asked about their strategies, A&F told Vogue:
"We watch the reviews and hauls of our products. We take notes of how people describe the quality and fit. There's an authenticity innate to TikTok and its entire community that has allowed us to humanize Abercrombie."
We looked into the data to see how their Social Video strategy stacked up. The relevant hashtags: #abercrombie or #abercrombiehaul or #abercrombieandfitch were up 260% in engagements in November 2022 vs November 2021.
Ugg just reentered the chat.
Another fashion classic that made a comeback was the return of Uggs. In the early 2000s, Uggs were all the rage. Tall, short, pink, camel – these were the go-to boots for cold seasons. This winter, the updated Ultramini Ugg boot is seemingly everywhere on social video (and selling out worldwide). Ugg has made its way back into holiday shopping with over 20% of all www.ugg.com visitors watching holiday content on social video.
According to Market Watch, over $2B+ Uggs have been sold so far in 2022 and growing. We expect to see these all over this year's Holiday Gift Haul videos.
---
Beauty brands rode the waves of user-generated content
In 2022 the trend that arose from Beauty subcategory, K-Pop Beauty was slugging! While this beauty hack has been around for many decades, it's made a comeback through Korean Beauty fanatics. The practice involves putting Vaseline or any petroleum jelly based cream over nighttime skincare routine to lock in product and increase moisture absorption.
James Welsh was a driving creator of the #slugging trend. During the peak viewership, his audience was 14.6x more likely to buy Vaseline products online. This is another great example of how brands can ride the waves of user-generated content and win big.
Beyond Vaseline, Tubular social video analytics demonstrated a positive impact on the wider skin care industry. There's been a 2x rise in shopping affinity for face moisturizers amongst the K-Pop community in Nov 2022– up from 1.1x in Nov 2021.
---
Sports records were broken… in the arena and on social video
With the special events such as the Beijing Summer Olympics and World Cup both in one year, Sports fans had a lot to cheer about amongst all the other regularly scheduled programing.
All eyes have been on the World Cup with Argentina defeating France in an epic World Cup Final battle that ended in penalty kicks. Argentina's wild success has brought up the heated debate of who is the greatest soccer player in the world – Argentina's Lionel Messi or other greats like Portugal's Cristiano Ronaldo or Brazil's Neymar?
On Social Video at least, Messi takes the cake. This #1 viewed Soccer video (with 151M views on YouTube) shows Messi finally beating a robot goalkeeper – while other players like Neymar fail. Looks like this robot goal training paid off – as Messi scored two penalty kicks in Argentina's historic Wold Cup Final win and earning the coveted Golden Ball tournament trophy.
Other 2022 iconic Sports moments include Sydney McLaughlin shattering a world record at the Olympics. Just 50.68 seconds on the track 400M track won her 3.1M+ views on Facebook.
And we can't talk about Sports without mentioning the basketball great, Steph Curry, finally winning his first NBA Finals MVP award, where the moment gained 9.3M views on Facebook.
---
Thanks for tuning into our 2022 Social Video #Rewind
Social Video is our greatest catalyst for growth right now. Growing in togetherness as well as self-expression. No matter what background or belief, people around the world have access to millions of communities where they can feel seen, heard, and understood by like-minded individuals.
It's a level of connectedness we've never seen and today's leading global brands and media creators, like you, are leaning in.
Tubular is honored to be your trusted lens into the human moment.
2022 wouldn't have been the same without you. Through thick and thin, Tubular is your partner with the largest and most trustworthy social video intelligence available.
If you're not already using us to navigate Social Video, it's time to set up your free demo and feel the power of Tubular.
Cheers to 2023!