Media companies, brands, and agencies around the world now have an audience measurement standard that can finally reveal their true reach on social video thanks to Tubular Audience Ratings™.
We've already used these metrics to determine the top media giants from the U.S., the UK, Germany, and APAC. Now, the final area of the world we're taking a look at is France.
Below you'll find the top 10 cross-platform French media giants based on true audience measurement, which is based on de-duplicated audience reach and minutes watched by demographics across YouTube and Facebook.
Let's dive in!
Top 10 Cross-Platform French Media Companies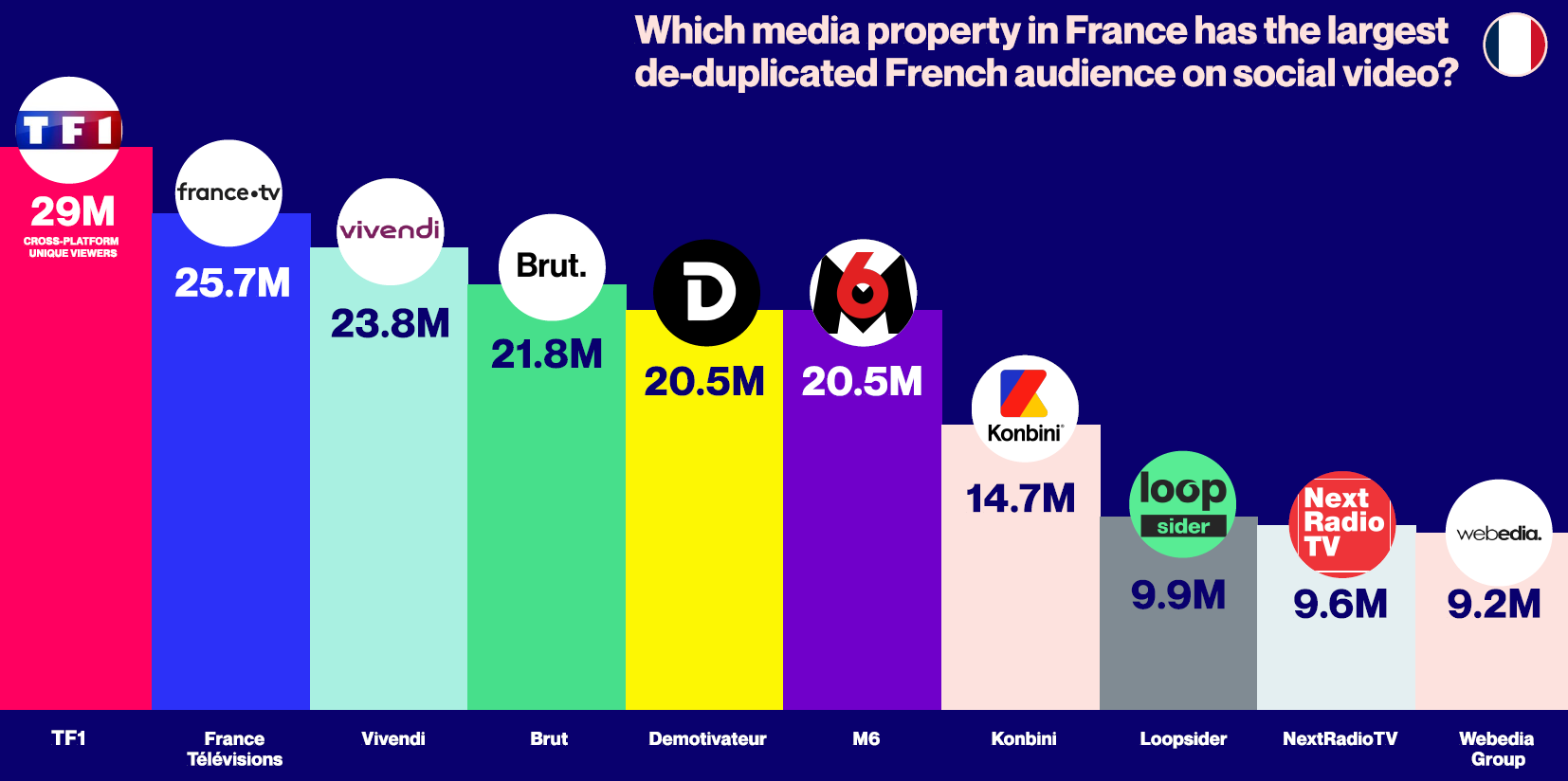 The French media giant with the largest de-duplicated, cross-platform reach was television channel TF1. This broadcaster alone earned 29M unique French viewers in September 2020, and reached over 40% of France's nearly 67 million citizens.
France Télévisions came in second with 25.7M unique cross-platform viewers, and Vivendi, which owns properties like Canal+ and Universal Music Group, wasn't far behind with a unique audience reach of 23.8M.
In terms of cross-platform audiences, most top French media companies rely on Facebook as the predominant platform for reaching French viewers. France Télévisions and Webedia had the highest overlap between YouTube and Facebook viewers at 39% and 35%, respectively.
Overall, six of the top ten French media companies on this leaderboard reached nearly a third of the French population, seeing at least 20M unique viewers each in September.
Top French Creators in Key Demographics Based on Audience Measurement
When we looked at France-based media creators as a whole, we discovered that 47% of the 13.6B minutes watched on content from these creators in September actually came from countries other than France. This implies French media creators are adept at exporting their content globally instead of just focusing on local audiences.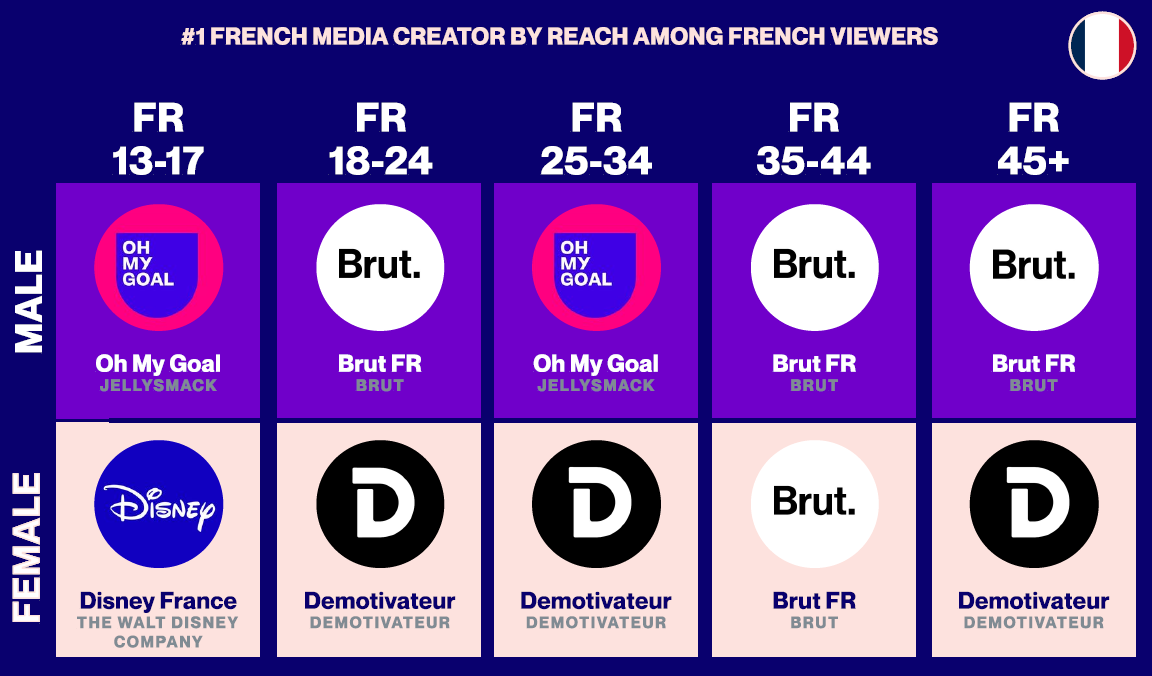 These creators reach different demographics, as well. For example, Brut dominated three of the five key age groups for males, with the highest cross-platform French viewership for men aged 18-24, 35-44, and 45+. Brut also had the highest female reach for the 35-44 demographic.
Demotivateur had the highest cross-platform unique French viewership for women aged 18-24, 25-34, and 45+. The remaining female demographic of ages 13-17 was taken by Disney France. Finally, Jellysmack's European football-focused property Oh My Goal claimed the largest unique reach for males aged 13-17 and 25-34.
French Media Giants Compared by Genre and Minutes Watched
French audiences also spent lots of time on specific genres of content from France's top media creators. In September, Entertainment for both adults and kids captured over half of French audiences' attention on French media creators by minutes watched.
In particular, the Entertainment genre earned 41% of total minutes watched by French viewers, while Kids Entertainment & Animation claimed 15% of the total minutes.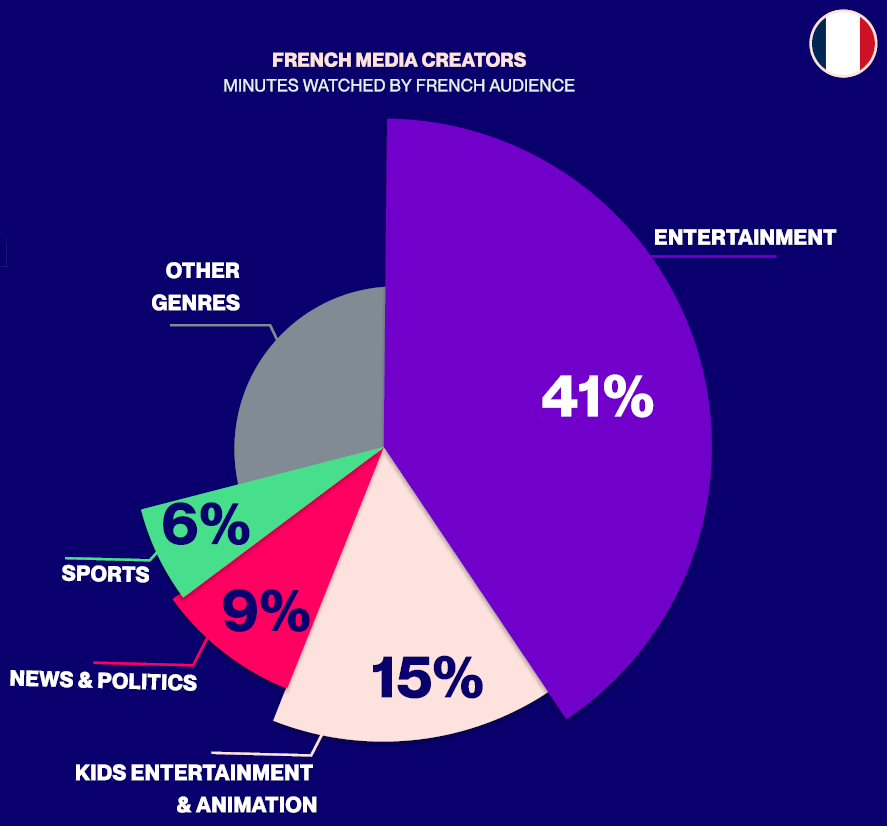 The top French Entertainment creator was Vivendi's talk show Touche Pas à Mon Poste (TPMP) with 173.1M minutes watched in September. The creator with the most minutes watched in the Kids' Entertainment & Animation genre was French animation company Xilam's OGGY with 112M minutes watched.
To round out the genre leaderboards, we saw public service channel ARTE in the #1 spot for News & Politics with 137.7M unique minutes watched, and Jellysmack's Oh My Goal taking the Sports genre with 51.8M minutes watched in September.
What's your unique cross-platform reach in France and around the world?