Media companies, brands, and agencies around the world now have a measurement standard that can finally reveal their true audience reach on social video thanks to Tubular Audience Ratings™.
Using these metrics, we previously delved into media giants from the U.S., the UK, and Germany, analyzing their audiences by cross-platform reach, de-duplicated reach, unique minutes watched, demographics, and more.
Now, let's look into the true, cross-platform top 10 Asia-Pacific (APAC) media giants (excluding India) based on de-duplicated audience reach and minutes watched across YouTube and Facebook.
Scroll down to see the top performers!
Top 10 Cross-Platform APAC Media Companies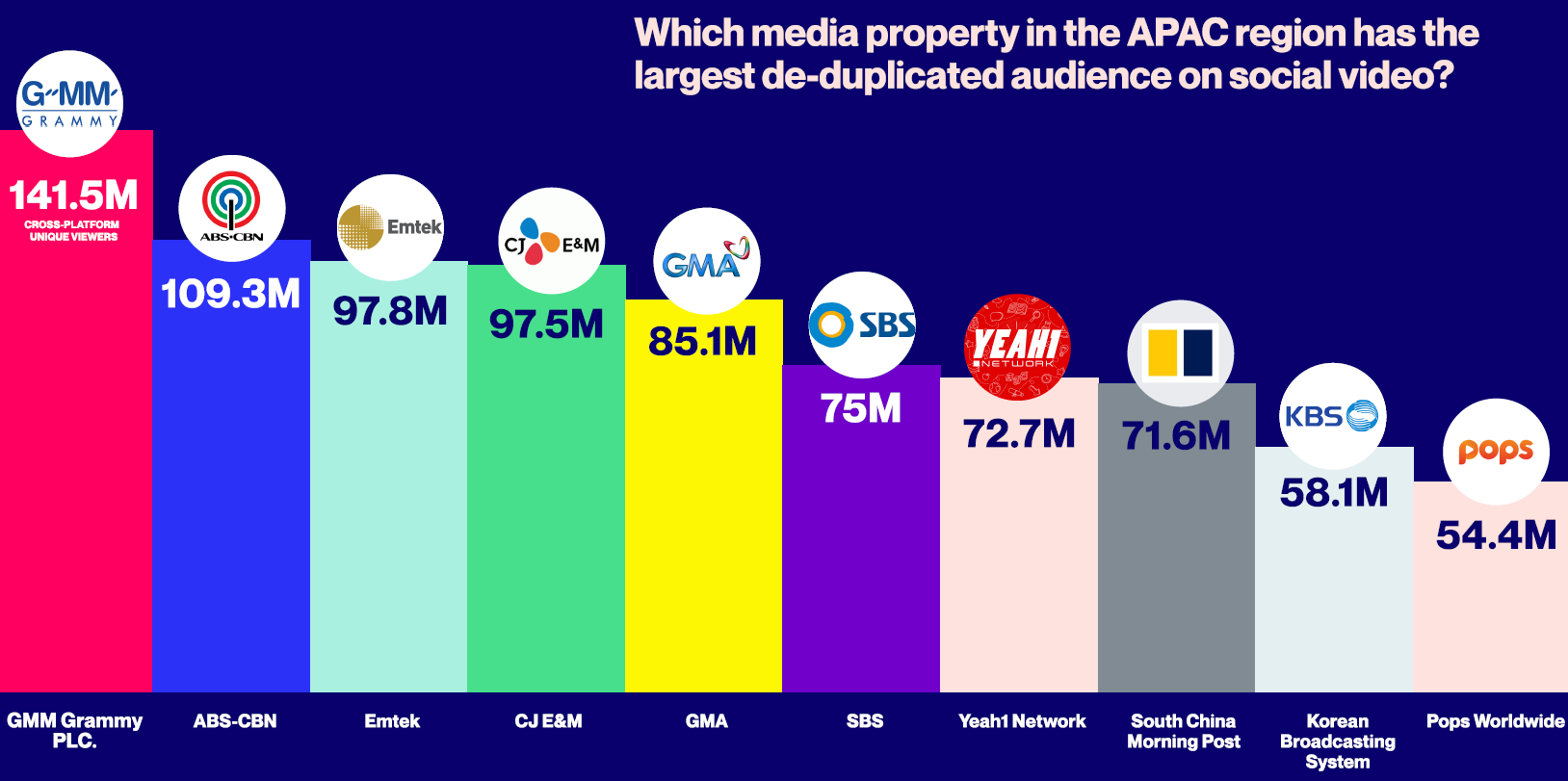 Four of the top 10 APAC-based media companies reached around 100M unique global viewers in September 2020. The top two companies alone were powerhouses, attracting significantly more than 100M unique viewers each for that same month.
Thailand's GMM Grammy PLC was the media property with the largest de-duplicated audience on social video in September, reaching 141.5M unique viewers around the world. The Philippines's ABS-CBN — historically boasting a strong presence on the YouTube leaderboards for views — reached 109.3M unique viewers in September alone.
Indonesia-based Emtek wasn't far behind with a de-duplicated, cross-platform audience of 97.8M. Its reach was nearly tied with South Korea's CJ E&M at 97.5M unique viewers. In fifth was Filipino network GMA, claiming a de-duplicated YouTube and Facebook audience reach of 85.1M.
Top APAC Creators in Key Demographics by Audience Reach
When we looked at global audience reach by demographic, different Asia-Pacific media creators came out on top. Indonesian and South Korean companies reached younger audiences the most, while Chinese and Singaporean media giants attracted the older demographics.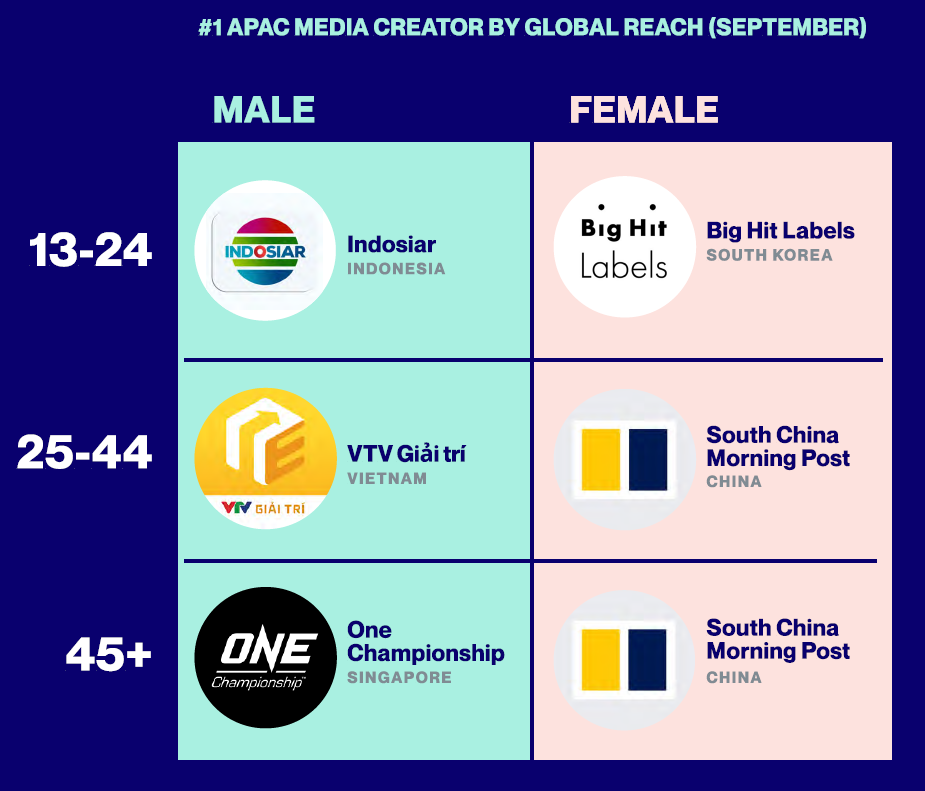 Indonesia's Indosiar, for example, reached the most global males aged 13-24. South Korean entertainment company Big Hit Labels (which manages the popular K-pop band BTS) was the leader for the female demographic of the same age group.
Broadcaster Vietnam Television's entertainment channel VTV Giải trí led the 25-44 males category, while the South China Morning Post claimed the most reach in the 25-44 females and 45+ females demographics. Singapore-based martial arts channel One Championship from Singapore rounded out this leaderboard with the top global unique reach for males 45+.
Media Giants Compared by Genre and Minutes Watched
Finally, let's dive into the APAC media companies who landed at the top of the September chart for global audiences by genres and minutes watched.
Like the previous media giants reports, we found APAC audiences preferred spending time on Entertainment, which made up over half of the minutes watched by global audiences on APAC-based creator content. Music & Dance came in second with 12% of minutes watched, and News & Politics was a close third with 11%.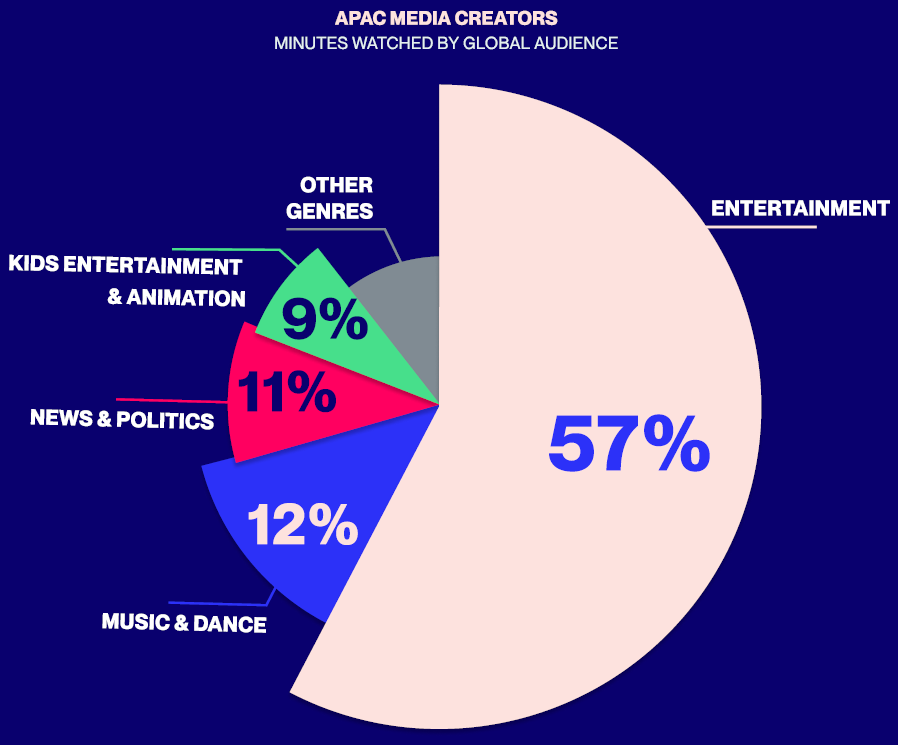 As for the top creators, GMM Grammy's one31 property placed #1 in Entertainment with 2.6B minutes watched. Perhaps unsurprisingly, Big Hit Labels scored top honors in Music & Dance with 920.4M minutes watched, while GMA's GMA Public Affairs channel earned 1.3B unique minutes watched in the News & Politics genre.
Want to know your unique cross-platform reach in APAC?