A Look Inside the NFL's Social Video Audience Behavior
Remember when Rihanna slayed the Super Bowl LVI halftime performance back in February? Of course you do. 
If you missed Tubular's initial analysis of the show, you can find it here.
Long story short, the singer notoriously plugged her own brands during her big stage performance. Now, almost four months later, we're looking back with Tubular's Consumer Insights data to understand how Rihanna's on-stage nod to Fenty Beauty paid off by tracking historical behavioral trends of the NFL's social audience.
Although Rihanna has climbed to the top of celeb-status with her chart-topping music, she has made far more money from her Fenty beauty, skincare and fashion brands. Of course, the Super Bowl was the perfect place for the artist to integrate all her brands and music at the highest level of visibility…and so she did.
How did she do it? When her hit song, "All of the Lights" came on, audiences watched as Riri applied her own brand's #Invisimatte makeup compact before she took the stage by storm.
With over 2.5 million engagements in just 3 days after posting, this video says it all. "Y'all wanted a special guest, right?!"
The special guest was, of course, Rihanna's iconic Fenty Beauty product and yes— it had its own viral TikTok moment. On Super Bowl day, February 12th, the product hashtag had under 9k views on TikTok. In two short days, that number skyrocketed to 20.8M.
Overall, TikTok viewership on Fenty-related content surged by +278% during Super Bowl weekend.
Plugging her makeup line on the world's biggest stage was a great move for brand awareness, but did it actually drive ROI? We've all seen plenty of campaigns that have the whole internet talking but don't actually push sales.
Let's see how Queen RiRi's beauty brand fared over the following months, through the lens of Tubular's Consumer Insights data. 
Our data analysts looked at the NFL's audience across YouTube and Facebook around the Super Bowl using Tubular's Audience Ratings and Consumer Insights. Keep in mind, National Football League viewers don't typically have a huge crossover with beauty shoppers.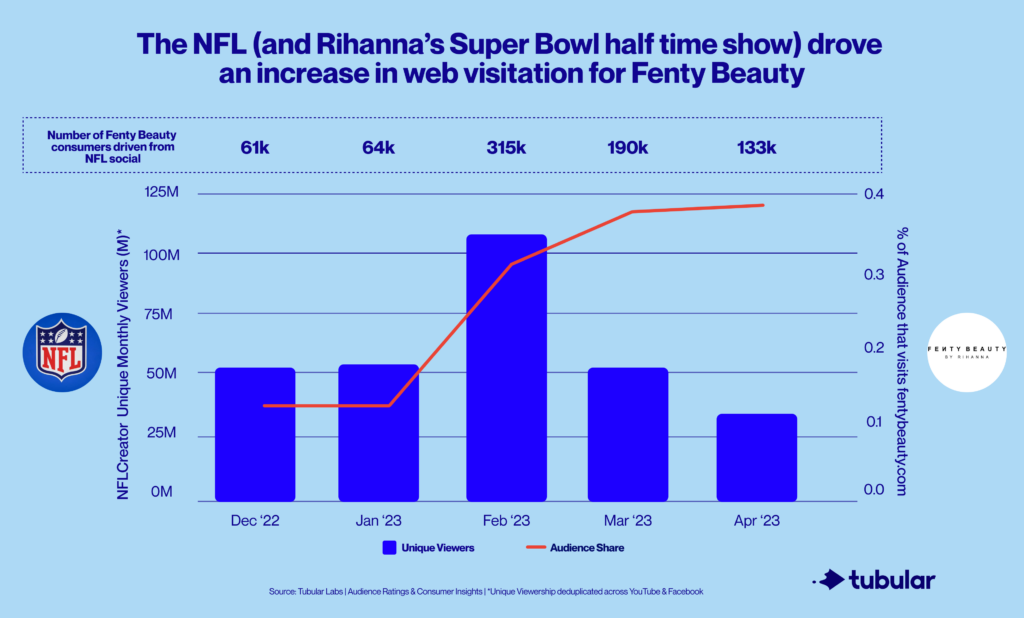 Not surprisingly, NFL unique viewers spiked to over 100M in February 2023, as everyone geared up for the Super Bowl and fans around the world reacted to the game, the famous ad breaks, and of course, Rihanna's epic performance. 
But it was more than people just interested in football. Within the NFL's social audience, 5x the number of viewers visited Fentybeauty.com in the month of February than the previous two months. It's clear to see that the singer's brand achieved an initial spike in website visitation associated with her Super Bowl performance (especially after the NFL's video of the full halftime show replay dropped), but the story doesn't end there.
The NFL's YouTube and Facebook audiences continued to visit the Fenty makeup website with higher visitation numbers in the months following the Super Bowl compared to pre-event. Specifically, NFL viewers visiting Fentybeauty.com grew by 197% in the following month of March (vs. December and January).
This is no easy feat. Many brands invest in influencer partnerships and expensive campaign strategies only to see a temporary peak in sales. Rihanna's brand, however, saw those numbers continue to climb in the following months post-performance. This is also a positive for the NFL as her show likely diversified their audience and drew more makeup enthusiasts to their football-focused channels. Win-win.
Consumer Insights data often shows positive impact when brands and media companies reach across categories to combine audiences. The math can be quite simple: Sports + Beauty = legendary success. What other cross-overs would lead to success?  Fashion and Gaming? Food and Automotive? Today's social video audiences are extremely multi-dimensional. No one is just a beauty viewer or just a sports viewer. Each individual has their own unique concoction of categories and videos they like which algorithms can identify and cater to.
Tubular's Audience Also Watches technology lets companies understand growing crossovers categories so they can reach new audiences without a significant risk.  
In the future, we expect to see more and more companies dipping their toes into adjacent categories and blending audiences. For example, many up and coming sports beverages are partnering with fashion bloggers. Outdoor gear brands have partnered with mommy bloggers to reach those parents on the go!
If you want to reach new audiences with a strategy that minimizes risk, it's time to test drive Tubular's Consumer Insights, Audience Ratings & Audience Also Watches technologies. Request a free demo today.
---
If you're interested in staying on the pulse of culture through social video's single source of truth, it's time to request a free demo of Tubular. Click below to unlock social in a whole new way.